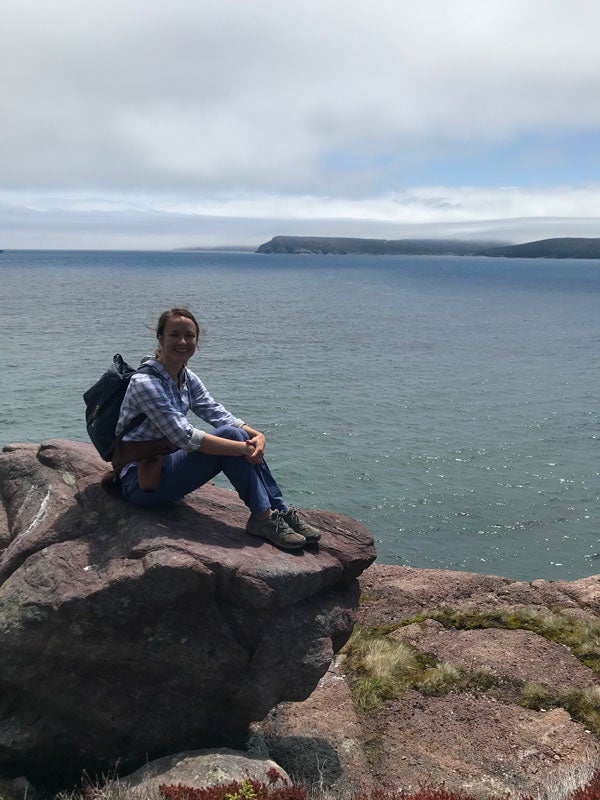 Jami Riley taught high school math for four years before enrolling full time in the CU Boulder School of Education's Secondary Mathematics Master's program with her sights set on developing the tools and knowledge to further refine her teaching practice with research-based evidence. 
Riley has proven to be an incredible student who balances high quality work while helping coach the distance track and cross country teams at Legacy High School in Broomfield, her professors said. She holds a deep curiosity about educational policy, theory and practice in mathematics education, and she sought to identify design principles for mathematics classrooms that supported students' engagement in powerful mathematics and identities as mathematics learners. 
Aware of the powerful forces of social hierarchies around race and culture in mathematics teaching and learning, Riley also aimed to develop practices and structures that would disrupt predominant lines of status and racial stereotypes in the mathematics classroom. In her capstone project, Riley weaved together a coherent and compelling case for making time in mathematics classrooms for students to reflect on group norms and their mathematical contributions when making sense of mathematics. Her study of socio-mathematical norms and the potential influence of "participation quizzes" demonstrated a sophisticated analysis of research literature, observation data, and students' responses in class and to surveys to form a critique of status quo classroom practices in high school mathematics and offer recommendations for the future.
Get to know Outstanding STEM Education Graduate Jami Riley:
What is one of the greatest experiences or lessons from your time at CU Boulder that you'll carry with you into the next chapter of your life?
Overall, my learning experiences at CU Boulder have allowed me to take a giant step back from the day-to-day teaching concerns (i.e. finishing my lesson plans for the next school day) and have provided me with an opportunity to think about larger structures of power that shape my decisions as a teacher, as well as students' experiences as mathematics learners. In particular, learning about the "hidden curriculum of work" (Anyon, 1980) that shapes students' learning opportunities along lines of social class and serves to perpetuate the current social order was extremely impactful. Thus, upon my return to teaching high school mathematics, I will use this knowledge to consider how my lessons position students in relation to mathematics and I will strive to identify and make necessary changes so that all students truly have equal access to powerful mathematical knowledge.
What is your best piece of advice for incoming students?
When I started classes at CU Boulder I had particular beliefs and ideas about teaching mathematics. Some of these beliefs and ideas were confirmed and strengthened, while others were challenged, which led to my own personal change and growth. I think when you pursue higher education it is because you want to change and grow, so I think it is important to allow yourself space to do so. In short: it's OK to change your mind.
What does graduating from graduate school represent for you?
Graduating with my Master's degree is an important step for me both personally and professionally. Personally, I value continuous learning and growth, and completing this course of study has allowed me to engage in both of these things in a structured manner. Professionally, graduating with my Master's degree provides me with the tools and credibility to fight for and justify changes at the classroom and school level that would provide traditionally marginalized students of color with more equitable access to powerful mathematics learning.
What continues to drive your passion for your work after graduation?
The fact that mathematics is such a powerful (and beautiful) discipline, coupled with the joy I find in helping kids uncover this power and beauty, drives my passion to continue teaching high school mathematics. Additionally, I think there is currently a need for educators across the U.S. to fully commit to innovative and equitable approaches to teaching mathematics, and I feel passionate about being a supportive leader in this movement.