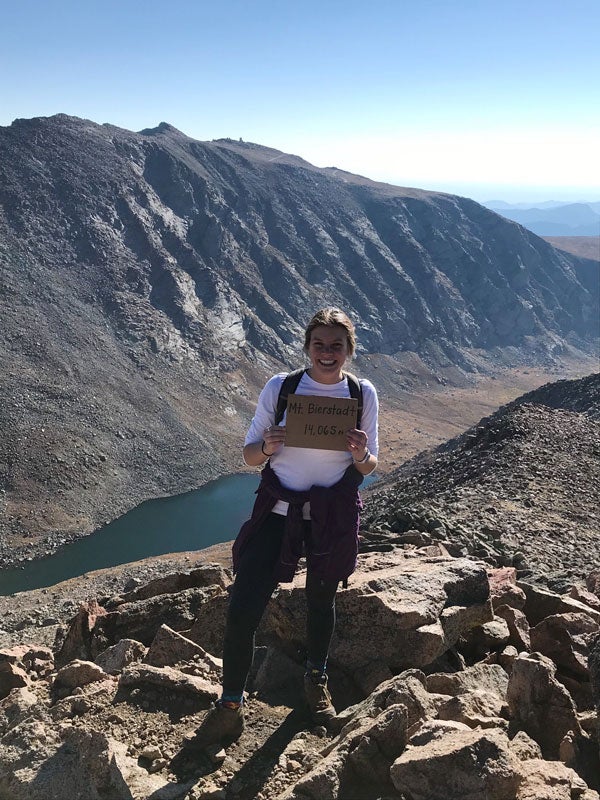 As an undergraduate student, Casey Knosby loved learning and dreaming about many different professional paths.
After considering careers in dentistry, business, teaching, and sustainability and moving from her home state in North Carolina to Denver for a banking job, Knosby finally found her niche in higher education. It's no wonder she is now working in advising in the Leeds School of Business after an initial role in admissions — she loves helping students find their ways as an advisor and said she has "truly fallen in love with my profession." 
As a student in the Master's in Higher Education program in the CU Boulder School of Education, Knosby has proven herself a socially just leader and scholar.
Within her education classrooms, she seeks to discover how our many educational theories affect those from marginalized populations as she strives to provide provocative and cutting edge services to those populations within her various advising positions at CU. Boulder She works conscientiously and courteously with her classmates to produce outstanding research projects and class discussions that offer a fair and balanced perspective where all populations are considered. As a classroom instructor within the Leeds School of Business, she provides her students a platform which positively challenges them and encourages their curiosity to be social justice change agents just as she, herself, has become. 
Meet Casey Knosby, Outstanding Master's in Higher Education Graduate:
What is one of the greatest experiences or lessons from your time at CU Boulder that you'll carry with you into the next chapter of your life?
 
The SOE at CU Boulder has taught me so many things that I will carry with me into the next chapter of my life. First and foremost, this program solidified my passion for working with students and the power that an inclusive space holds for all students K-12 and beyond. The SOE taught me to employ a true equity-mindset. There are people who are advantaged and people who are disadvantaged, and working in higher education, I will do everything I can to provide inclusivity and opportunity for confidence and success to all students, especially the ones who may need support most.
 
What is your best piece of advice for incoming students?
First, have an open mind and be excited for this incredible program! All of the classes bring such different and amazing insights into policy and practice within the field of higher education.
Also, take advantage of learning from your peers. The people I was in class with taught me so much about both higher education and K-12 education. I loved getting into long conversations about educational issues and dilemmas because their different perspectives helped me learn my voice as a graduate student with strong opinions.
What does graduating from graduate school represent for you?
Graduating with my masters represents an opportunity for me to work in the most exciting and energetic industry. Higher education is a field that allows me to work with and mentor college students each and every day. The graduate degree also gives me confidence in my knowledge of educational theories and educational/personal-needs during students' collegiate years.
 
What continues to drive your passion for your work after graduation?
People and students drive my passion for my work after graduation. Working for the university has allowed me to learn about all of the incredible research and projects that are being done on a daily basis to make Colorado and the world a better and more progressive place. Whether that's through the School of Education or the Aerospace Engineering program (or the many programs in-between), the research this university is involved with is incredibly inspiring and I am honored to have been a part of it.