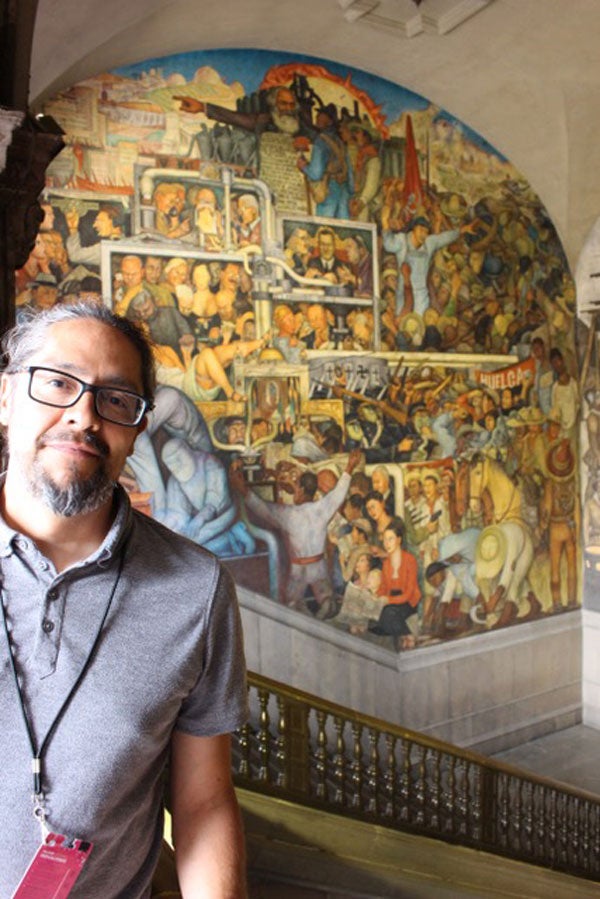 Andrés Martínez stood out since the first week of his Master's program. It was clear the 23-year veteran social studies teacher at Thornton High School, a majority Latinx high school, had a careful and articulate way of moving forward critical perspectives.
He politely pushed classmates to reconsider assumptions about emerging bilingual students and students of color, said Deb Palmer, professor of equity, bilingualism, and biliteracy. A Colorado native with roots from New Mexico, Texas, Chihuahua Mexico, and North Denver, Martínez has a history of community activism and he "voices his own perspectives fearlessly and diplomatically even in the face of significant disagreement or hostility," Palmer added. 
Martínez has proven himself as an excellent teacher who makes comprehensive use of culturally and linguistically diverse education endorsement curriculum that is embedded in the Master's program, Palmer said. During his time in the program, Martínez was a key player in an initiative to move forward with the Seal of Biliteracy for his school district, Adams 12, and he has led a proposal to teach ethnic studies at his school, first as an elective and then potentially as part of the curriculum. 
Martínez's leadership does not end in the classroom but extends to his family life as well. He is aware of the educational example and seeds he is sowing for his daughters, as the first in his family to graduate from high school and now to earn a graduate degree.  
"I am proud to say that my 11-year-old daughter attends the same Denver Public School in North Denver that my father attended in the 1950's and my 18-year-old daughter attends Pace University in Manhattan in New York City," he said. "My Chicano/Indigenous family is in the process of reclaiming and helping revitalize our culture. As such, unlike myself and their mother or even my own father and mother, my daughters are both fully fluent in Spanish and they know how to pray the rosary as well as to smudge with sage before doing a sweat ceremony. They are also fluent in both Tupac, Prince, and Selena as well as Ballet Folklorico, Danza Azteca, and Mariachi."
Martínez has studied the important role CU Boulder played in the Chicano Movement in Colorado and the opportunity to have a CU Boulder graduate education has been a welcome chapter in his story.
"I knew how the BUENO Center at CU Boulder grew out of that Chicano activism and how it became a center for bilingual education," he said. "I can't overstate the degree to which el movimiento played in the Chicanx/Latinx communities as well as the broader American culture. So when the opportunity came to me in Adams 12 for the BUENO Masters program, I knew it was meant for me."
Get to know Outstanding Equity, Bilingualism, and Biliteracy Graduate Andrés Martínez:
What is one of the greatest experiences or lessons from your time at CU Boulder that you'll carry with you into the next chapter of your life?
I consider the level of intellectual engagement that the BUENO professors provided as the greatest experience while in the Masters program at CU. I loved how so many of my cultural beliefs that had been denied and dismissed both my K-12 and undergraduate careers were now affirmed and with academic grounding.
What is your best piece of advice for incoming students?
My advice for incoming students is to allow yourself to be truly challenged. Don't be afraid to be the radical - nothing ever changes otherwise. Everyone has a beautiful and rich cultural heritage and if you didn't know about it, chances are you too had it suppressed. The only way to grow as a teacher is to embrace the cognitive dissonance that comes with this kind of graduate program. Use it to fully engage in checking your own privilege otherwise you risk not only making no difference - but actually making things worse for your students. Use your privilege and your intellect as a weapon because you may be literally saving your students' lives. Get your degree and then work in solidarity with your students and their families because true teaching is nothing short of social justice activism because It's up to us, the bold activists, to save public schools.To me, this is also what it means to have a graduate degree.
What does graduating from graduate school represent for you?
I have no illusions that the opportunity to go to graduate school and receive a Masters degree from a prestigious institution like CU Boulder comes from generations of my ancestors who struggled - who had their land, wealth, and culture suppressed and stolen - and even died for my generation to have these opportunities. I owe it to them, as a matter of basic justice, that my students and the youth in my family and community get the best I and we can offer them. This is what drives me today.