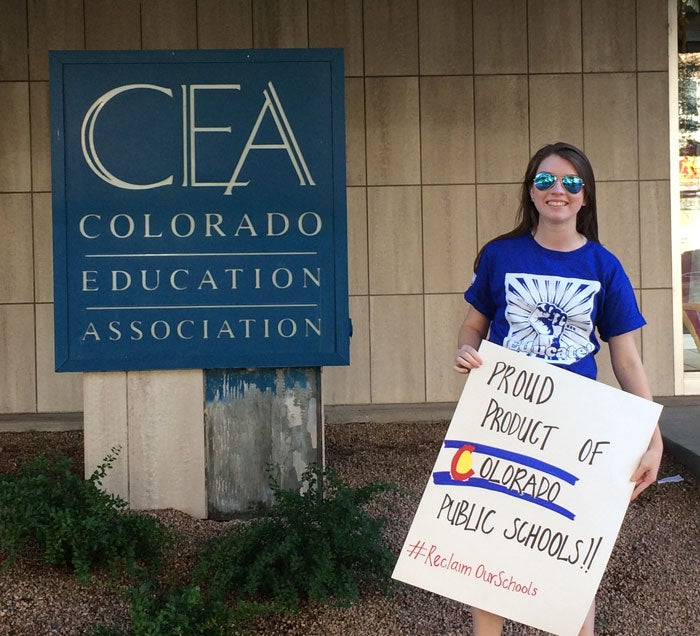 With a heart for social justice, Daniela Harton kept coming back to a career in education.
The Fort Collins native moved to Washington, D.C. to attend George Washington University as an undergraduate majoring in Human Services and Social Justice, a major that introduced her to a number of education roles. She found herself supporting after school programs, working more directly with classes and designing social studies enrichment lessons, and completing a summer job with the Colorado Education Association, where she first began to see herself as a teacher.
"It was after this experience that I knew that I wanted to be a public school teacher, and I wanted to find a program that had justice and equity at its heart," said the Outstanding Graduate in Secondary Humanities. 
Harton is earning her Master's degree in education plus teacher licensure in the social studies program. Throughout the immersive one-year program, she has demonstrates an impressive capacity for designing and implementing high interest, culturally responsive lessons that encourage students to think critically and carefully. She anticipates and addresses potential frustrations before they arise, listens carefully and responds thoughtfully to student comments and insights, and challenges students to question their own assumptions about themselves and their world—all while inspiring a passion for Social Studies. As a student teacher, Harton supported students in completing a problem-based learning project centered on the Industrial Revolution called "Killer Goods and Services," and she facilitated the learning of teams of students as they generated, researched, and participated in café-style presentations to panelists from around the U.S.
Get to know Outstanding Secondary Humanities Graduate Daniela Harton:
What is one of the greatest experiences or lessons from your time at CU Boulder that you'll carry with you into the next chapter of your life?
With my next chapter being that of a secondary teacher, I've been thinking a lot about how to bring the lessons that I have learned in graduate school into the classroom with students of my own. What comes to mind right now, is the question: "What counts as normal?" In my Queer(ing) Topics in Education class this last semester, my professor Bethy Leonardi always guided us to come back to that question. We often grappled with the idea of "normal" and how the systems that are in place today often paint a picture of normal-- but one that is far less complex, beautiful, or meaningful, than the reality of being human. I am excited to bring this question, and others, into my classroom as a way to allow my students to be agents of their own learning as capable young adults. I believe curiosity is essential to learning, and I am excited to center curiosity in my own classroom. 
What is your best piece of advice for incoming students?
The best piece of advice I have for incoming students is to invest in the relationships and people that make CU, CU. I have been blown away by the love that the faculty and my peers have for learning and feel inspired to continue this work because I know that the folks who are as committed to this fight as I am are incredible. Take the time to grab coffee before class, go to office hours just to chat, put together drop-in happy hours-- these are some of my favorite memories from CU, and have helped grow friendships that I hope will come with me far beyond this degree!
What does graduating from graduate school represent for you?
Graduating with my MA+ represents a really exciting new beginning for me! I have been looking forward to teaching and working in education for many years now, and finally graduating and being able to begin my career in the field feels really validating. I am really looking forward to continuing to grow as an educator (and as a human), and I feel really grateful for the foundation my Masters coursework and peers helped me to build over my time at CU.
What continues to drive your passion for your work after graduation?
I believe really deeply that every student deserves an excellent education, and I am driven by the idea that I will be able to spend my career working to make this a reality for more students. I hope to apply what I have learned so far to the classroom as a teacher, while continuing to question and incrementally dismantle the systems that favor some children over others. I am a learner first, so I feel so grateful to be entering a profession where curiosity and exploration are at the core of my day-to-day, and my own growth as an educator is something I can work at everyday. This work is so important, and I am driven to contribute to the betterment of the education system for all students.