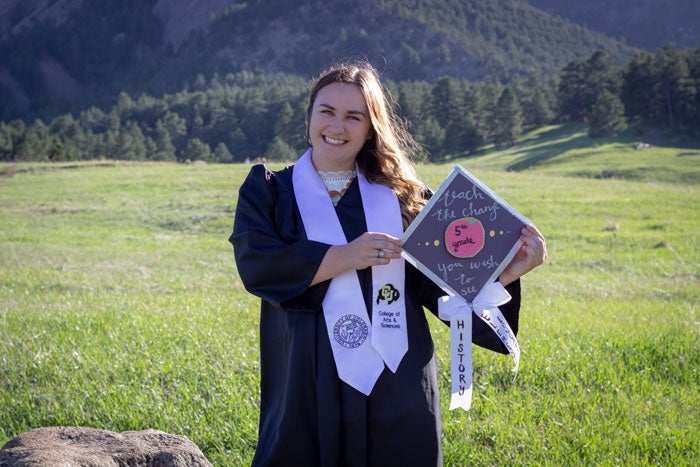 Anne Fisher started making concrete plans to become a history and education Buff when she was just a freshman in high school.
Growing up in Erie, east of Boulder, she watched her brother attend CU Boulder and fell for the atmosphere and beautiful campus. When she learned more about the solid reputations of both the history department and the School of Education, with its social justice and equity mission, she was officially sold.
As a caring and compassionate future teacher and colleague to her peers, Fisher exemplifies the humanizing and equity principles of the School of Education's elementary teacher education program, her professors noted. She brought her passion and expertise for equity and social justice into her classrooms at two Title I schools as a teacher candidate. When classes and schools switched to virtual learning for the remainder of the Spring 2020 semester in the midst of her student teaching semester, the Outstanding Graduate in Elementary Education reinforced her commitments to justice by focusing one of her independent professional learning plans on teaching for equity.
Get to know Outstanding Graduate Anne Fisher:
What is one of the greatest experiences or lessons from your time at CU Boulder that you'll carry with you into the next chapter of your life?
One of the most memorable experiences I had while at CU Boulder was having the opportunity to shuffle through historical, children's literature books for my Children's Lit class. Some books were even original copies that dated back to the late 1800s! Besides the inner-history nerd in me coming out, I remember being so fascinated and shocked at how unjust children's books were, and how much the world changes throughout time. I thought it was incredible to see these books and reflect on society's continuity and change. This experience further inspired me to become a teacher for equity, and made me develop a passion for children's literature.
What is your best piece of advice for incoming students?
My best advice would be to try to take something away from each of your classes. Even if you are taking a class that doesn't directly correlate with your major or program, try to be present, engage yourself in the work, and collaborate with others in discussions. I believe I am a much more well-rounded teacher because I remained focused and present in my classes. It's a privilege to attend such an amazing University - expand your ways of thinking! 
What does graduating from college represent for you?
Graduating from college means that I get to officially pursue my dream of becoming an educator. It means that after years of hard work and commitment, I finally have the opportunity to teach tiny humans to love learning as much as I do. It means that the struggle of being a tired college student working part time and pouring their whole heart into their school work was worth it. 
What continues to drive your passion for your work after graduation?
My passion for social justice and equity is a part of my teaching philosophy and my philosophy of life. I will teach my future 5th graders about injustices of the world, while curating a more thoughtful and loving community within my own classroom itself. My commitment as a teacher for equity and passion for learning inspires me to grow alongside my students for years to come.