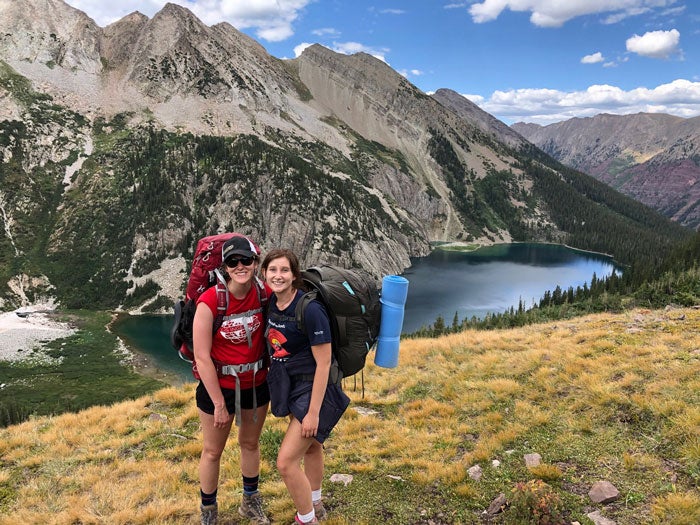 From a young age, Alexandra Collard knew she wanted to teach. She loved learning and found math and science fascinating in the ways that they explain how the world works. 
The Colorado native grew up skiing and hiking in the Colorado mountains, and CU Boulder's beautiful Flatirons and active community were an initial lure for her undergraduate studies. Nowadays, she has been just as active on campus as she has been in Colorado's backcountry. Collard is graduating with a double major in chemistry and mathematics and teacher licensure in secondary science. She has become a strong instructor and researcher, in part, thanks to her campus roles as a Learning Assistant supporting faculty teaching and students enrolled in General Chemistry 2 and a Noyce Scholar. 
Her mentor teachers have all commented on her enthusiasm, deep understanding of content, and her dedication to students, equity, and justice.  Collard has said that her goal is "to provide a safe, supportive, and engaging classroom where all students feel valued and supported in using scientific knowledge to be critical consumers in society."
Collard is grateful that education has opened doors for her, and she is ready to pay it forward as the School of Education and CU Teach outstanding graduate in STEM education and in her future classroom.
"I am passionate about education as a way to effect positive change in our community and our world and as a way to support all of our students," said Collard, the School of Education and CU Teach outstanding graduate in STEM education. "I believe that every student deserves to feel valued, and being a math and science teacher gives me the chance to help students see their potential as scientists, engineers, and mathematicians."
Get to know Outstanding Graduate Ally Collard:
What is one of the greatest experiences or lessons from your time at CU Boulder that you'll carry with you into the next chapter of your life?
During my time at CU, I learned to appreciate challenges, as they present opportunities for growth. I learned that pushing myself out of my comfort zone taught me new things, made me a stronger person, and left me with something to be proud of. I also made some amazing friends at CU that have helped me to grow, learn, and become the person that I am today, and I am eternally grateful for them! 
What is your best piece of advice for incoming students?
Keep an open mind. College is the time to figure out more of who you are, what drives you, and what you are interested in. It is a time to make lifelong friends, learn new skills, take chances, and grow as a person. Take advantage of everything that CU has to offer, from clubs and programs, to hiking at Chautauqua, to meeting new people. 
What does graduating from college represent for you?
Graduating from college, for me, represents the transition from the learner to the teacher, from young adult to adult, and from the time to focus on learning for myself to the time to focus on applying my knowledge to help others. It represents a new phase in my life that comes with new responsibilities but also new opportunities to grow, to learn in a different way, and to reach the goals that I've been dreaming about since I was a child. 
What continues to drive your passion for your work after graduation?
After graduation, I will be teaching high school chemistry. This has been a dream of mine since I can remember, and the fact that I finally made it is both exhilarating and terrifying. What will continue to drive me is the desire to help my students become successful learners, critical consumers in society, and critical thinkers. My students will be my ultimate motivation to keep learning about how to be the best teacher and to continue to learn about science and math in order to better my lessons and find meaningful real-world applications for my students.