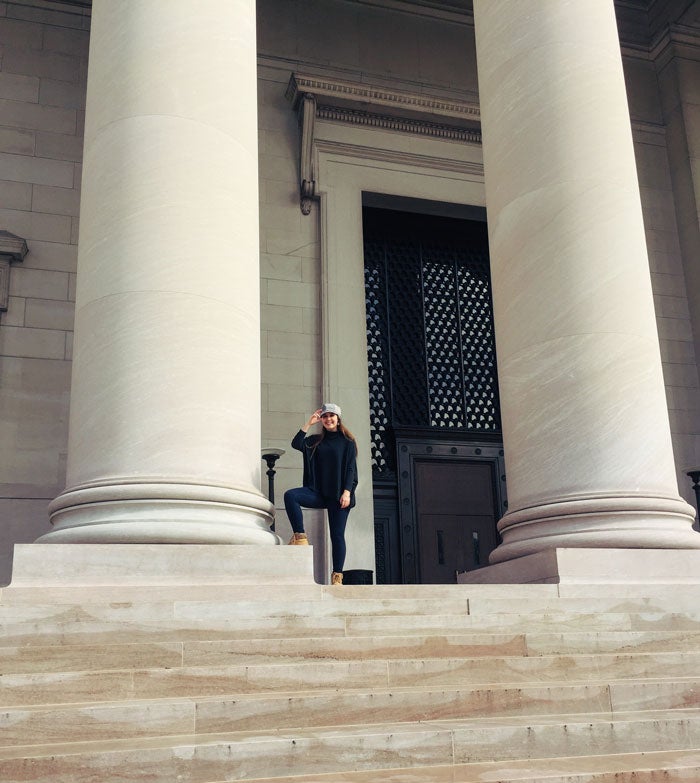 When Allison Murphy was young, she used to pretend her backyard in Colorado Springs was an archeological excavation site and that one day she would make a huge new discovery.
Frequent trips to the Denver Museum of Nature and Science to see Egpytian mummies or exhibitions about the Titanic or Mayans only fueled her flame and budding research. Murphy has always been enthralled with the intersection of culture, archeology, and art, and she has found a way to integrate her interests in history and the visual arts as a future social studies teacher. 
"I have found profound joy sharing with others about the events of our past," she said. "This communal nature in social studies and education fostered for me a profound respect for the past, importance of the now, and immediacy of the future for all our citizens of the world. 
"Attending CU Boulder, gave me the tools to accomplish sharing the abundance of our histories and teaching them with purpose, empowerment, and inspiration."
Murphy cares deeply about social studies teaching, and this passion is evidenced in her honor's thesis, "Cheburashka and Friends: The Rootless Cosmopolitan as Ideal Soviet Citizen," which explored the Soviet Jewish experience through art and culture in the 1960s. 
She is a model of what educators can and should be and excels at inspiring students to care about history and the people whose stories can shape our understanding of it, her professors noted. By exploring Social Studies content through an equity orientation, she forges opportunities for students to build meaningful connections between their in- and out-of-school lives and consider how to build socially just ways of knowing and doing.
Get to know Outstanding Secondary Humanities Graduate Allison Murphy:
What is one of the greatest experiences or lessons from your time at CU Boulder that you'll carry with you into the next chapter of your life?
When I was writing my Honors History Thesis, Cheburashka and Friends: the Rootless Cosmopolitan as Ideal Soviet Citizen, I could not help but find myself relating to this furry little animation creature I was researching named Cheburashka. Cheburashka mysteriously arrives in the Soviet Union in a crate of oranges possibly showing he is from Israel and of Jewish origin. Even though he is a foreigner in the Soviet Union and the authorities take advantage of him, Cheburashka is always kind, compassionate, and resourceful. He is an immigrant which improves a society no matter where he lands. I think the lesson of Cheburashka is that no matter where I end up geographically, I too can adapt and form a community of my own through kindness and compassion. 
What is your best piece of advice for incoming students?
Not only are you academically learning, you are also learning to be an adult! Take this time to develop life skills, appropriate and safe relationships, boundary setting, self-love, goals, and developing hobbies like cooking or making art. Starting the transition and implementation of these life aspects and seeing them as a priority for a good quality of life is key to developing the whole beautiful person you are. In short, academics are important and so are you. You are a living breathing entity which needs to be treated well by yourself and others in the world. 
What does graduating from college represent for you?
Graduation is like taking training wheels off of your bike and having a shaky moment riding solo. You take all that you learned, and just go out and shake, wobble, maybe even fall-- until you are gliding in society! Therefore, graduation represents for me a type of nervous and exciting liberation. Kind of like...okay let's get going on the bike so I can go check out the trails beyond my cul de sac. 
What continues to drive your passion for your work after graduation?
My drive as a social studies educator is to provide students multiple perspectives, reduce polarity thinking, see themselves represented positively in history, encourage civic participation, and create citizens who have tools to decode our societies today and years from now. Most of all, I am joyful to educate the unique individuals I am so incredibly honored to support, inform, and guide.