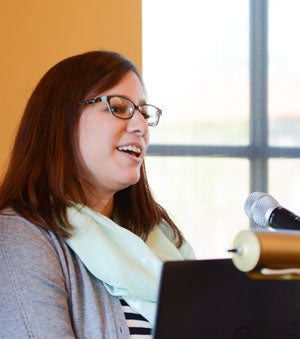 How can we do this together in a nicer, kinder and more loving way? This key question guided 2019 Outstanding PhD Graduate Paty Abril-Gonzalez through her doctorate dissertation at CU Boulder and still guides her now in her teaching and research as an assistant professor at the University of Texas at Austin.
Abril-Gonzalez started her journey at CU Boulder with a BA in Business Marketing and Art History. During that time, she started working with Ofelia Miramontes, CU Boulder's first associate vice chancellor for diversity and equity at the CU Boulder Office of Diversity and Equity, now called the Office of Diversity, Equity and Community Engagement.
"About 20 years ago, I was in her office and I was really inspired by her work in social justice and bilingual education," Abril-Gonzalez said. She worked with Miramontes, who was also a professor of education, throughout her undergraduate education, and when it was time to graduate, she mentioned to her that she was interested in becoming a bilingual teacher and follow in her footsteps.
Though Miramontes passed away in 2005, Abril-Gonzalez continued her path and taught in Denver Public Schools for seven years as a bilingual elementary school teacher.
As a Miramontes Scholar, I am able to constantly reflect and ask the question, 'What would Ofelia do?'​"​
When she came back to CU Boulder and pursued a PhD in educational equity and cultural diversity, she joined the Miramontes Doctoral Scholars program, a supportive, family-like cohort program for doctoral students that offers fellowship funding. The program was created by Bill and Connie Barclay, and it was named in honor of Miramontes, Abril-Gonzalez' mentor and Bill's late wife.
"Personally, the Miramontes Scholars program has meant the world to me," Abril-Gonzalez said. "As a Miramontes Scholar, I am able to constantly reflect and ask the question, 'What would Ofelia do?'"
Abril-Gonzalez' dissertation draws from her time as a bilingual teacher in Denver and the group of students she got to move up with from second through fifth grade. She invited the now high school students in reflecting on past memories and the poems they wrote in fourth grade about powerful topics including the fear of racism, fear of language loss, and the fear of parents being deported.
"We spent four weeks together talking about their past, their present, and their future," Abril-Gonzalez said. "It's been really nice having them be a part of my life because they give me so much more than I could ever give them."  
Now as an assistant professor, Abril-Gonzalez gets to teach pre-service teachers and help prepare them to work with bilingual communities.
"Being able to share my experiences as an elementary school teacher with these future elementary school teachers, it really complements what I believe in education about building relationships over time," Abril-Gonzalez said. "I feel like the pre-service teachers I work with in Austin represent my students ten years ago. They are the elementary school students I worked with ten years ago who now want to become bilingual teachers."
She still feels the connection to Miramontes at University of Texas at Austin, where she works closely with Cinthia Salinas, department chair of curriculum and instruction and a dear friend of Miramontes.
"It's very powerful to have these people who were Ofelia Miramontes' friends and colleagues become my friends and colleagues," Abril-Gonzalez said. "It's so wonderful to have Cinthia as a guiding force for me in Texas."
Abril-Gonzalez acknowledges with her current students that teaching is hard, and that it is "something you commit to as part of your life and identity." She is honest with her students about the difficulties they may encounter as teachers, such as being underpaid, underappreciated and overworked.
"I affirm their stress and fears about becoming a teacher but I tell them it is the most important time to be a teacher right now," Abril-Gonzalez said. "It's important to have teachers who really care, who are committed and who want to support more inclusive and humanizing ways to think about education."
In her classes, where many of her students are bilingual and Latinx, they discuss what it means to be be an immigrant, how we can support our students and their communities, and how we can validate and legitimize our students and teachers who are most under attack.
She asks them, "how can we do this together in a nicer, kinder and more loving way?"
---
Paty's advice for future education doctorate students:
 It's hard. But if it's something you're interested in doing and if you have questions about how education should look, then as hard as it's going to be, it's worth the time. It's everything to me and it was worth the dream. Now, I get to share what I learned with my students and I'm still learning now. Getting my doctorate has given me a new way to see education because I've been able to take a step out of the classroom and see it in a different way. It's opened so many doors for me and I hope that's something we can do for more students— especially for more students of color, for more Latinx students, and more Spanish-speaking bilingual communities. 
---