Kyle O'Keefe believes that learning should be fun all the time.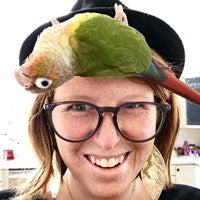 "Fun is a great equalizer in the classroom because it engages everyone in their learning," O'Keefe said. "Even the most stubborn student can't resist joining in!"
Fun is a great equalizer in the classroom because it engages everyone in their learning. Even the most stubborn student can't resist joining in!"
To add fun in her classroom learning, O'Keefe likes to incorporate costumes, scavenger hunts, magic, and more whenever she can. She often decorates her classroom for different units and even stands on desks to perform her read-alouds for a "true thespian" effect.
O'Keefe's enthusiasm for fun stems from her passion for special education, and she believes in helping students who need the most help, both academically and behaviorally, by building strong and personal relationships with each student.
"Behavior is always communication, and it is my job to listen to what my students are trying to tell me," O'Keefe said. "By figuring out the problem they are having, I am able to work with the students towards a solution that will work for them, instead of just working for me."
Some of the ways O'Keefe tries to help her students is engaging them in challenging work, differentiating assignments and games for different students, and using Google Translate to facilitate conversations with her emerging bilingual students.
But O'Keefe didn't start her journey at CU Boulder knowing she would become a teacher. O'Keefe graduated with a BA in Speech, Language, and Hearing Sciences and discovered her love for teaching after working as a Special Education Interventionist at a school in Denver.
After three years at the school, she came back to CU Boulder and the School of Education to complete the Post-BA teacher licensure program in elementary education.
"I feel that I can do a lot of good for students with special needs and their families by creating a fully inclusive classroom environment that is welcoming to all students," O'Keefe said.
Associate Professor Jamy Stillman, who nominated O'Keefe as the 2019 CU Boulder School of Education Outstanding Elementary Education Graduate, described her work as "consistently imaginative and thorough."
O'Keefe brings "positive understandings about diversity and deep asset-orientations toward all youth," Stillman said.
After graduation, O'Keefe is on the job hunt for a position at an elementary school and plans to work on her Spanish over the summer so that she can communicate better with her students and their families.
O'Keefe resonates with the words from educator Rita Pierson, who once said that "every child deserves a champion." She hopes that her classroom will always be a safe space for all children, regardless of any complications in their lives.
"I am drawn to students who challenge adults to help them and who don't make it easy because usually those are the students who need a teacher who will stand by them, believe in them, and defend them the most," O'Keefe said.
"I want to be that champion for all my students."
---
Kyle's advice for future students:
 If you are unsure about teaching, experiment by finding any opportunity to spend some time with kids. This could be working at a summer camp, volunteering in after school programs, or simply babysitting. If you feel elated, engaged, present, and full of life like I do when I'm with children, definitely check out the education program at CU Boulder. I cannot think of a more fulfilling job than teaching, but it is highly demanding—​ physically, emotionally, and mentally. For me, it's worth it, 100 times over, and I can't imagine doing anything else. Go for it— once you see a room full of kids smiling and laughing after a great lesson, or feel a connection build with a student who struggles with relationships, you'll never go back. 
---