As a former high school teacher and advocate for community empowerment, Ben Erwin realized that he had a passion for the public policies that shape the educational field.
Before he came to the CU Boulder School of Education, Erwin received degrees from Transylvania University in History and Education. He then did a fellowship at One Voice, a civic engagement nonprofit that works to ensure an equal voice to traditionally marginalized communities in Mississippi and beyond.
"After my time in Mississippi in advocacy, I realized I wanted to pursue a career in education policy," Erwin said. "My belief in education as a driver of social justice and opportunity continues to drive my passion for education."
My belief in education as a driver of social justice and opportunity continues to drive my passion for education."​
Erwin also taught high school social studies for a year in Kentucky, his home state, and he said that this experience continues to impact how he approaches education policy. Erwin also worked with middle and high school kids in his capacity as a lacrosse coach, camp counselor, and backcountry trips leader.
He brought these experiences and more to his studies as a MA student in educational foundations, policy and practice at the CU Boulder School of Education and to his internship at the National Conference of State Legislatures (NCSL) in Denver that eventually led to a full-time position as a policy analyst.
Through his work at NCSL, Erwin said he "learned about the intricacies of the policymaking process and the mechanisms to drive change at the state level."
Nonpartisan organizations, such as NCSL, "can play a vital role in the policymaking process by helping to drive promising policy options and supporting innovative efforts," Erwin said. While working for NCSL, Erwin has worked with legislatures, legislative staff, media outlets and other policymakers on issues such as virtual charter schools, education savings accounts and school safety measures.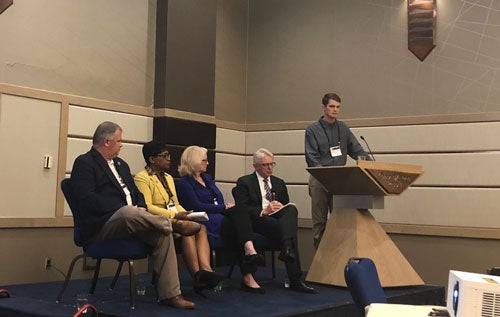 These experiences and Erwin's interest in his classmates' expertise caught the attention of Assistant Professor Terri Wilson, who nominated Erwin for the 2019 Outstanding MA Graduate recognition.
"Ben brought a deep commitment to educational equity to his graduate studies," Wilson said. "In classes, Ben has wrestled with tough questions about segregation, choice, opportunity and justice,. but always with generosity, a keen awareness of his own positionality, and a fair dose of self-deprecating humor. He is modest and thoughtful, always the first person to amplify others' positions and seek to engage his classmates in the conversation."
Erwin recently accepted a position with the Education Commission of the States, where he will continue to work with state policymakers as a policy researcher. The role will also let him work across the silos of state government.
"He is an emerging leader in education policy and a powerful voice for educational equity," Wilson said.
---
Ben's advice for future education graduate students:
 Collaborate with and learn from your classmates in the education department. The diversity of experiences and interests really challenged me to look at issues differently and gain a better understanding of education and education policy. 
---