When Maya Angelou wrote the poem "Still I Rise," she was speaking from her experience and validating the experiences of those who came before and after her. Her voice and sentiments are alive and well in Esmeralda Castillo-Cobian's classroom. 
During her student teaching semester, Castillo-Cobian got a chance to design a unit about resistance poetry, including works from Angelou and other trailblazers. With Angelou's words still resonating in her ears, Castillo-Cobian is set to graduate from the University of Colorado Boulder with a BA in ethnic studies and her secondary teacher licensure in English education from the School of Education.
Castillo-Cobian has brought her experiences to her studies at CU Boulder and into her K-12 classrooms. As a first-generation college student raised in Aurora and born in Mexico, she became interested in teaching after reflecting on her own experiences in school, where she felt a disconnect with many teachers and a lack of value for her culture. Her studies at CU Boulder have given her an opportunity to reflect on the injustices of education for students of color and have ignited her desire to challenge the status quo.
"I knew I wanted to be a part of education after taking an education through film class where my opinions and views on the schooling system were validated," she said. "My professor, Elizabeth Dutro, made me feel safe and validated after so many years of going through schooling without being seen. 
I knew and wanted and needed for more students of color to feel this way and what other way than through empowering them in my own classroom."
"Despite being the only woman of color in her class, my voice was heard. I knew and wanted and needed for more students of color to feel this way and what other way than through empowering them in my own classroom."
It was this blended interest in social justice and education that led her to an opportunity to intern with CU Boulder's Latino History Project. Some students she worked with at Boulder High School told her about the projects efforts to re-write history by centering Latinx voices that had otherwise been overlooked in local histories and curriculum. The intersection of history and educating teachers was a sweet spot for Castillo-Cobian, who was able to do historical archive work in Pueblo and help write and revise lesson plans for teachers.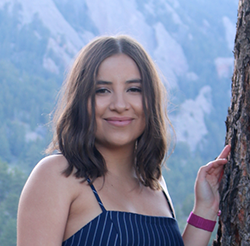 "This directly aligns with the passion I have to re-write the history of my people through educating and empowering our youth to be conscious that another type of history that is not white exists."
Long after she cross the stage at graduation, as one of the School of Education's outstanding graduates, Castillo-Cobian will have more opportunities to inspire students and be inspired by them. Come fall, she will be the 7thgrade language arts teacher at Martin Luther King Jr. Early College in Denver, where she says her students will continue to drive her passion for this work. 
"Knowing that my students are the leaders for our world makes me excited about what I do every day," she said. "Seeing how genuine and resilient they are as students and people pushes me to want to be a teacher every day, because I have something to learn from them. 
"I not only want to teach, but I want to be taught by my students."
---
Esmeralda's advice for future students:
 Don't be afraid to be yourself. I feel often times teachers are expected to be the authority and have everything right and perfectly done, but the reality of it is that it is okay to just be who you are especially around students. Don't model for them what it is to be perfect, but model for them what it is to be an imperfect human. The world is already too harsh on our youth to not show them we are human just like them.