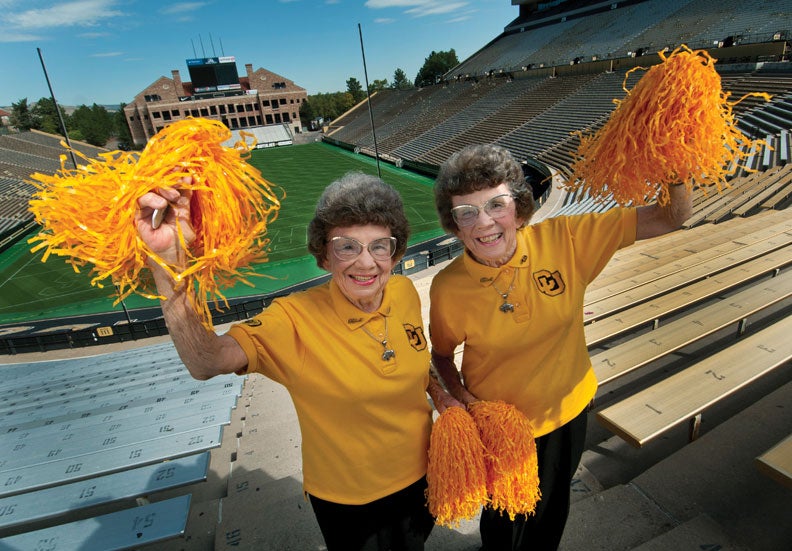 Betty Fitzgerald Hoover (A&S'46), one of the famous "CU Twins," died Aug. 5, 2020. She was 95.
The Buffs superfan and Boulder resident (pictured above, right) was a CU football season ticket holder since 1958 and a basketball season ticket holder since 1979. She rarely missed a game.
Betty and her sister, Peggy Fitzgerald Coppom (A&S'46), could be spotted in the CU stands at nearly every athletic event, often dressed in matching yellow CU sweatshirts and Ralphie necklaces, waving gold pom-poms.
They stuck with the teams through rain and shine.
"We've been through some pretty low times [at games] with not much to cheer about," Betty told the Coloradan in 2011. "But we've always thought, 'If the team has to stay, then someone should stay with them.'"
The twins — also part of the Buffalo Belles booster group — often remained after games to chat with the athletes, who quickly became part of their family.
"Wow…Two of the most loving and supportive people I've ever met…man this one hurts," tweeted CU men's basketball star point guard McKinley Wright IV (Ethn'21) Aug. 5, after hearing the news of Betty's death.
Students couldn't get enough of the twins, either.
On Valentine's Day 2013, Betty and Peggy led the C-Unit student section to perform a lively rendition of the viral "Harlem Shake" dance in the first half of the sold-out Buffs versus Arizona Wildcats rivalry game.
"It is a sad day for Buff Nation with the passing of Betty Hoover, one of our beloved twins," said CU athletic director Rick George. "While we have many great fans, none have been more visible and loved than Betty and Peggy. If you know CU Athletics you know Betty and Peggy."
Photo by Glenn Asakawa