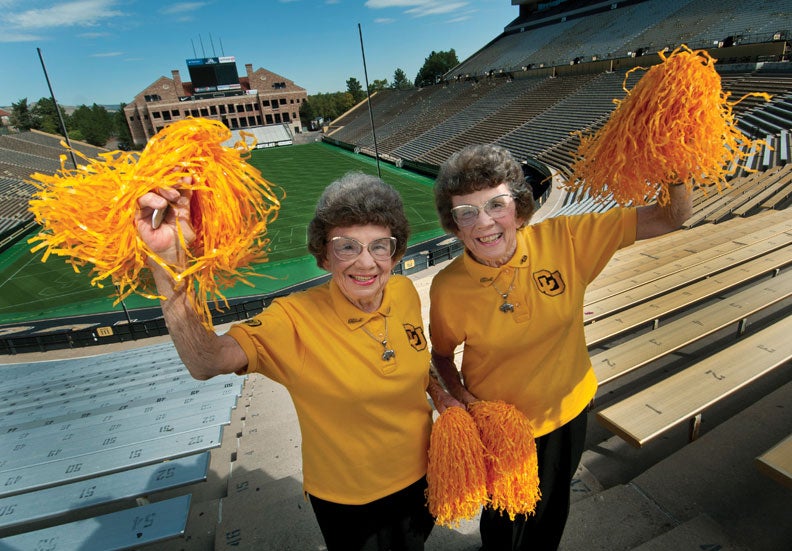 Cheering on players amid sun, rain, snow and bitter cold, 87-year-old twins Betty Fitzgerald Hoover (A&S'46) and Peggy Fitzgerald Coppom (A&S'46) may hold the record for attending the most CU sports games ever.
They've only missed one home football game since 1957 because one of them was ill.
"That's what it takes for us to miss," says Betty defiantly, to which Peggy adds, "All weddings have been planned around CU football."
Wearing matching gold Buff sweatshirts and waving pom-poms, the sisters have been season football ticket holders since 1957 and men's and women's basketball season ticket holders since 1979. As a result, they cannot tell you what their seat numbers are. They just know their seats when they see them.
After attending Boulder High School — where they were cheerleaders — they came to CU and fell in love with the university. Their passion for the campus has never left. To them, the CU community is family. They also are members of the Buffalo Belles booster group.
For home football and basketball games, an entourage of no less than a dozen family members follows them to after parties at Peggy's house to savor the excitement of each game. Peggy says that they also try to become personally acquainted with everyone involved with the teams. They traveled to Miami for the Orange Bowl national championship in 1991 where they say they bonded with the grandmother of Eric Bieniemy (Soc'01), the current offensive coordinator and running back coach for the Buffs.
Despite being miniature in size — both stand just under five feet tall — Betty and Peggy are giants in the CU sports realm, says athletic director Mike Bohn.
"The twins represent the pinnacle of our class, pride and enthusiasm that is so vital to any university," he says. "They inspire us all and provide a wonderful guide to the ideal fan."
Their most memorable games? The football team win over Nebraska in 2007 and when the men's basketball team beat Kansas in 2003.
Regardless of any disheartening losing streaks, they always have faith in their Buffs.
"We've been through some pretty low times [at games] with not much to cheer about," Betty says. "But we've always thought, 'If the team has to stay, then someone should stay with them.'"
Photo by Glenn Asakawa