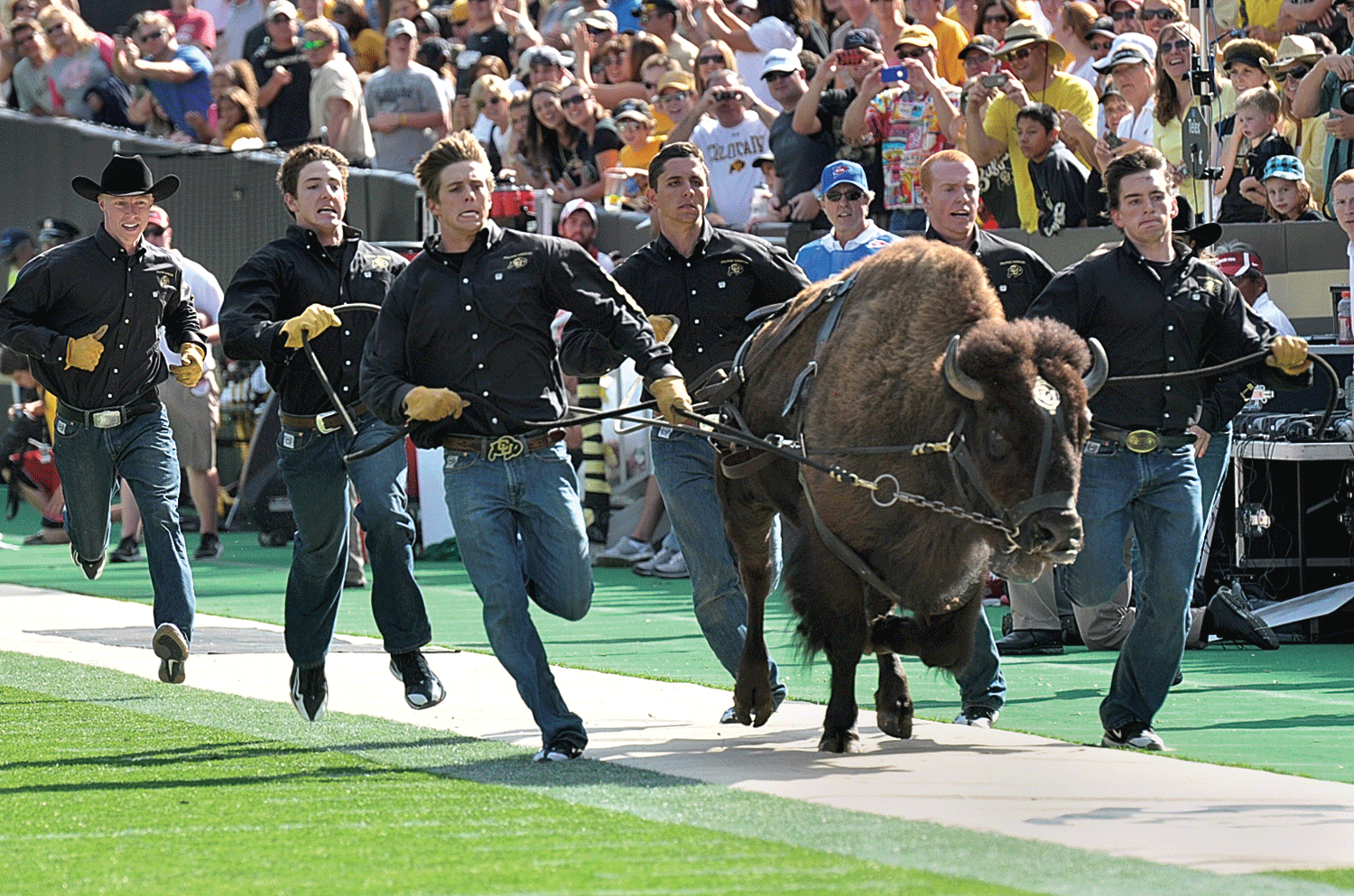 Heritage Center exhibition covers 82 years of CU mascot history 
It's hard to imagine someone who loves Ralphie more than John Graves (Mgmt'09) — he not only coaches the Ralphie Handlers but also spends long hours digging into the history of CU Boulder's cherished mascot.
Graves, manager of the Ralphie Live Mascot Program, has scoured  newspaper articles, made note of every known CU game in which a buffalo has appeared, interviewed handlers from decades past and worked with the university's athletic department and CU Heritage Center museum to verify the facts about the five animals that have served as Ralphie.
"My work is never done," he said.
Graves' findings to date are now public, thanks to a collaboration with the Heritage Center: "Here Comes Ralphie," the museum's newest exhibition, vividly details the 82-year-old buffalo tradition, which began with a national mascot-selection contest in 1934. The display opened in August and runs into 2018.
The exhibition includes a behind the- scenes view of CU's current buffalo, Ralphie V, and the work of her handlers, who spend 30 to 40 hours a week training the 10-year-old, 1,200-pound female and run with her on game day.
"I just want to share her and the tradition with everyone," said Graves, 29, a former handler.
The hunt for new details also has yielded more artifacts, said Mona Lambrecht, Heritage Center curator.
Items on display include the halter used to train young Ralphie II in 1978, a blanket worn by Ralphie III at the Buffs' two Orange Bowl appearances and a replica of the calf bottle used t o feed the orphaned Ralphies III and IV.
Admiration for Ralphie is seemingly boundless. One button from 1996 says it all: "Ralphie for President." 
Photo by Casey A. Cass