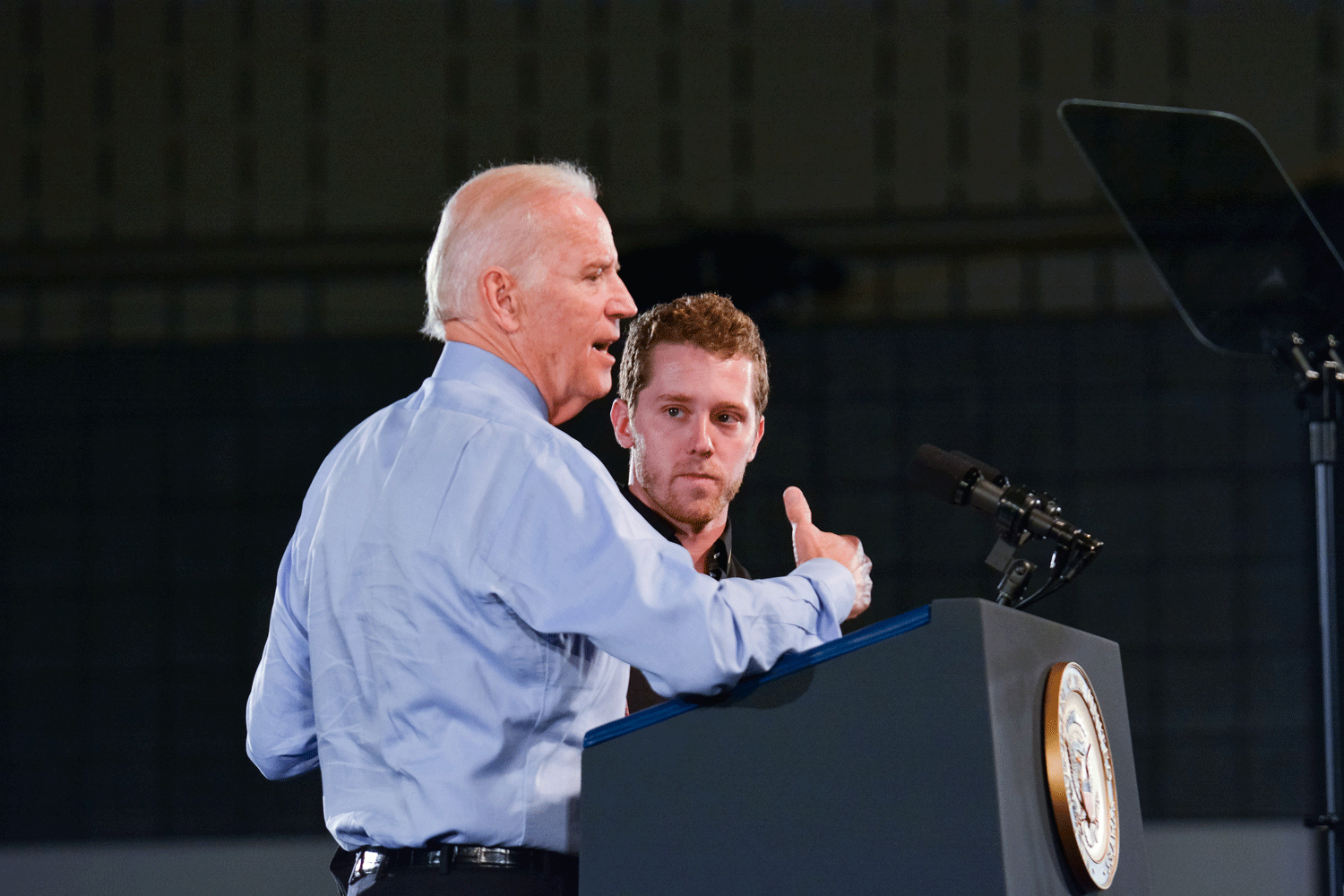 Joe Biden was smiling as he took the stage at CU-Boulder Friday (April 8), but he'd come to deliver a solemn and blunt message.
"No means no," the vice president told a Rec Center crowd the university estimated at 1,500. "No means no, whether it's in the classroom, parking lot, or whether you're already in bed with him and you change your mind. No means no!"
It was Biden's third and final college visit of the week, part of the White House's national "It's On Us" campaign to prevent sexual violence at colleges and universities.
Nationwide, about one in four women between the ages of 14 and 24 are sexually assaulted or raped, Biden said, a rate that's held frustratingly steady for decades. One in five women (20 percent) are sexually assaulted during college, according to National Sexual Violence Resource Center statistics.
In his CU remarks — discursive, at times theatrical, at times poignant — Biden reflected on his long advocacy for victims of domestic abuse and sexual assault, telling stories of victims he'd known, sometimes in jarringly graphic terms that left the gymnasium in a stunned hush.
By the time he left the stage, the vice president had led the assembly in a pledge.
"I recognize that non-consensual sex is assault," he began, pausing after each phrase for the crowd, mostly students, to repeat. "I pledge to identify situations where sexual assault may occur. I pledge to intervene in situations where consent cannot or has not been given. And I pledge to recreate an environment in which sexual assault is unacceptable and survivors are supported."
President Obama and Biden announced the "It's On Us" initiative in 2014. Its core message is that everyone, including men and bystanders, must help prevent sexual assault, a point emphasized Friday by a series of speakers preceding the vice president.
Among them was Max Demby (Acct'16), a Ralphie Handler who came upon and disrupted a sexual assault in progress on campus last spring. The perpetrator was caught, charged and convicted. The victim, Demby said, "has continued to lead a normal and happy life."
"As a student athlete and representative of our university," he said, "I want to stress that the effort to stop sexual assault starts with us."
Biden later called Demby back to the lectern.
"I'm glad I got to meet Max," he said, wrapping an arm around the student's shoulders and noting that Biden's own son, Beau, who died of cancer last year, had done the same thing as a University of Pennsylvania student.
"Look in the mirror, look in the mirror and ask, are you being the man you think you are?" Biden said.
If you can't intervene physically, call for help, he said. If you learn about the assault after the fact, believe and support the friend who confided in you.
"That's the character test you're going to have to pass," he said.
Biden had appeared Thursday at the University of Nevada, Las Vegas, with the singer Lady Gaga, a sexual assault survivor, and Tuesday at the University of Pittsburgh. The White House also approached CU about hosting him in Boulder, according to Malinda Miller-Huey, a CU spokeswoman.
CU has been intensifying its efforts to combat sexual misconduct. In a large-scale campus survey conducted last fall, 28 percent of CU women undergraduates reported being the victim of sexual assault.
Biden took the stage in the lower gymnasium of CU's Rec Center's just after 3:15 p.m. Friday, following remarks and performances by Chancellor Philip P. DiStefano, students, other politicians, campus victim assistance advocates and others. The CU Buffoons, an all-male a cappella group, sang three songs.
Immediately after his remarks, Biden left the stage and waded into the crowd toward a woman who'd briefly interrupted him and whom he promised he'd speak with one-on-one. He was soon engulfed by enthusiastic, cell-phone wielding students, and gamely proceeded to take selfie photographs with them, often raising the cell-phone camera himself.
Biden's motorcade left the athletic complex just after 6:15 p.m. — more than nine hours after students first began lining up for his appearance.
The first of those students was Naureen Singh (MCDB'16), a senior from Colorado Springs. She took her place at the head of the line at 8:50 a.m.
"For a good 45 minutes, there were only four of us," she said in an interview around 11 a.m., by which time the line had grown to hundreds.
Singh had shaken Biden's hand once before, during a White House internship last summer, and was hoping for a second close encounter.
She said she hoped Biden's visit would prompt frank talk at CU about sexual violence.
"I think Joe Biden being here is going to make that conversation happen," she said.
Singh has organized her academic experience at CU around science, but her experience as a Sikh-American has also fostered an acute political awareness, she said. This led to an internship with the federal Equal Employment Opportunity Commission in 2014, and then another in the White House.
After graduation in May, she hopes to join one of the presidential campaigns, a project "still in the works."
Meanwhile, she got her latest close-encounter with Biden, and the selfie to prove it.
Additional accounts of Biden's visit to CU can be found in CU-Boulder Today, The Boulder Daily Camera and The Denver Post.
Photography by Patrick Campbell