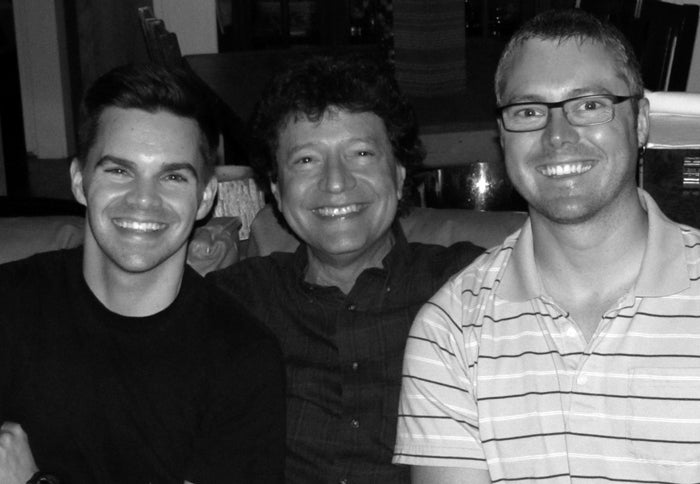 Striving to stand out as filmmakers in the immensely competitive city of Los Angeles, Nick Loritsch (Film'03), pictured left, and Joshua Dragge (Film'99), right, have made a giant leap in the industry with the successful debut of their independent film Born & Raised.
"We're not these L.A.-Sunset Strip guys," Nick says. "We just want to make good films."
Born & Raised premiered last spring at the Miami International Film Festival. The movie is an emotional coming-of-age drama centered on a small-town young man and his outlaw grandfather and highlights themes of love, family and forgiveness. Nick wrote the screenplay — many of the characters are loosely based on people in his life — and starred as the main character Bubbs. Joshua directed and edited the film. Both were producers.
Born & Raised was shot in 2009 in rural areas of Panama City, Fla., and the next two years were spent in post-production work. Working with a limited budget was always at the forefront of their minds, Nick says.
"It's a character-driven piece about relationships," Joshua says. "It's not about the spectacle."
The movie has been well-received, appearing in such festivals as the Sonoma International Film Festival, the Bare Bones Film Festival and the Breckenridge Festival of Film. In addition to working on his own films, Nick is an assistant for Jeffrey Katzenberg, cofounder of DreamWorks Studios and CEO of DreamWorks Animation SKG. Joshua was an assistant for director Antoine Fuqua, known for such films as Training Day and Shooter, but works as a freelance film editor today to spend more time with his wife and daughter.
Nick and Joshua weren't film majors when they enrolled at CU-Boulder but quickly changed their academic paths to follow their passion for film. The two met when film professor Jerry Aronson, pictured above with Nick and Joshua, paired them to work on Nick's senior thesis project, Vogue Models and Beer Bottles. After the humorous short film was screened at the Los Angeles International Film Festival, Jerry encouraged them to move to Los Angeles. In honor of their mentor, Nick and Joshua named their production company Jerry-Rigged Films.
"CU was such a wonderful place to lay the foundation to what would become a career in the visual arts," Joshua says.
The duo has several more projects in the works with the intention of attracting investors for money and obtaining big-name actors to reach a wider audience.
"It all comes back to telling a good story," Joshua says. "Hopefully for an hour and a half or two hours we can give people a journey into a life they don't have."