By Malinda Miller (Engl, Jour'92; MJour'98​)
With just a few clicks, consumers can access dozens of reviews and recommendations, and often what they find influences final purchases.
The same applies to services, so it's essential for designers to establish a personal brand and have a consistent image on LinkedIn, Twitter, Instagram and a website, says Parisa Tashakori, a CMCI advertising, public relations and media design instructor who teaches undergraduate and graduate design classes.
"Essentially, a personal brand is the story that's told about each of us when we're not in the room," Tashakori adds. "It's all about building reputation and creating an image of what we are for the outside world."
Last spring, she assigned a personal branding project to her students in APRD 5011 Book Lab. The course is one of a series that focuses on building professional portfolios as part of the Strategic Communication Design master's degree program, a yearlong, studio-based program dedicated to cutting-edge design theory and practice.
"Building a personal brand intentionally allows students to tell their story as they want it to be told, to establish themselves as an expert and leader in their field, and to connect with their customers and clients beyond their products and services alone," Tashakori says.
Bella Fidjeland (StratComm'20; MStratComm'21) found it more challenging to see herself from an outside perspective and design her own brand than when she goes through the same process for a client.
"I honestly thought it was kind of hard to create a symbol that identifies you," she says. "To kind of look into yourself and be like, OK, this is you as a person."
Simultaneously acting as the client-customer and designer, students started by writing a mission statement, outlining core values, and then creating a mind map and mood boards. After this initial work, they selected a color palette, chose typography and developed brand identity components to use across their print, web and social media presence.
Through this process, the students' unique backgrounds and personalities became evident, Tashakori notes.
For the mind-mapping exercise, Fidjeland, who was raised in Kristiansand, Norway, by a mother who is a fashion designer and a father who was a ski coach, first drew a self-portrait. Next, she added her core values in various colors and turned it into a piece of art.
"My mom and I would always sit down and draw and paint together. I really loved it," she says, adding that, after stepping away from drawing for several years, the design classes she took in college made her realize it was the visual design aspect she most enjoyed.
She also grew up skiing—with her first race at age 5—and was on CU's NCAA ski team for five years, experiences that show up subtly in the strong parallel lines in her BF Designs logo. This was an intentional design decision, she says, since skiing is a part of her, but she did not want it to come across as overpowering.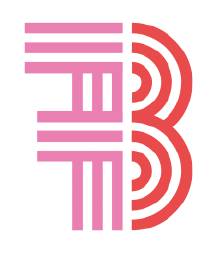 Fidjeland says she is a big fan of the master's program as she's able to learn from designers who bring a real-world perspective into the classroom.
"I love how the professors are active in the industry and are very good at critiquing our projects based on their experience with clients," she says.
The curriculum focuses on innovation and entrepreneurial design, which she found to be a good match with her own design philosophies.
"It's the focus on coming up with solutions that will benefit people and always thinking a step ahead and into the future, and basically solving future problems," Fidjeland says. "I think that is my big motivation in design."