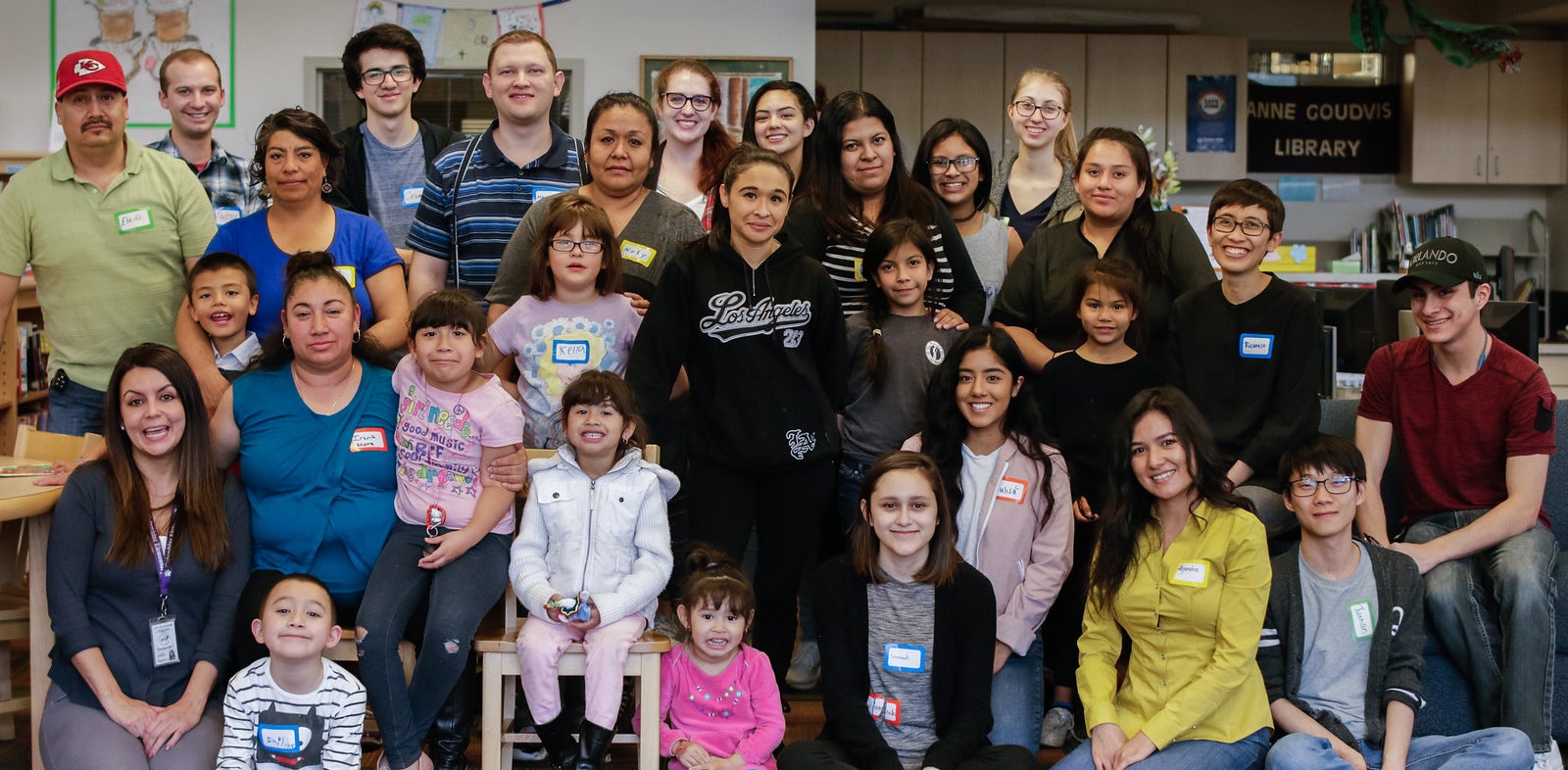 Ricarose Roque, right, and her Creative Communities research group organize workshops to bring families and communities together for hands-on learning experiences.
Roque was honored with the Jan Hawkins Award, which recognizes research that combines practice and advocacy.
By Hannah Stewart (Comm'19)
For Ricarose Roque, educational justice and equity are paramount. As an assistant professor in the Department of Information Science, much of her research explores the concept of inclusive learning experiences. This research—which often considers the place of technology in a learning environment—won her recognition by Division C of the American Educational Research Association (AERA).
Ricarose Roque
Assistant Professor
Information Science
Each year, the AERA recognizes education researchers and Roque, who also has a courtesy appointment in the School of Education, was honored with the Jan Hawkins Award, which highlights contributions to humanistic research and scholarship in learning technologies.
"Far too often, research on learning with technology focuses on the coldly cognitive aspects of learning," explained Joe Polman, associate dean for research in CU's School of Education. "In contrast, this award is designed to recognize research and development on learning with technologies that takes into account how human beings have complex and important lives."
Through the Creative Communities research group, Roque and her team have been conducting research that engages with communities at multiple levels. For example, some projects explore computing outside the classroom while others investigate relationship and identity building. 
The Family Creative Learning workshops she designed "build on families' relationships and cultural backgrounds and to strengthen their social support and expertise around computing," according to the program's website.
Inspired by her family's Filipino culture and the experience of growing up as an immigrant in the U.S., Roque creates her projects and programs in such a way that supports and uplifts local communities. As a result, since coming to CMCI, she has received grants from the National Science Foundation and the Institute of Museum and Library Services.
"Like Jan Hawkins, Ricarose recognizes the great potential for new technologies in the learning process, but she has a humanist's perspective on the centrality of social and cultural context," MIT Professor of Learning Research Mitchel Resnick wrote in his letter nominating Roque. "Also, like Jan, Ricarose brings a warmth and kindness to everything she does, always willing to help and support others, both emotionally and intellectually."
Roque was selected by a committee that included five individuals from universities across the country and honored at the 2023 AERA annual conference, which was held in April in Chicago. As a recipient of the Jan Hawkins Award, Roque will receive a $500 stipend, plaque and opportunity to speak at next year's AERA award session.
"I feel very proud and humbled to receive this award, especially as it honors Jan Hawkins' legacy of humanistic research and uses of learning technologies that respect young people and their communities," Roque said.