Shelby Spindler is an advertising, public relations and media design student in the College of Media, Communication and Information at CU Boulder. This story was written as part of a package of reporting on COVID-19 by students in Assistant Professor Christine Larson's class, Writing for the Media. All stories have been lightly edited for style and updated based on new information. 
Hannah Martellaro, a senior at CU Boulder, has something graduates desire now more than ever: a job offer. After starting the interview process earlier than most in January, she landed a job by February as an account manager with Insight Global.
Her early interview process, she believes, is one reason she managed to find a job––which she considers herself lucky to have during this pandemic. Students typically find April to be a prime job hunting month, but this April looks different.
"Right now, people normally wouldn't be struggling to get jobs," Martellaro said. "The job market has gone from one of the best times of our life to just complete crap."
Statistics back this up.
The class of 2020 was expected to graduate into a very strong job market. Citing data from the Bureau of Labor Statistics last February, the White House reported that over the previous year-and-a-half, America saw "the strongest earnings gains since the recession" of 2008. That all changed by March. With unemployment rates rising and available jobs falling, COVID-19 turned that strong job market into quite the opposite. A survey by Strata Education Network, a nonprofit providing financial support to students, found that, from March 25 to April 15, 54% of Americans in the workforce lost jobs, income or hours due to COVID-19. College seniors expecting to find jobs with ease are now struggling to get interviews.
"Nobody is hiring right now, Martellaro said. "People are barely even looking at people's applications––people are getting laid off."
As the number of available full-time jobs drops for graduating students, even part-time work and internships opportunities are beginning to decline, causing many students to change plans. The Bureau of Labor Statistics found that in March, unemployment rates were higher in more than two-thirds of all metropolitan areas compared to last year. With few companies hiring new employees during this pandemic, seniors without jobs now find themselves forced to consider other options they might not have before, like graduate school.
"I'm looking at graduate school just because the job market isn't great right now, so I feel like that's a pretty safe option," said University of Kansas senior Ben Gillig.
CU Boulder senior Helen Citrin has also started thinking about graduate school, drawn to its stability and direction. As Citrin pursues a career in therapy, graduate school is part of that process––a decision she has debated for years. With the lack of job opportunities available upon graduation, she feels that continuing education is a smart alternative.
"Some companies aren't open, but education is still going on," she said.
Along with lowering job and education options for graduating seniors, COVID-19 also forced many schools to cancel in-person graduations. This decision left students feeling "stripped of one of the big milestones that we've been offered," Martellaro said. With universities across the nation canceling this important memory for seniors, many found themselves with similar opinions.
Allison Janedis, a senior studying nutrition at Colorado State University, said she, too, was deeply devastated at the cancellation of her graduation ceremony, even though she'd landed a competitive internship with Metro State University starting at the end of July.
"My academics are huge to me, so not having that moment to recognize that… it doesn't even feel like I'm graduating," she said.
Regardless of the current job market and the cancellation of a graduation ceremony, most students continue to search for employment. In a study conducted in early April, the Society for Human Resource Management found that approximately three in 10 employers had laid employees off and an additional 28% were considering it.
Career Services offices at most universities offer help for students seeking jobs and have continued doing so during the pandemic. Dylan Mark, an assistant director for internship development at CU Boulder's Career Services office, supports students by managing interactions and activity through resources on its website. These include Handshake––a website that helps students find available jobs and internships––as well as meetings to improve resumes, cover letters and interviews. As part of his job, Mark frequently follows student/employer interactions and has seen COVID-19 affect those rates.
"We saw a little dip in students applying on our system and being engaged toward the end of March," he said, "but we've seen that rebound."
For now, all graduates can do is just keep trying. While some lucky seniors, like Martellaro, have job offers, many others are sitting at home, applying to anything and everything that comes across their computer screen. Even if an unpaid internship or part-time job wasn't in most seniors' plans, being flexible during this time is the best thing you can do, Mark said.
"Right now, you may not be able to hold out for these jobs you could have gotten before," he said. "Look for an opportunity that will give you a good experience and be a good fit for you."
The College Graduates of 2020
How does the job market look for students graduating in the middle of COVID-19?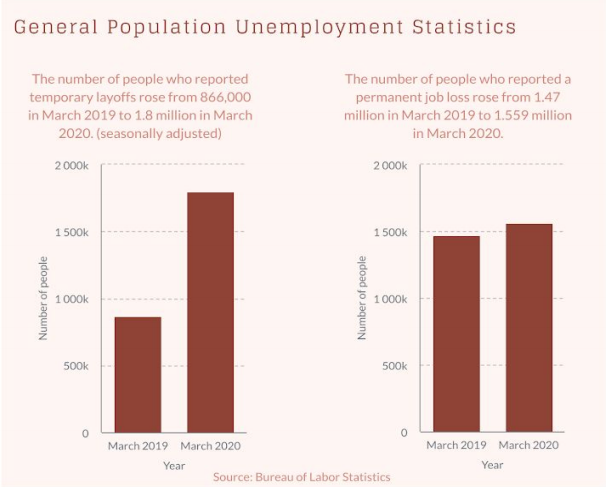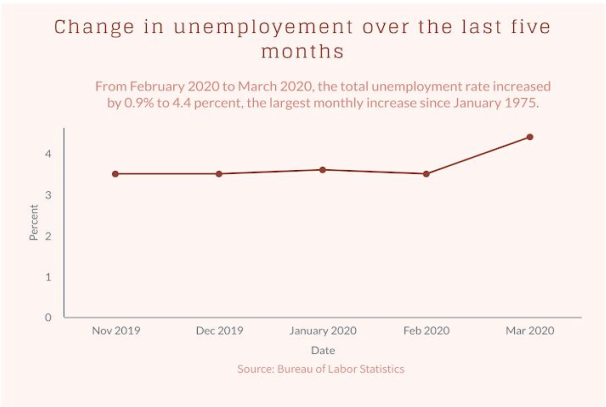 "I'm looking at graduate school just because the job market isn't great right now, so I feel like that's a pretty safe option.
Ben Gillig
Senior
University of Kansas