Discovering the Power of Data and Research
Q&A with Hannah Weber, William W. White Outstanding Senior, Department of Information Science
Nikki Edwards is a journalism student and an editor with the Media Innovation Center (MIC)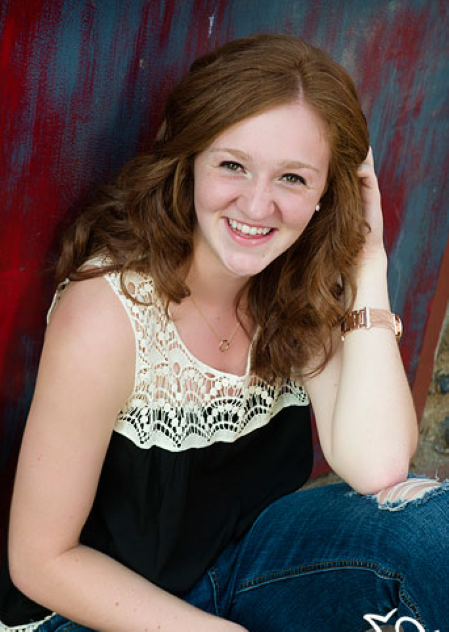 Before arriving at CU, Hannah Weber was searching for a major that encompassed all of her favorite subjects: English, psychology, math and science.
Then, during a CU Boulder campus tour, a CMCI faculty member told her about a new major in Information Science.
"It fit all of the criteria I would have wanted in a major," she says. 
In May, Weber graduated as the Department of Information Science's William W. White Outstanding Senior, in addition to earning a second major in the advertising track of Strategic Communication. 
Fellow CMCI student Nikki Edwards chatted with Weber about why she loved the Information Science program, and how she combined it with a second major in Strategic Communication and her love of sports.
"This was one of the best decisions I have ever made.
NE: What made you pursue a degree in Information Science? 
HW: In high school, I really loved being creative in English and learning how people's minds work in psychology. And I always did well in my math and science classes. This major is a great mix of each of these topics––I loved that I would be able to grow both sides of my brain and receive a well-rounded education. 
At the time, I had offers to play basketball at numerous colleges but none of them had a program similar to CMCI's Information Science major. After a lot of soul-searching, I decided to pursue the great education I knew I would receive here and end my basketball career. Looking back on my four years in the program, this was one of the best decisions I have ever made. 
NE: What was your favorite part of undergrad? Were there any experiences that changed your outlook on your degree and career?
HW: For the past three-and-a-half years, I have worked for a non-profit organization, NCWIT, that works to get more women in computing. This has been an amazing experience and I have been able to apply what I've been learning in the classroom to my job. In addition, I have been able to work for two amazing women who truly care about me inside and outside of work. 
The INFO program has become such a close-knit community––I went through all four years of my classes with basically the same group of students. Because of this, we were able to grow and evolve together and become so close over the years. For my senior capstone course in the spring, I walked into the class and knew all 24 students by name. This is not the case for many of the other majors on campus and I am so glad to have had that experience. 
As a CMCI student, I also really enjoyed having a secondary area of study. I chose to add a major in Strategic Communication on the advertising track, and was really able to expand upon the creative side of my brain. My two majors complemented each other so well.
NE: What are your post-graduation plans? Where do you see yourself in the next five years?
HW: After graduation I was offered a temporary position with NCWIT through the summer. During this time, I will continue the job hunt for a full-time position. I am interested in finding a data analyst or market researcher position for a company in the Denver area. 
In the next five years, I hope to find a job that allows me to work with data in the health and fitness industry. I love the idea of using data to advance the body's performance and improve the sports industry. Outside of work, I see myself being a basketball coach and eating so many tacos and chicken nuggets. I want to travel more and truly take advantage of all that the beautiful state of Colorado has to offer. 
NE: What work are you proud of? 
HW: The work I am most proud of is my honor's project. It was the hardest but most rewarding project I have ever worked on. For a year I researched the question: How can technology be integrated into the college social scene to promote responsible drinking? 
It was really awesome to combine all that I have learned in the last four years in Information Science and Strategic Communication into one project. Defending the presentation was one of those aha moments that made it apparent how much I have matured and evolved during my time here.
Celebrating the Class of 2020