Students, faculty and alumni from the College of Media, Communication and Information are headed to the Colorado Convention Center this weekend to take part in Denver Comic Con and its associated literary conference, Page 23. Members of the CU Boulder CMCI community have participated in the three-day pop culture fan convention since 2012. This year, CMCI participants will hold a roundtable discussion on action figures, a presentation on race and gender in the film Black Panther, a "dueling club" debate on the Harry Potter franchise and more.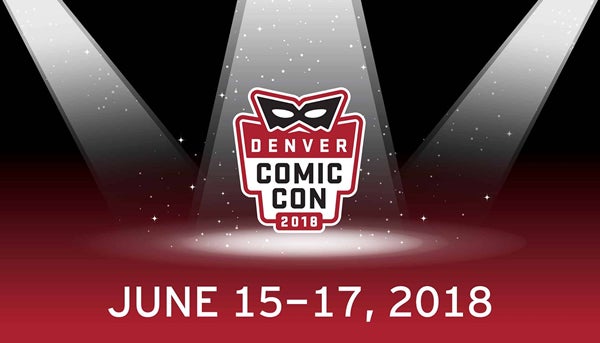 Denver Comic Con CMCI participant schedule
Friday, June 15
"The Room Where it Happens: History and Politics in American Pop Culture"
Room 401 (Page 23 Lit Con)

10:30 to 11:45 a.m.

Chair: Rick Stevens

Featuring:

"The Secret History of Horror Comics" by Dan Yezbick

"I've Seen Injustice in the World and I've Corrected It! How Hamilton and the Marvel Cinematic Universe are Creating a New American Monomyth" by Dustin Dunaway

"Alexander Hamilton: America's First Superhero" by Christopher Bell

"Trumping Presidential Frames: President Trump's Early Comic Book Appearances" by Rick Stevens
"I Am The Vengeance! I Am The Night! I Am [A Comic Book, A Movie, A TV Series and Seven Different Action Figures]! Adaptation and Pop Culture Texts"
Room 401 (Page 23 Lit Con)

1:30 to 2:45 p.m.

Chair: Shannon Sindorf

Featuring:

"Kids on Bikes: The Nostalgic Staying Power of the 1980s with Stranger Things and IT" by Patricia Krmpotich

"Bringing the War Home: The Punisher's Shades of Grey" by Shannon Sindorf

"All the World's a Page: Trans-Medial Adaptation in Comics and Graphic Novels" by Natalie Sheppard

"An Elegy for Superman Part III: The Spectacle, Legitimation and Messianicity in Superman Returns" by Andrew Hallam
Saturday, June 16
"Dueling Club: Harry Potter Scholars Debate Canon, Controversies and Creators"
Room 401 (Page 23 Lit Con)

10:30 to 11:45 a.m.

Participants:

Tracey Bealer

Marley Williford

Christopher Bell
"Bridging the Expanse-Abaddon's Gate"
Room 605 (Sci-Fi / Fantasy)

10:30 to 11:20 a.m.

Participants:

Andrea Bruder

Christiaan Martin

Michael Pea

Darius Rydahl

Rachel Lara van der Merwe
"We Can't Have Nice Things: How Fandoms React When the Creator Turns Toxic"
Room 401 (Page 23 Lit Con)

1:30 to 2:45 p.m.

Participants

Dustin Dunaway

Shannon Sindorf

Patricia Krmpotich

Marley Williford

Christopher Bell
"Articulating the Action Figure: Toys and Action Figures Roundtable Discussion"
Room 401 (Page 23 Lit Con)

3 to 4:15 p.m.

Participants:

J. Richard Stevens

Christopher Bell
Sunday, June 17
"Reverberating Vibranium: The Impact of Race and Gender via Characters from Black Panther"
Room 501 (Comics)

11 to 11:50 a.m.

Participants:
"I Can Always Escape: Mental Illness, Trauma and the Seemingly Inescapable"
Room 401 (Page 23 Lit Con)

Noon to 1:15 p.m.

Chair: Art Bamford

Featuring:

"The Gods Must Be Crazy: Mental Health and Religion in Moon Knight and Mister Miracle" by Art Bamford

"The Toxicity Meta[phor]: Harassment and Hostility Norms in the Overwatch Community" by Elyse Janish

"Mental Illness and its Representation in the Horror Genre" by Kate Lauer
"Playing with Gender: Kids and Scholars Talk Back to Today's Action Figures"
Room 304 (Education)

1 to 1:50 p.m.

Participants:

Arya Gangadharbatla

Harsha Gangadharbatla

Shannon Sindorf

Peter Stevens

Rick Stevens

Piper Thurston
"Learning To Splash: Getting Comics to Crossover into the Classroom"
Room 401 (Page 23 Lit Con)

3 to 4:15 p.m.

Chair: Hailey Barr

"In the Third Person: Adolescent Face, Media Imitation and a Practical Pedagogy of Performance Studies" by Emily Nagle

"Balancing the Force: Reading the Humanities' Future Through Star Wars" by Randall Fullington

"Don't Tease Hawkeye Because He Doesn't Have Powers: Comics as Public Pedagogy and Their Efficacy to Address Bullying" by Colin Ackerman
"Transforming Toys: 1980s Toy Franchises and Modern Fan Cultures"
Room 607 (Sci-Fi / Fantasy)

3 to 3:50 p.m.

Participants:

Christopher E. Bell

Rick Stevens

Peter Stevens
"Teaching through a Pop Culture Assemblage: The Necessary Complexity of Popular Culture in the Classroom"
Room 303 (Education)

3:30 to 4:20 p.m.

Participants:
"Looking Backward, Moving Forward: Finding Cultural Value in Rock Stars, Video Games, TV Series and Comics"
Room 401 (Page 23 Lit Con)

4:30 to 5:45 p.m.

Chair: Lindsey M. Hanlon

Featuring:

"Beyond Positive Representation: The Imperial Logics of Uncharted: The Lost Legacy and Horizon Zero Dawn" by Rachel Lara van der Merwe  

"The Afterlife of a Legend: Michael Jackson's Legacy" by Angelica Kalika

"Thalaikoothal vs. Member Berries: Story-Telling Senicide in Contemporary Western Media" by Joseph Acosta

"'The Noise and the TV': Media Saturation in Transmetropolitan" by Lindsey M. Hanlon