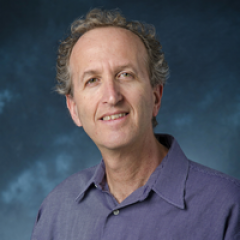 Professor and founder of the Intermedia Writing, Art and Performance doctoral program, Mark Amerika, has been named a 2017 Professor of Distinction by the CU Boulder College of Arts and Sciences.
This revered title is reserved for scholars and artists of national and international acclaim whose college peers also recognize as exceptionally talented teachers and colleagues. Honorees of this award hold this title for the remainder of their careers in the College of Arts and Sciences.
Amerika, who is also a professor of art and art history, has had his artwork displayed internationally in places like New York and London. He is one of only three professors to receive the title, the others being Martha Palmer of linguistics and Mark C. Serreze of geography.
The three professors were celebrated at an event on Sept. 21, in which they also gave presentations on topics relevant to their work. Amerika's presentation focused on "The Artist as Fictional Persona."
"Artists are like professional athletes," Amerika said during his talk. "They're meant to play out their performances on the ground of the moment."