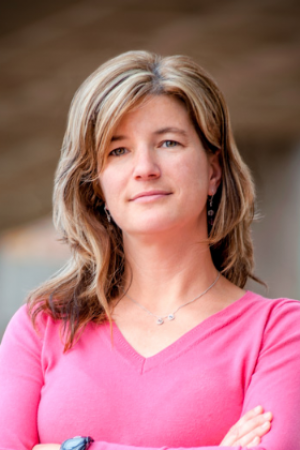 Professor Virginia Ferguson
Biomedical Engineering Professor Virginia Ferguson has been elected to the distinguished American Institute for Medical and Biomedical Engineering's College of Fellows.
The College of Fellows is a prestigious group comprised of the most accomplished and distinguished engineering and medical school professors, researchers, innovators and entrepreneurs. Only the top two percent of engineers in the country are elected to the college, according to the AIMBE.
Ferguson, who is also a professor in the Department of Mechanical Engineering, was chosen for her outstanding contributions to the fields of musculoskeletal tissue and biomaterial mechanics through research, education and service. She was nominated, reviewed and elected by her peers in the AIMBE College of Fellows.
All of Ferguson's work points back to advancing society, which is AIMBE's mission. Each of her research projects are built on enhancing human health by better understanding the materials and mechanics of the body, as well as finding effective solutions to treat patients' injuries and illnesses.
Ferguson's research focuses on the nano-scale characterization of materials and biological tissues. She has become an expert in soft-hard tissue interface mechanics and in nano and micro indentation of bone, soft tissues and hydrogels for tissue regeneration.
Ferguson also has expert knowledge in how aging, disuse and metabolic disease negatively affects the quality of bone and other musculoskeletal tissues. She has recently received a nearly $400,000 National Science Foundation grant to study the mechanisms that lead to tissue degradation in microgravity.
The study will look at the bone loss, muscle atrophy and degradation of soft tissues of mice on the International Space Station. Biomedical and mechanical engineering Professor Sarah Calve is also leading that project.
In another study, Ferguson is researching how chronic inflammation and degeneration of the extracellular matrix is connected to pelvic organ prolapse. She hopes the work, funded by an AB Nexus grant, will help develop early intervention strategies to prevent this kind of prolapse.
Ferguson will be officially inducted into the College of Fellows, along with 152 colleagues making up the AIMBE Fellow Class of 2022, during a ceremony on March 25.