We asked nine CU Boulder students that question; they said they were following their hearts, planning carefully for their careers, or both
---
In recent decades, the number of students nationwide who pursue double majors, minors or specialized certificates has risen steadily, including at the University of Colorado Boulder's College of Arts and Sciences, where the percentage of double majors has, itself, doubled since 1989.
Meanwhile at CU Boulder, the percentage of students who earn a minor has more than tripled, and the number of students earning specialized certificates has grown rapidly.
Scholars studying the trends have concluded that students are pursuing two majors or other complementary courses of study, because college is getting more expensive and focusing on more than one course of study is a way to boost grads' career choices. 
But students themselves often cite other reasons: they want to follow their passions or broaden their scope of knowledge.
We recently asked nine CU Boulder students about their choice to pursue more than one major (or an additional major plus a minor or certificate). What follows are excerpts of what they had to say:
Understanding the whole medical system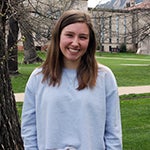 Daria Nicke, whogrew up in Birmingham, Alabama, is pursuing three majors, two minors and a certificate: She is majoring in neuroscience, international affairs and economics, and minoring in political science and Spanish. She is also pursuing a certificate in global public health. 
Nicke said she entered CU Boulder in neuroscience and was "super-hardcore pre-med." Her advisor suggested that she take a political science class, and she loved it. 
Political science became a gateway for international affairs, and economics followed. 
Nicke is still planning to go to medical school, but she has broadened her studies because she realized the health-care system is broad, multifaceted and includes questions of economics, policy and global relations. 
"I feel like you can't completely understand that (medical) system without understanding other systems," she said, adding that the social sciences will help her become better doctor "by being able to understand where people are coming from and what they're facing," she said. 
Each area of study is therefore focused on an end, she said. For instance, political science has "really emphasized writing and speaking and thinking critically."
Studying international affairs helps her with bedside manner, she added. A physician could help patients feel better, "but if you can't speak to them like they're actual people, they're not going to be thrilled with you. …  If I were just a neuro(science) major, I would be able to spew out a bunch of facts at you. But what good is that going to do when you have to interact with someone?"
After graduation, she plans to do a combined medical doctor and master of public health program. She hopes to work abroad, especially with underserved populations.
Her advice to other students is to remain flexible. "I wish someone had told me to not focus so much on the (four year) timeline and what you're supposed to be doing, and instead to focus on what you're interested in. That's how all of my majors came about."
'College is the best place in the world'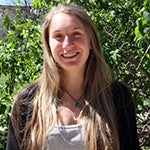 Laura Wild, from Castle Rock, Colorado, is a double major in German and integrative physiology who has been interested in medicine since she was 12 or so. She said she's always been good at science and math. 
Wild chose integrative physiology after a friend recommended it. "I really liked the human aspects of studying human physiology versus (ecology and evolutionary biology). I was less interested in other animals if I'm honest."
She chose German because it was a language no one else in her family spoke. She found she "took to it very quickly."
Wild is applying for a Fulbright Scholarship in Germany and wants to attend medical school after that.
She said there's more to being a physician than knowing science. "It requires interpersonal skills, being able to handle really tough situations, being able to work with people on some of the most vulnerable parts of their life." 
Wild said she envies students who have not yet settled on a major, because they have so many opportunities. "College is the best place in the world. You have so many, you have so many expertsin so many different fields kind of right at your doorstep. … I would just encourage freshmen who don't know what they want to do in their first years to take as many classes that interest them as possible. And there's plenty of time to pick up a major." 
'Start early. Don't wait.'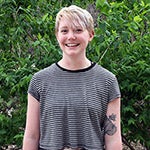 Hattie Houser, who is from Tuscon, Arizona, is pursuing a BFA in dance and is also majoring in geography.She is also pursuing certificates in community leadership and Latin American studies. 
She chose dance because she's been dancing since childhood. People urged her to do and study what she liked, "and coming out of high school, that was the one thing I knew that I really liked."
But Houser also wanted to branch out by focusing on another discipline, one connected to the earth and the environment. Geography was the ticket. "I had no idea geography could be so cool," she said.
Geography is "super interdisciplinary," she added. "I know nothing about hydrology or the hard sciences, but I've taken so many classes with people that, like, that's their thing … 'This is so wild that we're the same major and we're in this class together.'" 
Houser said she knows some people might question the value of a degree in dance. But, "what I found from studying dance and being around all these adults who are super successful and have jobs and are doing completely fine is you can find a job doing almost anything right now."
"If you care about what you're doing, it's going to be way easier for you to find a job, and you're going to be way happier and more successful because you're actually interested in what's going on."
Houser's advice to students is to look for opportunities at CU Boulder and to do so early in their college careers. "That's really it. Start early. Start early. Don't wait." 
On a mission to improve foster care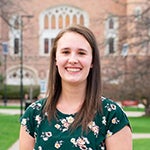 Emily Wassel, originally from Scranton, Pennsylvania, moved here in 2015 and is a double major in classics and history with a triple minor in sociology, philosophy and ethnic studies.
Wassel enrolled as a political science major, but history "has always been my passion, so immediately I jumped to history." When she took courses on the history of Rome and Greece, she found them especially compelling, "so I added the classics major."
Over time, she's taken electives in sociology and ethnic studies and philosophy and realized that "they're really interesting and they are really complementary to what I want to do and what my majors go into. So, I added one at a time along the way as I found interesting classes."
Wassel's long-term goal is foster-care law. "I think the foster-care system sits in a very interesting place in our society within law and race, class and gender. … I think it's important to understand where that system came from before you can try to approach the problems within it. I'm really interested in seeing everything from that macro point of view so that you can see how this became the way it is. Without approaching how it happened, we can't approach where it's going."
Her sister was adopted from the foster care system, and "we went through a pretty brutal two-year adoption battle with her in upstate New York," she said. 
"Through that, I've learned that there are a lot of problems in which we don't value what's actually good for a child, and what is delaying their success," Wassel added. Her personal experience highlighted that "we're prioritizing rights of the family over the rights of the child because we don't see them as able to speak for themselves … we don't see them as deserving the same rights as everybody else." 
Wassel will attend law school at the University of Denver in the fall on a full scholarship. 
Her advice to students is to step out of their comfort zones. "I did not know what ethnic studies or sociology were before I took a class." 
"Especially with the new general education, it's really easy to pick and choose things that you would never take and use them to explore. I tell students, if you don't know what it is, take the intro. It could be your next passion." 
Hitting the right notes in jazz and economics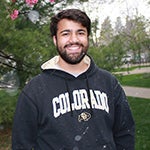 Alex Herbert, from Centennial, Colorado, is pursuing a bachelor of music in jazz studies and a BA in economics. 
Each degree came "haphazardly," he said. He knew that he wanted music to remain in his life, because he played in high school.
He chose to major in jazz because it gave him opportunities to play and to hone his skills. But he also wanted to pair it with a degree "that would let me do something with my life—a backup plan or a primary plan"—economics.
This decision came after he sat in on some economics classes, he said. "I picked it and said, you know, we'll see how this goes. And this year I've really enjoyed economics. It's a great field, I think, and I plan to go forward with it for sure, for certain."
Economics helps him broaden the knowledge and use the critical-thinking necessary for effective intellectual argument, he said.
In both economics and jazz, Herbert has realized that people are not supposed to be "automatically good" at things. "You have to try and fail and try and fail and continually improve yourself."
Herbert has some options for the future: music, arts management or law school. His advice to students is to leave themselves open to a range of experiences."If I had just done the economics degree and not done a jazz degree, then I would never have come into contact with any or as many of the other students in the jazz department who have been very informative with just how the music industry works and how the program itself works."
Helping refugees with mental illness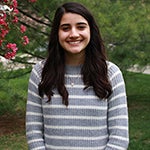 Nadyah Spahn, from Denver, is majoring in international affairs on a pre-med track and is minoring in leadership studies.
Spahn came to CU Boulder thinking she would major in neuroscience and molecular, cellular and developmental biology in preparation for medical school. But she realized she had a really deep connection to refugees, because her mother is a refugee and came to this country with her family when she was about 15. 
"Hearing their story and how much they struggled with mental illness from the trauma of having to leave their country and starting an entirely new life made me realize that what I really want to do is work with refugees with mental illnesses," Spahn said. Those facts guided her to choose international affairs. 
Spahn's father was a doctor, and she was good at science. But she chose to focus on refugee mental health because they often don't receive the services that they need. "So, I went from just wanting to go to med school to wanting to (do) something broader like becoming a psychiatrist for refugees with mental illnesses."
Ultimately, she wants to take the knowledge and skills she gains from the different disciplines and apply them in osteopathy. "I want to go to osteopathy school for psychiatry and then I want to work with refugees with mental illnesses to provide culturally responsive treatment that takes into account the way they think of mental illness and doesn't just ascribe our Western notions of mental illness onto them."
She added: "I think a lot of times we view problems as just tiny little, isolated things that we need to fix, when in reality nothing is isolated. Everything is a part of something bigger. So, if we just view mental illness as something wrong in your brain and we don't look at the circumstances—we don't look at culture and we don't look at what these people are facing—then we'll never be able to really create a change."
Spahn's advice to other students:"Find your passion and then to make sure that it will be worth it. If you're not passionate about what you're studying and if it's not going to lead you to what you want, then it will be hard to get through the late nights of studying, through the 7 p.m. midterms, through having four finals in a two-day period. … Picking a major that takes that passion into account makes it a lot easier to get through the tough times and to have a goal in mind to reach it."
'Take things outside your comfort zone'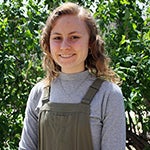 Shelby Eidel, from Maryland, is majoring in integrative physiology and French. 
While Eidel has always known that she wanted to go into science, which she loves, she began taking French in middle school. She worried that if she didn't keep studying French, she'd lose it. She started off minoring in French but then realized she was only 12 credits away from getting a second major.
"I really wanted to maintain that fluency so I could use it in jobs in the future," Eidel said. "And I would love to do health-care work overseas, so if (French) could help at all, then I'd like to have that kind of skill."
In the fall, Eidel is going to Johns Hopkins University for a master's in public health and human nutrition. She wants to be a registered dietitian, which involves 1,200 hours of internship work. 
Later she hopes to do clinical work, perhaps in a hospital. "I'm potentially looking at cancer patients or diabetes patients." 
Eidel's advice to other students: "I would say take classes that you've never heard of before, that you didn't explore in high school; that you just have no idea (about). … That's what I did with my nutrition class." 
"Definitely take things outside of your comfort zone. But then also, don't be afraid to add a major or minor because you can always drop it if it becomes too much. At least you have those classes under your belt."
'Focus on who you are as an individual'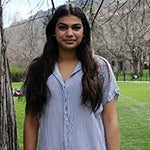 Shloka Dhar is originally from India and moved to Colorado when she was 7. She is majoring in molecular, cellular and developmental biology (MCDB) with a minor in art practices.
In high school, she wanted to study biology of some kind. She thought MCDB would be something that she could apply in a variety of ways. Additionally, "I've always been interested in art, and I didn't want to let go of that. I feel like you can apply art in a plethora of ways, especially in science. They're really connected despite what people might think."
And, of course, they differ. "Art is what you make it, and art is different to everyone. To me, art is something that's beautiful in its own way. A lot of the drawings I do are based on my love for science."
With biology, she said, it's a lot of facts and "this is how it is." Meanwhile, in art, "you can take something and manipulate it any way that you want. Something as simple as a line can be interpreted to contain a lot more meaning." 
Originally, Dhar planned to be a dermatologist, because she's really interested in skincare and natural remedies, but she quickly changed course. "I realized that I didn't have an interest in humans as much as I thought I did. I had more of an interest in the environment and conservation." 
Now she is considering research in environmental conservation. "I'm not super set on it yet, but I have a wide range of interests that I hope to narrow down by the end of college."
Dhar's advice is for students to try things about which they're uncertain: "I never expected to go into environmental conservation, but it developed as I tried different experiences."
"I think it's important to try a broad range of things, so that you can see what you like and what you don't like. Never turn anything down."
She also said art and science can be combined. "You might think those couldn't be combined, but they can, and they can in different ways that suit everyone individually," she said. 
"I think it's all about focusing on who you are as an individual and embracing it instead of trying to find out new passions. Just take what you know about yourself and try to apply it."
'Find things you weren't even looking for'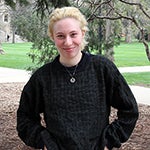 Rachel Halmrast, from Seattle, is majoring in dance and Jewish studies. She said she's always known that dance is "whatI was meant to be doing." 
She was open to another major when she enrolled at CU Boulder but didn't have a pre-ordained plan. She took a Jewish studies class "on a whim." She has taken a birthright trip to Israel and has been increasingly interested in focusing on her own Jewish identity.
Halmrast said her two fields of study are not really related and "not things that can necessarily get me a job as soon as I leave this school. But I feel like they're parts of who I am. And that is more interesting to me than 'how can I get my money going?' I know that will happen." 
She said being in college is a good time, for her, to exercise the freedom to follow her passions. "I want to find out more about myself. That, I think, is the blessing of the liberal arts. You can pull yourself apart and look at yourself, which not a lot of people do. Dance really does that. … But with Jewish studies, I'm able to look at the other, more spiritual, intellectual and ancestral part of myself."
While she has no firm plans after graduation, she does dream of having a dance company of her own, she said. 
Her advice is to be true to oneself. "What changed for me is realizing that I have space to follow my interests. However random they might seem or however nonproductive they might seem... This has nothing to do with my major, but it seems really interesting. Go for that. That is where you will find things that you never thought of ...  things you weren't even looking for."