Honoree's public lecture to focus on the pleasures and benefits of immersing ourselves in a world of fiction
Warren F. Motte Jr., professor of French and comparative literature at the University of Colorado Boulder, has been named the 2016 Professor of Distinction by the College of Arts and Sciences in recognition of his exceptional service, teaching and research.
This highly revered title is reserved for scholars and artists of national and international acclaim whose college peers also recognize as exceptionally talented teachers and colleagues. Honorees of this award hold this title for the remainder of their careers in the College of Arts and Sciences at CU Boulder.
Motte will be honored on Wednesday, Sept. 21, in the Old Main Chapel on campus. He will give a lecture titled "Division and Multiplication" from 4 p.m. to 4:30 p.m. A reception in the CU Heritage Center Museum on the third floor of Old Main will follow the presentation at 4:30 p.m.
This event is free and open to the public.
Motte received an A.B. in English Literature from the University of Pennsylvania, a Maîtrise in Anglo-American Literature from the Université de Bordeaux, and an AM and PhD in French Literature from the University of Pennsylvania.
He came to CU in 1987 as an associate professor, having spent the first five years of his career at the University of Nebraska. As a professor of French and comparative literature, he specializes in contemporary writing, with particular focus upon experimentalist works that put accepted notions of literary form into question.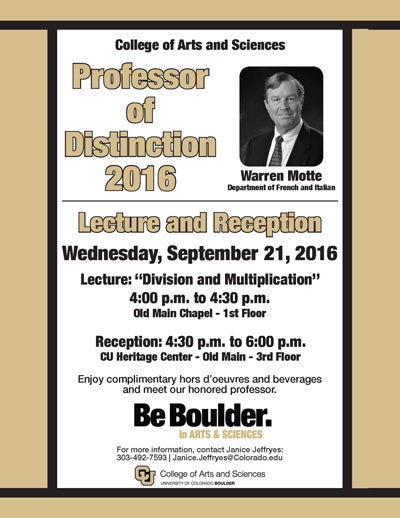 He is the author of The Poetics of Experiment: A Study of the Work of Georges Perec (1984), Questioning Edmond Jabès (1990), Playtexts: Ludics in Contemporary Literature (1995), Small Worlds: Minimalism in Contemporary French Literature (1999), Fables of the Novel: French Fiction Since 1990 (2003), Fiction Now: The French Novel in the Twenty-First Century (2008) and Mirror Gazing (2014).
He is the editor of nine other volumes, and he serves on a variety of editorial boards and advisory committees, in the United States and in France.
He has received many awards for teaching, service and scholarship. In 2015, the French Republic named him a Knight in the Order of Academic Palms. This honorific distinction was given to Motte for his extensive efforts to promote French language and culture in the United States.
Motte describes his "Division and Multiplication" lecture as an examination of the pleasure of losing oneself in mild abstraction while reading works of fiction. He states:
"It is useful to realize that we are far more supple, more tolerant, more agile, more playful when we approach a fictional world than we typically are when we grapple with the phenomenal world. It also helps to recognize that we can immerse ourselves up to our necks in fiction, while never abdicating our critical faculties, that the one gesture does not debilitate the other. To the contrary, immersion actuates our critical sense, and our critical sense stokes our desire to inhabit the fictional world."