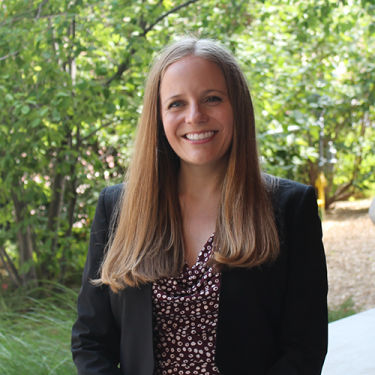 Name: Amy Dodenhoff
Title: Licensing Manager
Years at Venture Partners: 2
Q: Tell us a little about yourself! (Education, Where You're From & How You to Got to CO, Interests, Hobbies, whatever!)
A: I grew up in Massachusetts and am an avid Boston/New England sports fan. I went to Brown, where I got my degree in Mechanical Engineering and my masters in Entrepreneurship. From there, I did some work at early stage startup companies before making the jump into patent law. I moved to NYC and worked as a Technical Advisor and Patent Agent while attending Fordham Law School at night, eventually becoming a patent attorney in Cooley's New York office. My husband and I moved to Boulder in 2018 when he was accepted into graduate school at CU Boulder. We had been looking for an 'excuse' to move to Colorado for a few years, and jumped at the opportunity. I moved to Cooley's Colorado office, and about a year later, I made the move to Venture Partners. 
Working at Venture Partners is really fun. I have the opportunity to learn about so many exciting technologies from innovators at the forefront of their fields. I thrive off of the entrepreneurial energy on campus, and I'm passionate about helping our startup teams and guiding them towards success. I also feel so lucky to be part of the New Venture Challenge (NVC) team! Last year, I ran Female Founders' Night and helped to coordinate other events, as well. 
Q: What is your role at Venture Partners? Tell us more about what you do.
A: I am a Licensing Manager and primarily work with innovators across our engineering, physics and computer science departments. I strategize the best ways to get the innovations developed at CU into the market. This involves protecting our innovations through intellectual property, including patents and copyrights, and finding the right partners to commercialize them—via either a startup or existing company. If you have an idea or invention, please reach out to us! We have so many resources and look forward to working with you!
Q: What is your favorite part about your job and what do you like most about working on the Venture Partners team?
A: It's hard to pick just one! I love our team, working with our inventors and learning about their technologies, supporting our startup teams, strategizing on how to commercialize technologies, learning about different industries, and negotiating agreements. 
Q: When you aren't at work, where will we find you?
A: On the trails with my family! I love being outdoors and being active in just about any form. I love to hike and snowshoe. My husband and I have been taking our daughter hiking and snowshoeing since she was just a few weeks old. She's almost two now, and with most of her life coinciding with COVID, we've spent a lot of time on the trails! I also love yoga, camping, traveling, reading, lighthearted sitcoms (currently loving Ted Lasso), snowboarding, and watching sports.
Q: What's the best piece of advice you've ever received?
A: "Make the best decision you can with the information you have, and move on." My Dad has said these words to me hundreds of times. It sounds so simple, but it really helps me make big life decisions without getting (too) stuck in indecision. It's also a good reminder not to waste energy regretting or rethinking those decisions, because I did the best I could given what I knew at the time.