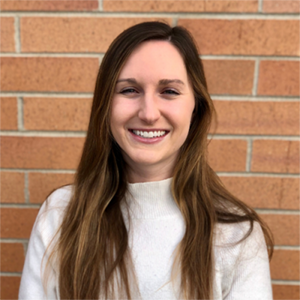 Name: Kay Burns
Title: Administrative Assistant
Years at Venture Partners: 9 months
Q: Tell us a little about yourself!
A: I'm from Milwaukee, Wisconsin and went to the University of Wisconsin-Madison. After graduation, I moved to San Francisco and worked as an Executive Assistant in the finance industry for three years. I've always loved to travel, so in 2019, I decided to move to New Zealand on their Work Holiday Visa. It was an amazing experience – I lived in a van and traveled all over the country for about five months and for the other half of my time there, I lived in Wellington and worked as an Executive Assistant at the Ministry for Women.
We've been in Boulder for about a year now, and love to hike, rock climb, ski, and play with our new puppy.
Q: What led you to this career and working at Venture Partners?
A: I have held administrative roles since graduating college, but most of my time was spent in the finance industry. While I learned a lot in that industry, after returning to the US, I was ready to learn more about a different field and take on a new challenge.
Q: What is your role at Venture Partners? Tell us more about what you do.
A: I am the Administrative Assistant for Venture Partners, so my role spans many different areas. I help put on the entrepreneurial training programming that we host (like Research-to-Market, which is happening right now!) as well as other events, process invention disclosures and assist with patent filings, and help with assorted financial tasks.
Q: What is your favorite part about your job and what do you like most about working on the Venture Partners team?
A: My favorite part about this job is watching the inventors go through our programming and make progress on their technology. Even in the short time that I've been here, many faces and names have become familiar and it's exciting to watch them pivot and grow.
Q: What's the best piece of advice you've ever received?
A: "Very little is needed to make a happy life; it's all within yourself, in your way of thinking" is a quote that I always try to keep in mind.