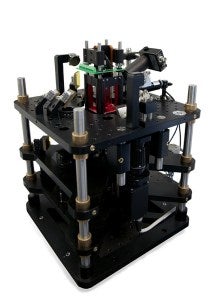 ColdQuanta, a CU Boulder spinout company co-founded by Physics Professor Dana Anderson, recently closed $10M in additional seed round equity financing from its current investors, Maverick Ventures and Global Frontier Investments. This brings total investment from private and public sources to approximately $24M over the past 18 months. The funding will be used to advance the development of ColdQuanta's cold atom Quantum Core™ technology (right), the foundation for the company's development of quantum computers.
ColdQuanta leads the market in commercializing quantum atomics, the next wave of the information age. Quantum Core™ uses ultra-cold atoms—cooled to a temperature of nearly absolute zero—using lasers to manipulate and control the atoms with extreme precision. The company manufactures components, instruments, and turnkey systems that address a broad spectrum of applications ranging from timekeeping and navigation to quantum computing, and from radiofrequency (RF) receivers to quantum communications systems.
Anderson, who currently serves as ColdQuanta's chief technical officer, co-founded the company in 2007 to further his ultracold atom research and create commercial applications for the technology with licensing support from Venture Partners at CU Boulder. He is also a fellow of JILA, a joint institute of CU Boulder and the National Institute of Standards and Technology (NIST).
Visit Venture Partners to learn more about CU Boulder inventions and related support, or read the announcement.