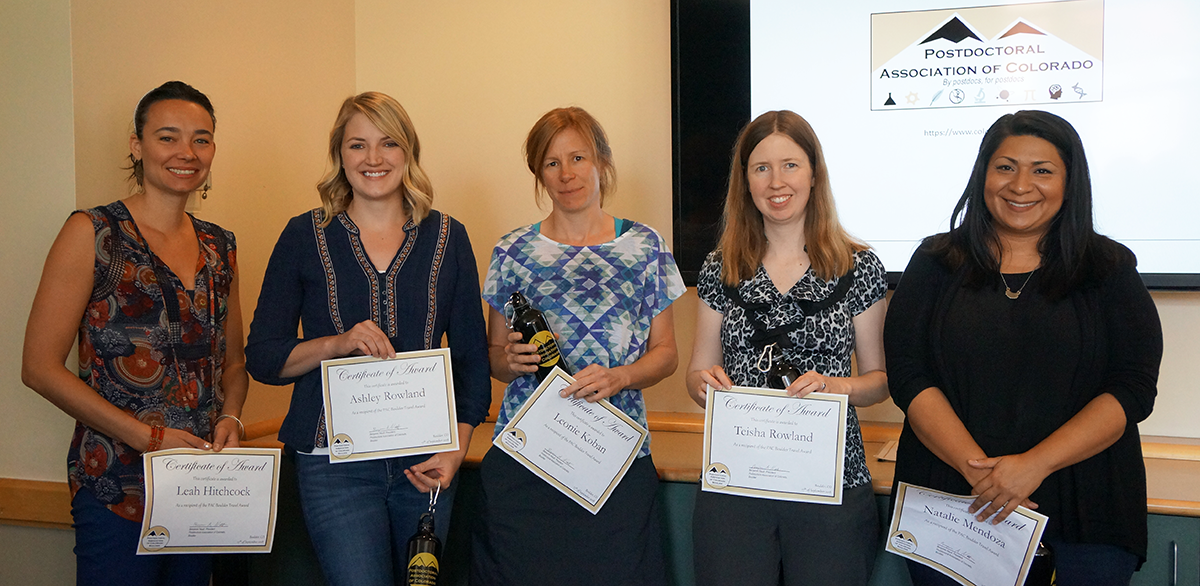 Honors presented to postdocs Cattau and Elmansouri, mentor Heinz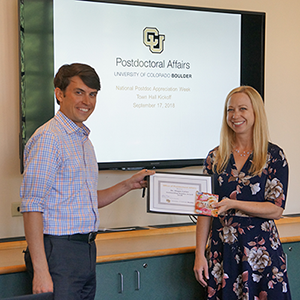 CU Boulder celebrated last week's National Postdoc Appreciation Week (NPAW) in style, with a weeklong slate of recognition, professional development and social activities spotlighting the importance of postdoc contributions to the university.
Outstanding postdoc and mentor awards
Highlighting the week were postdoc and mentor prizes awarded by the Office of Postdoc Affairs (OPA) during Monday's "town hall" event.
For excellence in research, communication, and leadership, Megan Cattau of CIRES/Earth Lab—nominated by Carol Wessman—and Mohammed Elmansouri, of Electrical, Computer, and Energy Engineering—nominated by Dejan Filipovic—took home Outstanding Postdoc Awards.
The Outstanding Postdoc Mentor Award—for providing exceptional mentoring, training, and leadership to postdoctoral scholars—went to Hendrik Heinz of Chemical & Biological Engineering, who was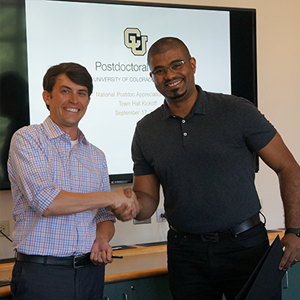 nominated by Juan Liu.
Additionally, the town hall featured president of the Postdoctoral Association of Colorado Boulder (PAC Boulder), Ben Nault, who highlighted the volunteer organization's travel award program and winners Leah Hitchcock (ICS), Ashley Rowland (EBIO), Leonie Koban (Psychology/Neuroscience), Teisha Rowland (Biochemistry) and Natalie Mendoza (History).
Foundations for the future
Besides recognizing key leaders from the previous year, the week's events also served to set the stage for the coming year and strengthen bonds across the postdoc community.
During Monday's town hall, Nault also shared information about the upcoming Front Range Industry & Postdoc Summit (FRIPS) and social activities organized by PAC Boulder. Sarah Banchefsky of Institutional Research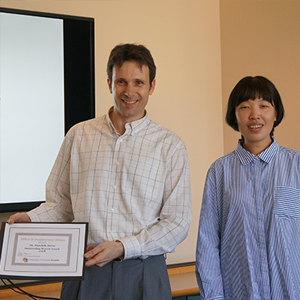 presented findings from CU Boulder's first ever climate survey earlier this year. 
On Tuesday, about 50 postdoctoral scholars waited in line for free professional portraits. The Office of Postdoctoral Affairs offered this service in partnership with Strategic Relations. For any postdoc who has not received their photo, please email opa@colorado.edu.
Around 20 postdocs learned about leadership during Wednesday's workshop presented by Lauren Harris, a Training and Development Manager in Human Resources, exploring qualities of leaders in organizations ranging from academia to industry to nonprofit work.
Dr. Christine Wiedinmyer, Associate Director of Science for CIRES, led Thursday's Building Your Network of Mentor workshop, stressing the benefits of developing a team of mentors rather than relying on a single mentor. 
Top: Megan Cattau, CIRES/Earth Lab
Middle: Mohammed Elmansouri, Electrical, Computer, and Energy Engineering
Bottom: Hendrik Heinz, Chemical & Biological Engineering, with nominator Juan Liu
Dr. Wiedinmyer founded the Earth Science's Women's Network, an international network of women that promotes mentoring and career development, and works closely with postdocs and graduate students in CIRES.
PAC Boulder organized a fitting end to the week's festivities with a social at the Rayback Collective for postdocs and their families and friends.
Please visit the OPA and PAC Boulder websites to explore the resources, programs and services available to postdocs throughout the year.