Political Science Ph.D. Recipient at CU Boulder
The Political Science Department would like to congratulate Alan Zarychta in receiving  the 2017 Leonard D. White Award from the American Political Science Association.This award is given to the best dissertation in the public administration field defended within the last two years. Members of the award committee included Zachary Oberfield of Haverford College, chair, Mary Feeney of Arizona State University, and Holly Goerdel of the University of Kansas.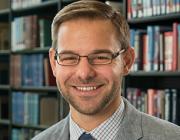 Zarychta received both his MA in Public Policy and Ph.D in Political Science at CU Boulder. He currently is an Assistant Professor in the University of Chicago School of Social Service Administration.
Zarychta's research focuses on social policy in both public health and the environment in Central and South America. He is presently working on several projects on the effectiveness of health care policy in Nicaragua, Guatemala, and Honduras.
More information about his work can be found on his biography at the University of Chicago website: https://ssascholars.uchicago.edu/a-zarychta/biocv