About the Peace Corps 
The Peace Corps sends Americans with a passion for service abroad on behalf of the United States to work with communities and create lasting change. Volunteers develop sustainable solutions to address challenges in education, health, community economic development, agriculture, the environment and youth development. 
Through their Peace Corps experience, volunteers gain a unique cultural understanding and a life-long commitment to service that positions them to succeed in today's global economy. 
Since President John F. Kennedy established the Peace Corps in 1961, more than 235,000 Americans of all ages have served in 141 countries worldwide.
CU and the Peace Corps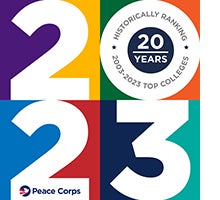 In May 2023, CU Boulder has been recognized as a top volunteer-producing university by the Peace Corps, coming in at No. 5 nationally among the top 25 schools producing volunteers since 2003. In all, 2,589 CU Boulder alumni have served abroad as Peace Corps volunteers since the agency's founding in 1961. Read more in this CU Boulder Today article.
Life is calling. How far will you go?