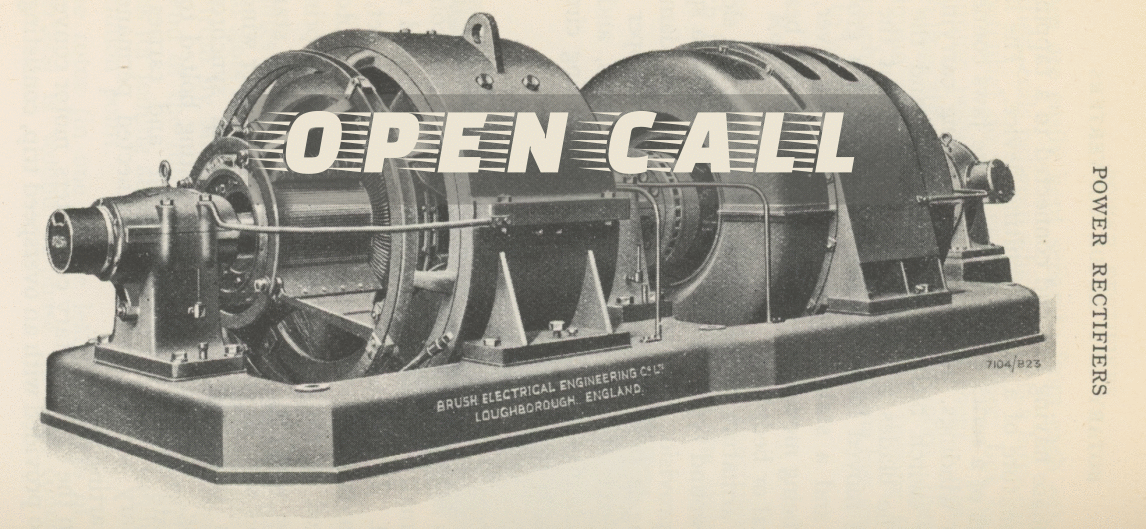 Image source: Questions and Answers - Audel's New Electric Library (1938). Scan is courtesy of the Media Archaeology Lab.
MEDlab is pleased to announce that the Excavations: Governance Archaeology for the Future of the Internet cohort has formed. Initiated by MEDlab and King's College London, the cohort will facilitate a conversation through interdisciplinary, practice-based explorations on diverse governance practices across time and space, beyond the dominant models in today's online cultures. The cohort positions art practice at the center of building a bridge to social scientific research in rethinking governance models and the long history of creating spaces that are governed inclusively.
Our open call received an outpouring of powerful proposals, and we had It is with great pleasure that we announce our cohort members:
Barabar is a social design collaborative born out of Bhawna Parmar and Rubina Singh's quest to decolonise design and use it as a tool for social justice. They will be working on a speculative provocation which explores the future of human rights in the 'Digicene' by imagining a world amidst dystopia and utopia, where people and corporate governments try to co-exist.

Mateus Guzzo (Brazil, 1992) works with (moving) images, strategy, and social agency to design collaborative alternative platforms of imagination, culture, and public policy. He will develop a visual diagram exploring active online content-moderation governance systems in dialogue with content moderation methods of Media Democracy movements in Latin America, particularly in Brazil.

Caroline Sinders is a critical designer and artist looking at how technology affects society through the lens of human rights and design. For this cohort she will undergo a critical inquiry into the sustainability of scale, mapping scale, movement and creation of data within data cooperatives.

Şerife Wong is an artist and founder of Icarus Salon and Eryk Salvaggio is an interdisciplinary researcher and artist exploring gaps between datasets and the world they reflect, using digital art and writing. Together they are putting forward a proposal for a "situationist blockchain" based on the writings and political organization of the Situationist International.

Ioanna Thymianidis is a contemporary artist and HR professional creating sculptures exploring patterns in nature and patterns in human society. She will offer the Excavation cohort her take on Human Capital and Human Governance within our digital workforce through the medium of digital sculpture and mapping.

Mara Karayanni is an artist and sysadmin based in Greece, who works with networks and servers, they enjoy making tech related zines and silkscreens. She will be working on a resource challenging the lack of gender inclusivity in the Free and Open Software communities by translating male pronouns found in existing online tech documentation to female and neutral ones.

Plot Twisters is an online community of creators who are researching and developing personal storytelling tools, especially for young people. They will offer the cohort an online self-governance framework, which supports the members of Plot Twisters to communicate expectations, lead self-motivated projects, explore the interdependence of their roles, and most importantly, play.

Mallory Knodel is the Chief Technology Officer at the Center for Democracy & Technology and chairs the Human Rights Protocol Considerations research group of the Internet Research Task Force. Continuing the work that a global network of movement leaders in intersectional feminism did, defining a set of principles for the internet, she is leading an engaged group of expert engineers, setting out to visualise core internet protocols differently, from routing to security, through illustrations, drawings, charts, images, metaphors and texts.

Antonia Hernández is a Montréal-based theorist, designer and media artist whose work explores the infrastructural aspect of intimacy. Lotte Louise de Jong is a media artist based in Rotterdam, Netherlands, exploring how we mediate our identity through the digital spaces we inhabit. For the Excavations cohort, they will explore the different and contrasting ecologies governing sex webcam platforms by uncovering the tension between the hypervisibility that characterizes webcammming and the inconspicuous nature of the platforms where it unfolds.

Amelia Winger-Bearskin is an artist and a Banks Family Preeminence Endowed Chair and Associate Professor of Artificial Intelligence and the Arts, at the Digital Worlds Institute at the University of Florida. She will be creating a web reflection on the project: A chatbot to move acknowledgement to action for honoring native land. 
This group will meet over the course of several months to delve into a process of collaborative work, exchange and building of new exciting projects into an online exhibition format, supported by MEDlab, King's College London and their associate researchers. During the process, the group will reflect on issues around governance in collaboration and co-creation spaces such as the cohort itself and in relation to the affordances of online spaces. As the development of conversational and shared spaces is the primary drive to realize this inquiry, we will also share some elements of collective prototyping as the cohort runs.
Follow our posts in the coming months to stay up to date with the project!