Here you will find some of the design work I have completed that connects to my research.
Designing Political Deliberation Environments

Social media users face several challenges when browsing political information, disseminating political information, and engaging in political discourse when using one or more social media technologies. Poli is a prototype information environment that was designed in response to user needs in the domain of political information browsing and deliberation. Its features include aggregating information across social media technologies, exposing users to diverse political information and alternative viewpoints, filtering content by topic, sentiment, geographic location and political orientation, providing feedback on the impact of posts, understanding context, and managing identity.
Empowering Journalists with Technology: Illuminating 2016
Project Website: http://illuminating.ischool.syr.edu/project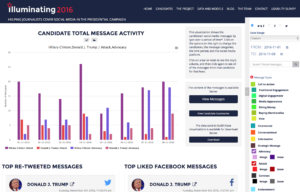 lluminating 2016 is a computational journalism project that will empower journalists covering the 2016 presidential campaign. Political reporters must cover not only stump speeches, campaign events, and TV ads, but also what is happening on social media. Covering it increases transparency and accountability of the campaigns, and is a way to take the pulse of the electorate. The sheer volume of information that flows through social media, however, makes it challenging to report accurately and comprehensively. Our goal is to help journalists in that important work by providing a useable yet comprehensive summary of the content and sentiment—that goes beyond counting likes or retweets. Illuminating 2016 will enable political journalists an insightful yet accessible summation of the important political conversation online. This project is supported by the Knight Foundation, the Tow Center for Digital Journalism at Columbia University, the Center for Computational and Data Sciences and the BITS Lab at the School of Information Studies at Syracuse University – See more at: http://illuminating.ischool.syr.edu/project#sthash.0lm8uoyg.dpuf