When 11-year-old Luz Elena Sanchez arrived in Yuma, Colorado, with her family from Mexico, she found herself lost among her English-speaking classmates. She had difficulty understanding her homework, and she got into trouble for speaking Spanish in school.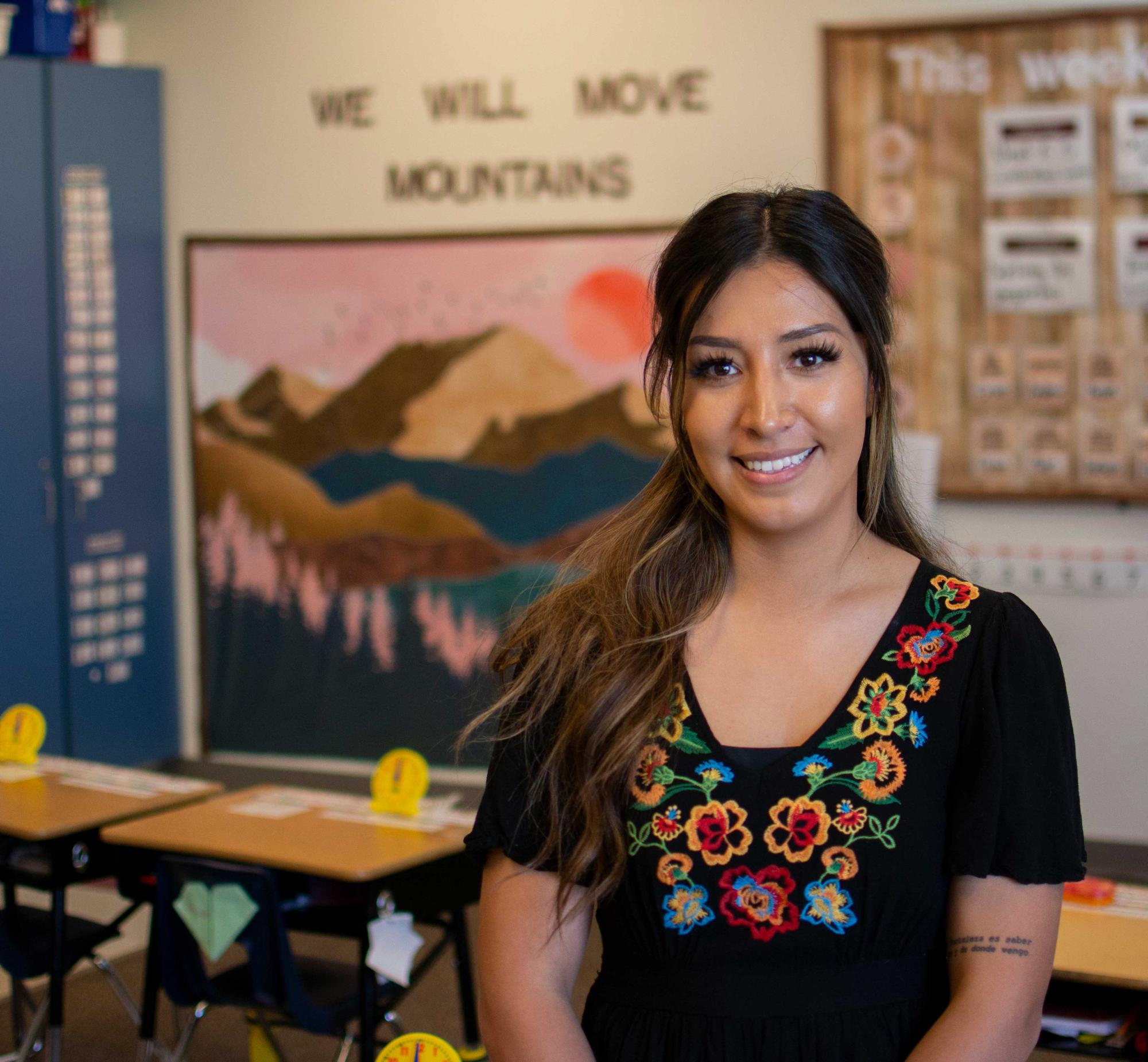 But one teacher, Sanchez' sixth grade homeroom teacher Brady Nighswonger, made a big impact on her. Instead of sending her to detention for speaking Spanish, he encouraged her to work with her friends during class. He helped her with her homework, even though he wasn't her teacher in those subjects.
After years of me being an emerging bilingual, I wanted to come back and service the exact same population and community that I was in. I see myself in these kids."
"I had a whole year where I didn't want to go to school," Sanchez said. "I didn't want to learn anything. And Mr. Nighswonger completely changed that for me."
When she went to college, she knew she wanted to make a difference as an educator the way her teacher did for her. Sanchez moved back to Yuma and started working as a second grade teacher.
"After years of me being an emerging bilingual, I wanted to come back and service the exact same population and community that I was in," she said. "I see myself in these kids."
In Yuma, a rural community in northeast Colorado with approximately 3,500 people, about 40 percent of the students speak Spanish. Yet Sanchez found little support for this population, and she noticed language and learning gaps that grew larger with each new grade level.
"A lot of the time the kids are just in the hallway reading in Spanish instead of being in their own classroom," Sanchez said. "That broke my heart when I started working here because I wanted to change that right away."
Sanchez came with ideas to change the curriculum and increase support for the emerging bilingual and migrant students in the community. But she faced pushback from others at the school and had little support for making these changes.
Discovering her own leadership
In 2020, Sanchez enrolled in an online master's degree program, the Teacher Leadership program at CU Boulder, while working as a full-time teacher. She was surprised by the community she found in the program and by the confidence and leadership the program helped her discover within herself.
"As I started taking courses in this program, talking to classmates who were also teachers and talking to my professors, I knew there was more that I could do," she said. "I was able to open up and share my ideas. For the first time in my teaching career, I felt supported."
As part of her capstone class, Sanchez designed an afterschool program at her elementary school specifically for emergent bilingual and migrant students. Together with teachers, community members, parents and volunteer high school student tutors, the program helped students with homework, taught lessons on social emotional learning, and aided with language acquisition.
"This program opened doors for parents to finally be in the loop of what their children were learning, how to help them academically and to feel heard and supported within the school community," Sanchez said.
Chasing her dream opportunity
Sanchez completed her master's degree this summer and will take on a new job as the culturally and linguistically diverse specialist teacher at Salida del Sol Academy in Greeley, an opportunity that she describes as her dream job.
She attributes her success to the support of her fellow teachers in the Teacher Leadership program and the knowledge she gained.
"I've always been very shy, really nervous about everything," Sanchez said. "This program gave me the push and the support that I needed. This past year, I've been so outspoken. I've been putting my foot down. These are the things that my students need. These are the resources my classroom needs. And I will teach this because this will help in this area."