Toni Christiansen bursts through barriers and advances U.S. diplomacy
Toni Christiansen (Edu'70) enrolled at CU Boulder with two dreams: to become a teacher and an international diplomat.
The impressive career that followed has been a dream come true. As a teacher in a small mountain town, she arranged out-of-state and international field trips for students. Later, she led two of the largest field missions in the world at the pinnacle of her career with the United States Agency for International Development, USAID.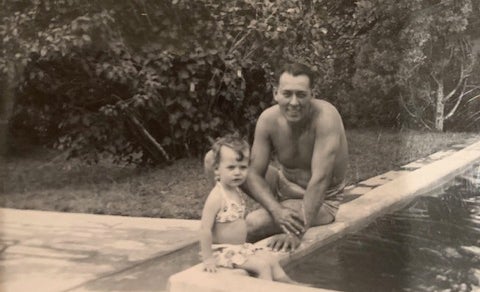 Toni and her father.
Early on, Christiansen yearned to correct the tarnished image of U.S. diplomacy after reading the 1958 novel The Ugly American. She was also inspired by her father, a Philippines-born Olympic swimmer who faced adversity on his path to becoming an engineer in Golden, Colorado, where she grew up.
"My father used to say, 'The world is not going to come to you; you need to go out and experience the world,'" she said.
With her father's motto ringing in her ears, Christiansen sought an education position with USAID in the late 1970s. By that time, Christiansen had earned a master's degree, was working toward a PhD and had developed curricula in cultural awareness for secondary teachers in India as a two-time Fulbright scholar. However, USAID was a long shot, as only 10% of the foreign service officers were women.
Interviewers grilled her about her education at CU Boulder, due to its activist reputation at the time, and how she would adapt Piaget's theory of cognitive development in foreign countries, which she navigated with ease. But the interview's questioning tone—including a comment that she smiled and laughed too much—left Christiansen discouraged.
"I went home and thought, 'There's no way.'"
But Christiansen was wrong. She was selected on a 25% quota basis as one of the women and minority candidates. After intensive training, her first USAID assignment was to the Eastern Caribbean covering 13 countries. Landing in Barbados, she worked on various educational and women's development projects. Despite her first supervisor's flat remark that she was his third choice, the position was only the beginning of her international work and efforts to put a dent in the glass ceiling.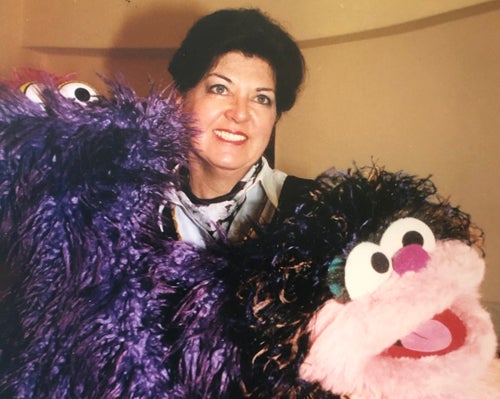 Toni Christiansen and the Muppets from
Sesame Street
. As deputy director in Egypt, Christiansen worked with national leaders and local television authorities to bring culturally relevant educational television programing, including Sesame Street, to Egyptian networks.
"I was one of only two women (in Barbados), and in another, I was the only woman. It wasn't easy."
Christiansen served USAID for 24 years in Latin America, the Middle East and Washington, D.C., headquarters. She became the first female deputy director in Egypt, the world's largest USAID mission at the time, and then director of the mission in Jordan, where she was awarded the highest medal of honor by King Abdullah II.Christiansen cherished her work in Egypt and Jordan for her team's concentrated impact on education, infrastructure, policy development and more. She always amplified team contributions and promoted women and diverse staff to greater technical and leadership roles.Later in her USAID career, a colleague remarked that Christiansen smiles, but she knows exactly what she wants—a comment on her tenacity that had evolved since those early, grueling interviews.
Christiansen's USAID retirement in 2003 did not slow her work. In the private sector, she was a chief operating officer for a multimillion-dollar food startup in Jordan, led policy development for a master's in education leadership and management in Afghanistan and developed business management curricula for Afghan women who are preserving Afghanistan's beautiful hand-embroidery traditions. Her work transcended borders as she helped connect the Afghan women with educational institutions and female entrepreneurs in India. At press time, Christiansen was working to support her Afghan partners and their safety after the Taliban takeover.
Go out to see the world and see it through their eyes . . . . Be a world citizen that realizes everyone has potential and dreams, and we are all human."
Christiansen embodies her father's worldly advice, but she would expound on his advice for others dreaming of international work with local communities.
"The most important thing is to go out to see the world and see it through their eyes, so that you can better understand where they're coming from and be more tolerant and accepting of others," she said.
"Be a world citizen that realizes everyone has potential and dreams, and we are all human."