Brief updates about what's new in the School of Education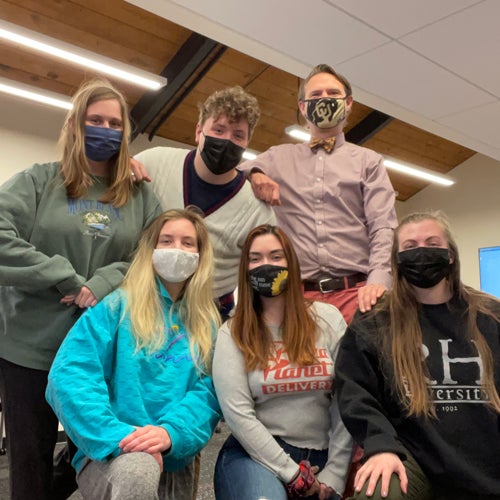 Inaugural cohort of BA graduates working on the forefront of social change
The CU Boulder School of Education conferred its first Bachelor of Arts degrees in and elementary education this May. Launched in 2017, both pathways support emerging leaders interested in making the world a better place through education and community activism. The elementary education graduates also earned the culturally and linguistically diverse education endorsement to teach emerging bilingual learners, the fastest-growing student population in Colorado and beyond.
"This preparation positions graduates as the kind of teachers schools most want to hire," said Jamy Stillman, founding faculty director for elementary education. "We couldn't be prouder of this class, who we know will make the world more equitable and just through their work with children, families and communities."
Leadership and community engagement students learn to work with, not for, communities to address pressing societal issues together. The 2021 graduates combined their studies with a yearlong capstone project with community organizations working on the frontlines of racial justice work.
"As a new major, there have been bumps, but the students have been steadfast in their vision, and they have been excellent leaders in their time here at CU Boulder," said Roudy Hildreth, faculty director of the program.
New graduate certificate helps teacher leaders cultivate compassion
Shortly after the COVID-19 pandemic halted normal life and disrupted schooling across the U.S., the Teacher Leadership program at CU Boulder released the Cultivating Compassion and Dignity in Ourselves and Our Schools certificate track, the only known national program focused specifically on cultivating compassion for educators.
The certificate track is one of six stackable graduate certificates that can lead to a master's degree in teacher leadership when educators complete three certificates.
The program is entirely online, and teachers enroll in self-paced coursework culminating in a real-time capstone class with other teacher leaders to address problems of practice together.
More than 100 educators from across Colorado applied for scholarships to enroll in and help continually improve the compassion certificate. Applicants expressed interest in creating more inclusive schools, and bringing compassion to themselves and students.
Colorado Springs science teacher Kristen Sim is the program's first master's graduate. While she was initially apprehensive about the compassion courses, not knowing what to expect, she discovered that all the coursework is intertwined and that the compassion training was life-changing.
"I found it focuses on the teacher and caring for teachers and staff compassionately, which transfers to the students," she said.
The compassion coursework was Sim's third and final certificate solidifying her master's degree and shifting the ways she views educational leadership.
"I feel empowered, and I am a leader," she said. "Leadership is not the principal at the school, and it's not the board members. Leadership is taking the initiative to do what's right, starting in your own classroom and then expanding that out to your school community."
Settling into our new home in the Fleming Building
The School of Education has officially moved into a new campus home in the beautifully renovated Fleming Building. The second phase of the architectural planning and fundraising initiative offers exciting opportunities to officially bring all our program areas and centers into the gorgeous new space and redesign the ways we work and learn together.
Take a peek inside the new School of Education building and learn more about the Building the Future of Education fundraising initiative at colorado.edu/education/buildingthefuture.