At the CU Boulder School of Education, we are excited to announce Noreen Naseem Rodríguez, our newest faculty member who joins our community of educators and learners. Meet her below, and please join us in welcoming her to our school and community.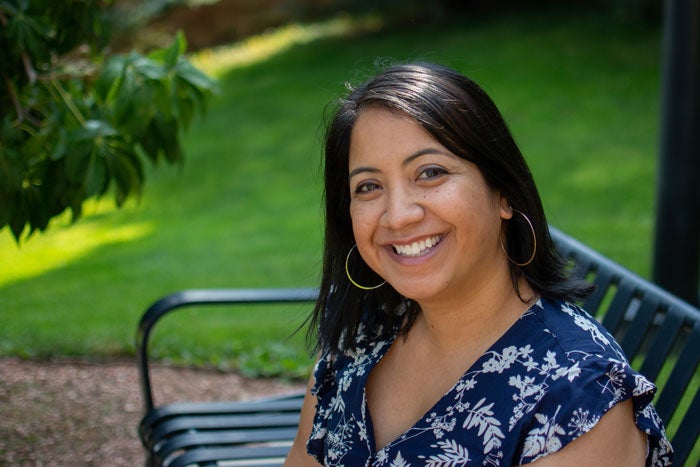 Noreen Naseem Rodríguez joins us as an assistant professor of teacher learning, research and practice. Her research interests include culturally sustaining pedagogies of Asian American and Latinx teachers, and the teaching of "difficult histories" to young learners through children's literature. Rodríguez was most recently an assistant professor at Iowa State University and was a bilingual elementary educator in Austin, Texas, for nine years.
Why did you choose CU Boulder and the School of Education?
"I was drawn to the School's explicit commitments to democracy, diversity, equity, and justice under the leadership of Dean Kathy Schultz. As someone who specializes in social studies education, these values are especially important at a time when history teaching and learning is under attack. I am deeply invested in teacher preparation and improving the state of PK-12 education. Much of my work focuses on Asian American children's literature and Asian American history so I was also drawn to the connections between the School of Education and the Department of Ethnic Studies. I've been reading and citing the work of Professors Jennifer Ho and Daryl Maeda for years and I'm thrilled to now call them colleagues!"
What are you excited about this upcoming year?
"I am eager to learn about what teachers and students want to see more of in their classrooms. What are they looking forward to and what do they need support with? I plan on diving into a lot of Colorado history, particularly as related to Asian Americans, and visiting various historical sites so I can learn about how Colorado history is taught, which voices and stories are emphasized, and which voices and stories are often left out. I am also excited about the release of my first book, Social Studies for a Better World: An Anti-Oppressive Approach for Elementary Educators, in November. It's a practitioner guide for elementary social studies educators and I hope folks find it useful."
What do you like to do on a day off?
"I love to cook and bake. This is my first time living in high altitude, so I imagine I will need to re-learn how to make a lot of my specialties. Like many folks, I learned how to bake sourdough bread last year so those skills will definitely need to be adjusted."
What's a fun fact about you?
"I come from a family of karaoke aficionados! It's a big part of Filipino culture and is something I enjoy doing with family and friends. So of course I own multiple karaoke machines."
---
Meet the faculty, staff, students and friends who make the School of Education what it is today at colorado.edu/education/people.