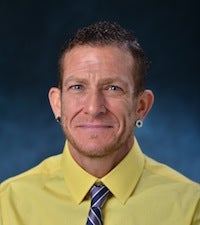 The Chancellor's Advisory Committee on GLBT Issues has chosen Associate Professor of Literacy Studies sj Miller, as this year's recipient of the Joanne Arnold Courage and Commitment Award. 
The award is given to a faculty, staff, alumnus, or community member who embodies the character and values of Professor Emerita Joanne Arnold. Dr. Arnold served as the inaugural chair of the Chancellor's Committee and inspired many through charismatic leadership, tremendous courage, and unflagging optimism. Dr. Arnold was instrumental in improving the campus climate and advancing human rights for the GLBTQ community at the University of Colorado. 
Professor Miller's involvement in LGBTQ advocacy and education likewise has generated positive change across the Boulder campus and beyond. These contributions not only exemplify the School of Education's commitment to social justice, but also reflect the influential achievements of Dr. Arnold.
In addition to this award, Professor Miller won the 2005 Article of the Year Award from the English Journal for "Shattering Images of Violence in Young Adult Literature: Strategies for the Classroom," and co-authored Unpacking the Loaded Teacher Matrix: Negotiating Space and Time Between University and Secondary English Classrooms, which received the Richard A. Meade award from the National Council on Teacher Education (NCTE). 
Professor Miller also serves as affiliate faculty for CU's Center for the Study and Prevention of Violence (CSPV), as well as the LGBTQ Studies, Women and Gender Studies, and Culture, Language and Social Practice (CLASP) programs.
The honor was awarded Tuesday, May 5th at CU's Lavender Graduation.
Related Faculty: sj Miller