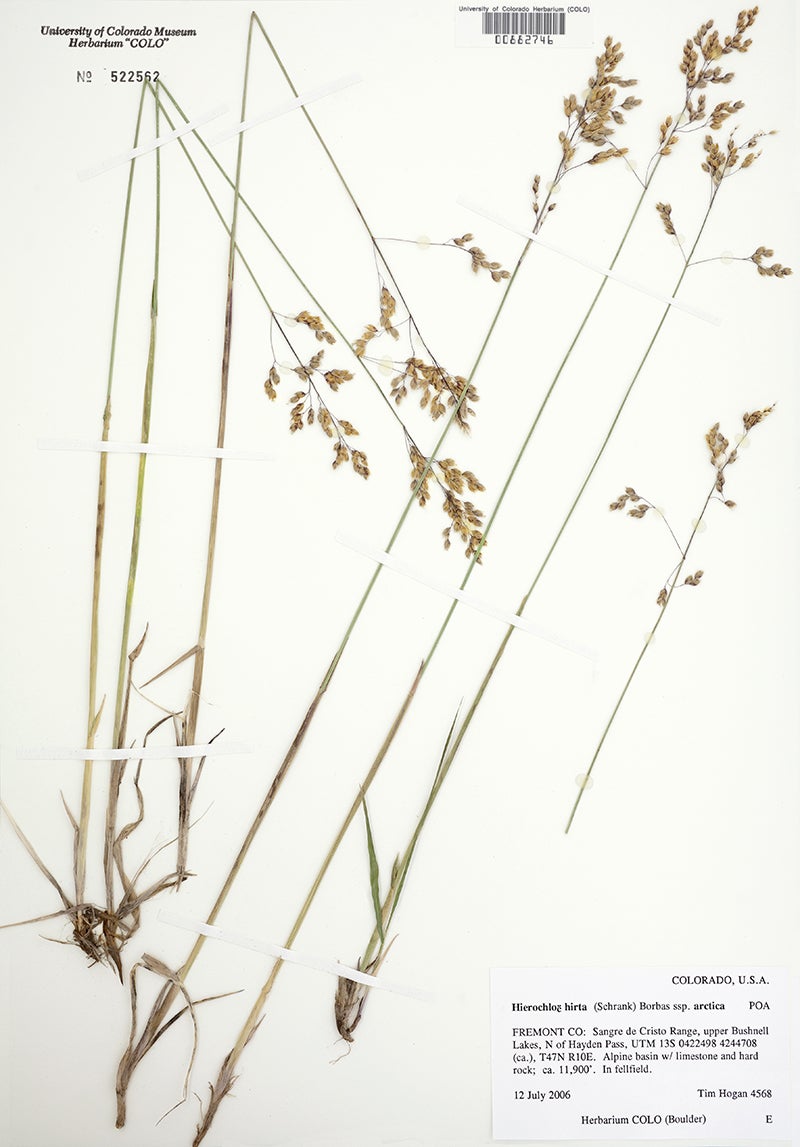 "Hold out your hands and let me lay upon them a sheaf of freshly picked sweetgrass, loose and flowing, like newly washed hair. Golden green and glossy above, the stems are banded with purple and white where they meet the ground. Hold the bundle up to your nose. Find the fragrance of honeyed vanilla over the scent of river water and black earth and you understand its scientific name: Hierochloe odorata, meaning the fragrant, holy grass." writes Robin Kimmerer, plant ecologist and enrolled member of the Citizen Potawatomi Nation, in her book, Braiding Sweetgrass1. As with so many plants, this Wonder of the Week has been given many names: western scientists call it Hierochloe odorata or Hierochloe hirta or Anthoxanthum nitens, the Potawatomi name is wiingashk, it has commonly been referred to as sweetgrass in many cultures for centuries, and the list goes on2.
Sweetgrass is a perennial grass with hollow stems and underground rhizomes. It has a purple, red, and white hairless base and can grow to about 30 inches tall. Sweetgrass flowers early for a grass—from May to July. The pressed specimen here was collected in July at the end of the bloom when the flowers were drying. Although all these stalks were harvested while in bloom, it is actually long leaves that grow on sterile shoots that are harvested for weaving and braiding after the plant has bloomed. When harvesting, it is important to not pull out the roots, so enough of the plant is left in the ground to both ensure its survival to the next year, and to fulfill its ecosystem role in holding soil in place. Sweet grass is circumboreal—distributed throughout Eurasia's northern regions and North America—preferring rich, moist soil and partial shade, though it is tolerant to full sunlight. This aromatic grass is found in wetlands, wet meadows, and marshes—all environments that are in decline due to human impact and the climate crisis.
The aroma produced by both living and dried sweet grass is reminiscent of vanilla and warm hay due to a chemical compound called coumarin3. While the pleasant scent is inviting, the bitter taste of coumarin acts as a deterrent to grazing animals that might be tempted to eat it. The fragrance becomes stronger as the plant dries and is released in smoke if the plant is burned.
Ethnobotanical uses of sweet grass are widespread in North America. It is used ceremonially by many Native American tribes, as well as for practical uses as sachets, shampoo, treatments for various ailments, and woven into baskets, bowls, bags, and mats.  Because of these many uses and its retention of fragrance and spirit, sweetgrass has been called the "grass that never dies"5. Let's ensure that this remains true. To help you on this path, we encourage you to read Braiding Sweetgrass: Indigenous Wisdom, Scientific Knowledge, and the Teachings of Plants.
---
Label information
Colorado, USA
Hierochloe hirta (Shrank) Borbas ssp. arctica POA
Saguache Co: Sangre de Cristo Wilderness and environs, upper Sand Creek; along Sand Creek Trail between Upper and Lower Sand Creek Lakes; N37o56.342' W105o31.623'
Wetland in mesic picea engelmannii forest w/Deschampsia cespitosa, Carex aquatilis, C. scopulorum, Pedicularis groenlandicus, Swertia perennis; ca. 11,200'.
22 July 2010, Tim Hogan 5076
---
---
1. Kimmerer, R. (2013). Braiding Sweetgrass: Indigenous Wisdom, Scientific Knowledge, and the Teachings of Plants. Milkweed Editions.
2. https://en.wikipedia.org/wiki/Hierochloe_odorata.
3. https://plants.usda.gov/plantguide/pdf/cs_hiod.pdf
4. https://www.nrs.fs.fed.us/sustaining_forests/conserve_enhance/special_products/maine_ntfp/plants/
sweetgrass/#:~:text=When%20to%20harvest%3A%20Late%20July,you%20can%20see%20the%20difference.
5. https://plants.usda.gov/plantguide/pdf/cs_hihia.pdf