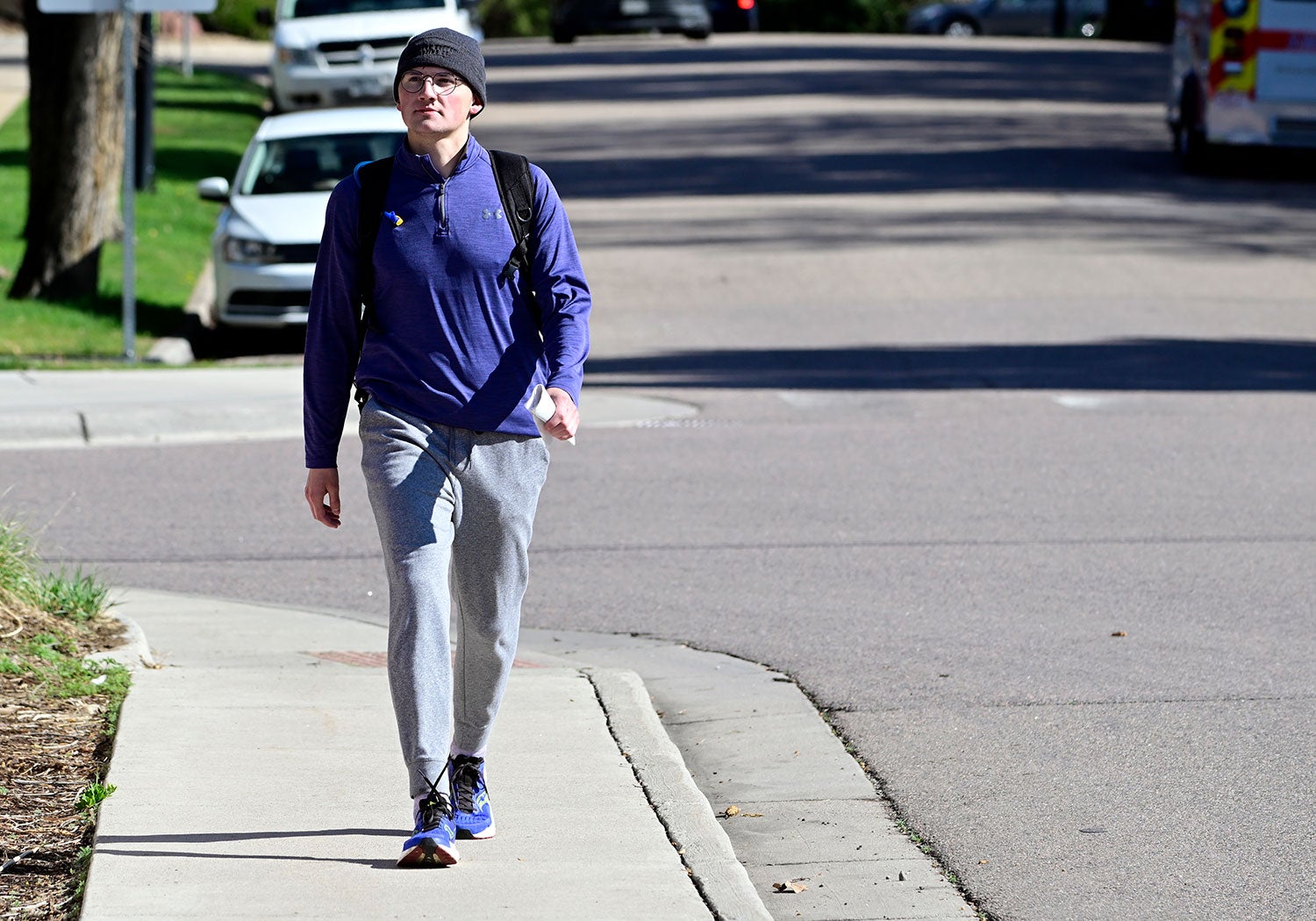 As a college sophomore in late 2020, Carter Snelson (Fin, RealEst'23) decided to walk every one of Boulder's labeled city streets using the city's zoning map. After 2.5 years, and less than two weeks until commencement, he completed the journey on April 28, 2023. On his final day of walking, Snelson also achieved another personal goal of walking 100,000 steps in one day, which in reality ended up being 112,000 steps — 56.25 miles.
Did you have a favorite street or landmark you saw on this walk? 
My favorite area that I walked in all of Boulder was in between Evergreen and Alpine by North Boulder Park. I had never been to North Boulder Park prior to that walk, and I walked by it on Oct. 22 — so right in the middle of fall — and it was absolutely stunning. I had also passed the park around mile 16 of a 38-mile walk, and the beauty of that area, with the perfect view of the Flatirons and the hundreds of people enjoying the park, gave me an incredible boost of energy.
Which stretch of time was your most difficult in this journey?
The most difficult stretch of time throughout this whole journey was the final five miles of the last walk that I ever did. This walk was 56.24 miles long and with five miles left, I had been walking for 17 hours; my knees were aching, my feet were sore and my hips were burning, but I knew that after these last five miles, I would have completed the entire city of Boulder. To help push myself through this last hour and 15 minutes of walking, I kept reminding myself of how far I'd come, how many miles and hours I'd put into this, how proud of myself I would be once I completed it and how amazing it would feel. I just kept walking and didn't stop until I reached that last street.
What do you feel now that it's complete? 
In being so exhausted after the final 18.5-hour walk to complete it all, it definitely took a few days to really comprehend what I had just done. This was a 2.5-year long journey, walking almost 1,000 miles, and realizing that I have no more walks to ever do in Boulder is very surreal. This had been the longest commitment I've ever had, and having it come to an end was very emotional and incredibly fulfilling. Even though I cannot say I remember exactly every one of the 165 walks I've done, I will never forget this journey.
What else should we know about this feat? 
Here are some quick stats:
For the final walk of it all, I walked 56.24 miles. It took 18 hours and 33 minutes. At the end of that day, I had logged 112,442 steps.

The four longest walks I did were 56.24, 38.01, 26.69 and 26.25 miles. 

I walked a total of 970 miles in 165 total walks.

The total time of all my walks combined was a little over 10 days of walking.
What is one thing people should know about you?
I'm just a regular student here at CU, and I never thought I would accomplish something so big like this — but anyone could have done this. I'm not special in any way, I just set this goal and completed it little by little over a long period of time. If there's a goal that you have or something you want to complete that may seem incredibly challenging, don't have any doubt that you can accomplish it. 
Photo by Cliff Grassmick/Daily Camera