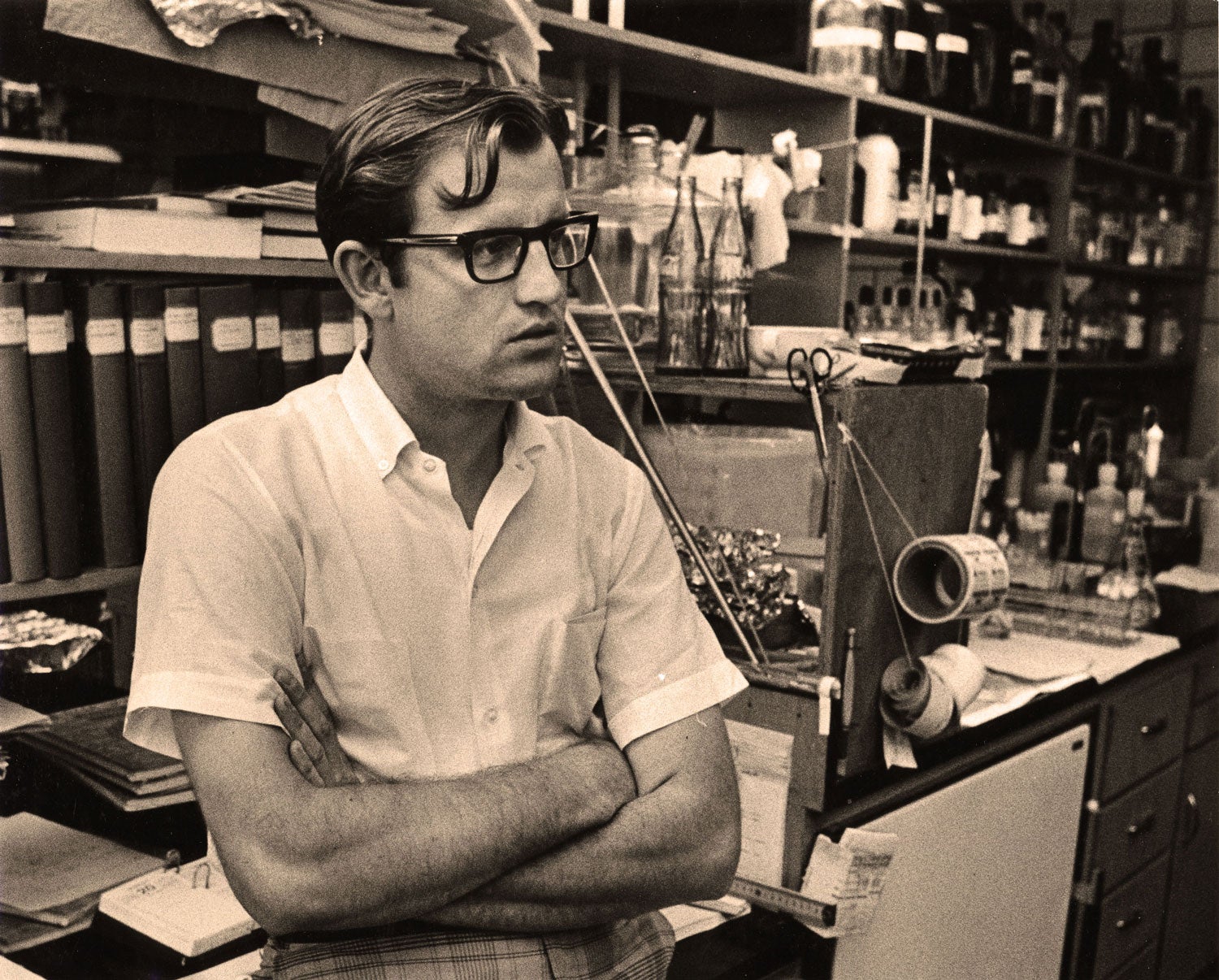 In 1954, solar energy pioneer and CU Boulder engineering professor George Löf was granted patent US2680565 for a solar heating apparatus and method. It was the first patent associated with the university.  
Nearly 30 years later, CU received another inaugural patent. This one helped change the course of global human health. 
Patent US4415732, filed in 1981 and granted in 1983, was CU's first patent following the 1980 Bayh-Dole Act, which allowed universities to hold patents for federally funded inventions. Distinguished chemistry and biochemistry professor Marvin Caruthers — who remains on CU's faculty — and research chemist Serge Beaucage — now chief of the FDA's Laboratory of Biological Chemistry — were co-inventors on the patent, which helped pave the way for Amgen, now the world's largest independent biotechnology company.
"There was never any doubt that my life's work would somehow be involved with one of the natural or biological sciences," wrote Caruthers in the Journal of Biological Chemistry. 
"Phosphoramidite Compounds and Processes" patented a new class of nucleoside phosphoramidites, a chemical that allowed scientists to create short DNA or RNA sequences in the lab. These synthesized sequences — called oligonucleotides — helped initiate research on bacteria, human growth hormones, DNA testing and more. 
Caruther's work involving oligonucleotide synthesis, along with other prominent DNA sequencing research of the time, jumpstarted the now multi-billion-dollar biotechnology industry.
While continuing his research at CU Boulder, Caruthers co-founded both Applied Biosystems — which sold protein sequencing and DNA synthesizing instruments — and Amgen, which focused on genetic engineering in the early 1980s. 
In addition to his responsibilities at CU, Caruthers directed a group of Amgen scientists in Boulder to synthesize DNA for treatments to help the critically ill. One such treatment helped patients with severe kidney disease. Another greatly reduced infections associated with chemotherapy. 
Today, Caruthers maintains a small research group at CU and focuses on humanitarian interests including the development of new chemistries for the treatment of rare and fatal genetic diseases. The revolutionary days of the '80s still stay with him. 
Said Caruthers: "In my laboratory, basic research is always a co-operative activity involving many colleagues. This patent is an example. Several, in addition to Beaucage, improved and modified the chemistry so that today, almost 40 years later, these methods for chemically synthesizing DNA and RNA remain state of the art." 
Photo courtesy of Marvin Caruthers