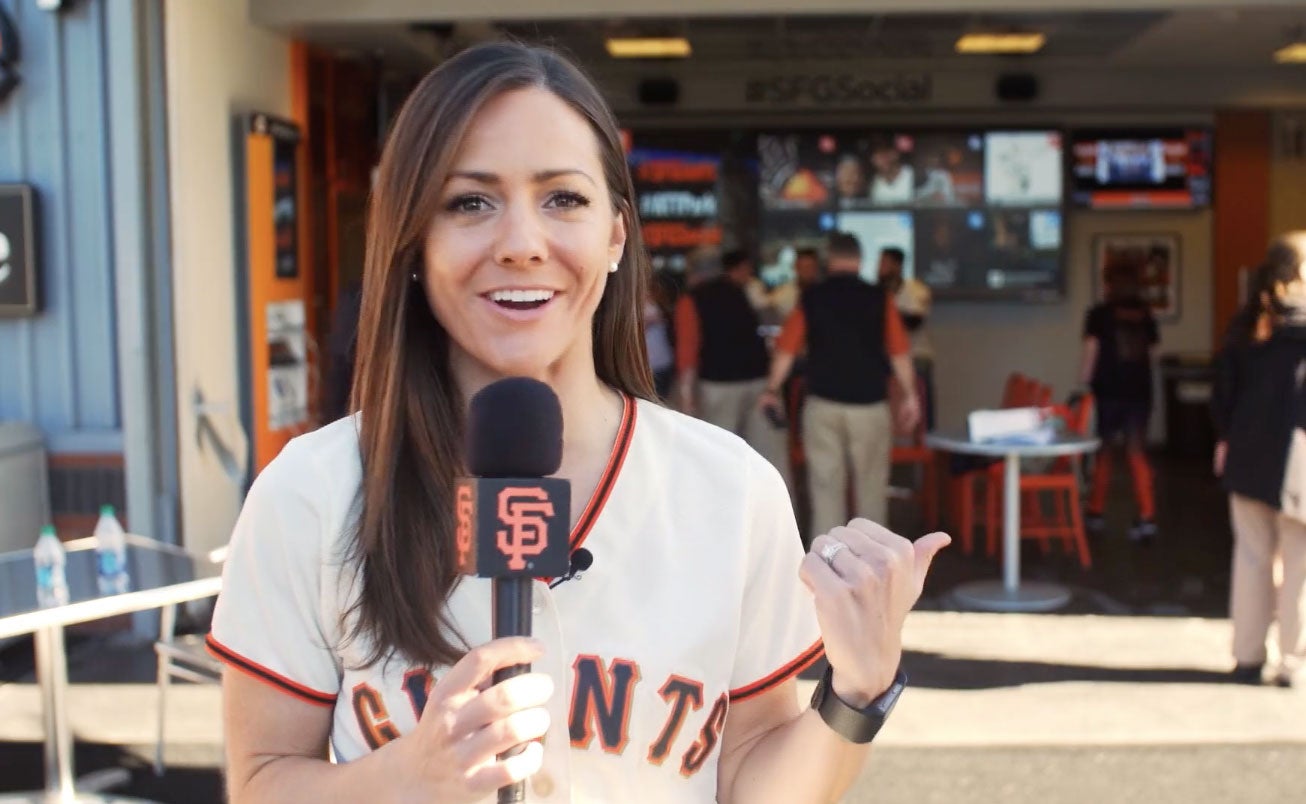 As the in-game video host for the San Francisco Giants, Therese Vinal (Jour'08) — a former CU volleyball player — provides live entertainment for Oracle Park's 42,000 fans. She also interviews key players, coaches and special guests during pre- and post-game shows. Here's a look into what it all takes.
What piqued your interest in sports?
Growing up with a high school football coach as a father and a physical education teacher as a mother, my love for sports started really young. Sports was a chance to bond with my parents, my siblings and even extended family members, and later it became my outlet for making friends.
What's a Giants game day like?
For a 6:45 p.m. game, I usually arrive to the ballpark at 2:30 p.m. for prep work and production meetings. Then an hour before first pitch, I am on the field for the pregame show. During the game, I am running around the ballpark to different sections for promotional giveaways, gameshows and interviews.
Around the sixth inning, I leave the ballpark and head to NBC Sports Bay Area studios to prepare for the television show Triples Alley. From the time I arrive at the studio until an hour after the last out, I am producing and prepping for our half-hour long show with my co-hosts Carmen Kiew and Cole Kuiper. Our show issimulcast on television and Facebook so fans can engage live with us on air. Then, we have a quick post-show wrap up and I head home, typically around midnight or later. 
What's a favorite moment in Oracle Park so far?
Opening Day is really special. It is always over the top with decor and entertainment, plus the excitement for a new season just gives buzz to the ballpark. 
How do you handle hectic moments?
There are times where I'll have a live hit in back-to-back half innings, and you just never know how fast or how slow that half inning between the two live shots will go. Sometimes we are running to get to the next live shot in the ballpark. There's also times when equipment isn't working correctly or content changes moments before the live shot. I find myself just taking a deep breath, smiling and remembering this is sports entertainment. It's supposed to be fun. 
What do you do during the offseason?
During the offseason I am on call for NBC Sports Bay Area. This offseason I am filling in for their 49ers pregame and postgame shows. I also emcee special events and teach group fitness classes. 
What else should we know about you?
My son was born in September 2018 so this was my first season as a working mom. You are never really off the clock, but at least with my "mom job" I get paid in hugs and kisses. Can't beat that. 
Interview condensed and edited. Photo courtesy Therese Vinal