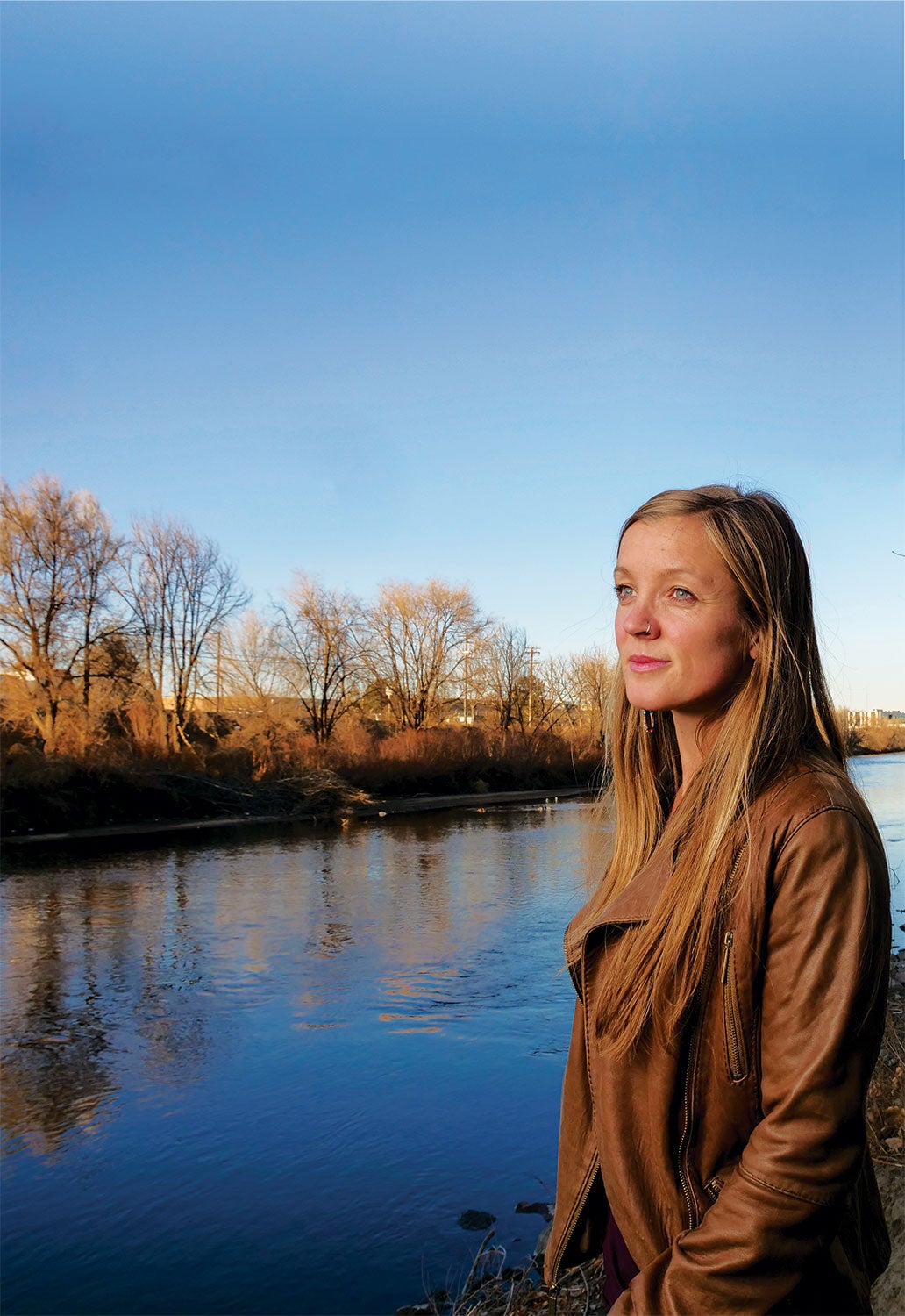 Avery Bang (MCivEngr'09) knows a simple footbridge can change lives.
As CEO of the nonprofit Bridges to Prosperity, she and her team have constructed more than 250 pathways over otherwise impassible rivers in countries as far away and far apart as Rwanda, Bolivia and Haiti. Typically built by locals working with Bridges to Prosperity staff at a cost of about $60,000, the bridges connect nearly one million people to schools, medical providers, food and jobs.
But not every community that needs a bridge is far away: As Bang sees it, parts of Denver could use one, too.
Beginning late this spring, a cable-suspended footbridge conceived, designed and funded by Bridges to Prosperity will be built across Denver's South Platte River. It will connect the isolated, low-income Globeville neighborhood with the booming River North Art District (RiNo) and nearby Brighton Boulevard.
Bang saw a need for the bridge while running along the Platte nearly four years ago. RiNo — where she lives and Bridges to Prosperity has its headquarters — is a thriving neighborhood rich in retail stores and groceries, healthcare providers, schools and citywide transit connections. But the Platte and two interstates separate the often-neglected Globeville residents from RiNo's abundance, mainly accessible by car or bus.
"This bridge is about serving a low-access population," said Bang, who studied civil engineering at CU and joined Bridges to Prosperity as a volunteer in 2006 after observing a footbridge project in Fiji. She became CEO in 2008.
Denver officials have seen the need for a bridge in the area for nearly a decade, Bang said, but estimate it would take years and $6 million to build. Downstream, the Millennium and Highlands footbridges cost $10 million and $5 million, respectively.
On social media, local developer Zeppelin Development had proposed a bridge design that involved putting train boxcars in the river.
"Me being the nerdy bridge engineer thought, 'That's not possible,'" Bang said.
She decided the 17-year-old Bridges to Prosperity should pursue its first-ever U.S. project — and could do it for $3 million by using the same materials they would use for a bridge outside the U.S.
"We could build this same bridge in Nicaragua for $100,000," said Bang, noting the permitting and materials cost is much higher in the U.S.
The organization partnered with Zeppelin, which pledged $1 million and serves as the developer. Bang's group separately is working to close the remaining $750,000 fundraising gap.
To design the bridge, Bang approached frequent collaborator Scott McNary (CivEngr'81; MS'84), founding partner of Broomfield, Colo.,-based engineering firm McNary Bergeron and Associates. Because the bridge must be built at a skew with minimal supports in the flood-prone river, he employed a standard suspension design with a more than 270-foot-long arched walkway, swooping cables and two giant steel towers.
There are plans for a street artist to adorn it, tentatively called the "Art Bridge." It is expected to open by fall.
For now, Bang said, Bridges to Prosperity will continue to focus on needs outside the U.S. But she hopes the Globeville-RiNo project proves bridges in America can be reimagined to the benefit of underserved populations.
"There are a billion people in the world who can't get to where they need to go," she said.
Some of them are right here in America.
Photo courtesy Glenn Asakawa/Rendering courtesy Bridges to Prosperity