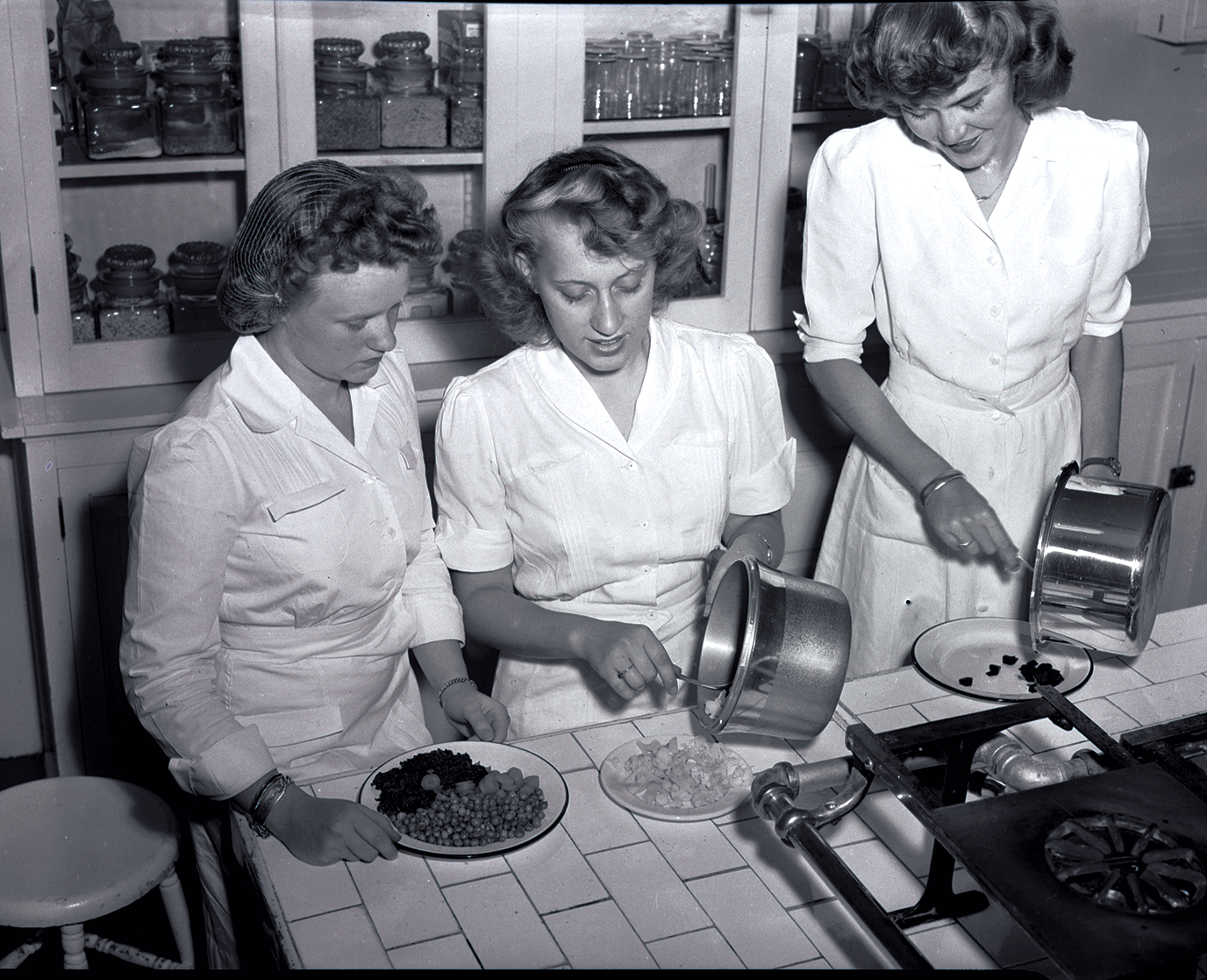 Academic subjects evolve. Some disappear entirely. What decides the fate of a college major? 
On Jan. 31, 1966, Kathleen Wilson (HomeEcon'66; MEdu'92) became the last person at CU Boulder to receive a degree in home economics.
She didn't reflect on the milestone much.
"I was just happy to get my degree," said Wilson, who lives in South Park, Colo., and worked in mental health services after raising three sons.
When she came to CU in the early 1960s, she was readjusting to life in the U.S. after spending most of her teenage years overseas as the daughter of a military officer. Home economics was a natural major for her — she enjoyed sewing and was interested in fashion and entertaining.
"Women didn't have the career opportunities then that they have today," she said. "This was really preparing women to be accomplished hostesses in their home."
Wilson recalls learning how to cook, host a formal meal and design and construct clothing. She took chemistry and bacteriology in the Woodbury Arts and Sciences building. A time management course proved especially useful.
"I learned how to be more efficient and organized," she said, adding that she and her classmates also learned money management skills.
Women didn't have the career opportunities then that they have today."
Still, it was clear that the home economics program was falling behind the times. All of her fellow students were women, as were the instructors. Once, Wilson learned about sanitizing dishes for a pre-dishwasher era that no longer existed.
Home ec was due for a drastic change.
"Fields of study and names of fields of study change over time, and our degrees need to change with them," said Patrick Tally, CU assistant dean for academic and curricular affairs. "For instance, back when we had a home economics degree, computer science did not exist as a field of study at any university."
After Wilson and her classmates graduated, the state eliminated their major at CU and transferred it to Colorado State University, which that year renamed its general home economics department the Department of Consumer Sciences and Housing. CSU eventually folded that into what is now its College of Health and Human Sciences.
Home economics is hardly the only major to disappear. Physical education, medical technology, mathematical physics and Latin American studies are no longer offered as discrete CU Boulder majors, for example. Others have morphed into new ones — anatomy and kinesiology, for instance, are now a part of integrative physiology, CU's most popular major. American studies, zoology and environmental conservation have also blended into broader areas of study.
Besides campus- and Regents-level decisions, state requirements play a role in the lifecycle of majors. When enrollments fall too low, the Colorado Commission on Higher Education, which reviews all new campus majors at public universities, can discontinue them. Today there are 235 approved degree programs at CU Boulder.
Some CU Boulder majors moved to the CU medical campus when it was established. The nursing undergraduate degree moved to the Denver campus in 1924, and the pharmacy degree, offered as a bachelor's degree at Boulder until the emergence of the doctorate of pharmacy in the mid-1990s, is now at CU Anschutz. Wilson's son, Bob Governski (BioChem'90; Pharm'94), was among the last in the undergraduate pharmacy program at CU Boulder.
Eliminating majors makes room for new ones. In fall 2016 CU Boulder offered an atmospheric and oceanic science bachelor's degree for the first time.
Kathleen Wilson has no regrets about home economics, which helped prepare her for the demands of raising three sons. Her later work in the mental health field also drew on aspects of the home economics program, she said, particularly the nurturing skills she was taught.
"I used that every day as a mother and a homemaker," she said. "When it was my turn to move on in my career, I used those same skills." 
Photos from the Norlin Library Archives/courtesy Kathleen Wilson