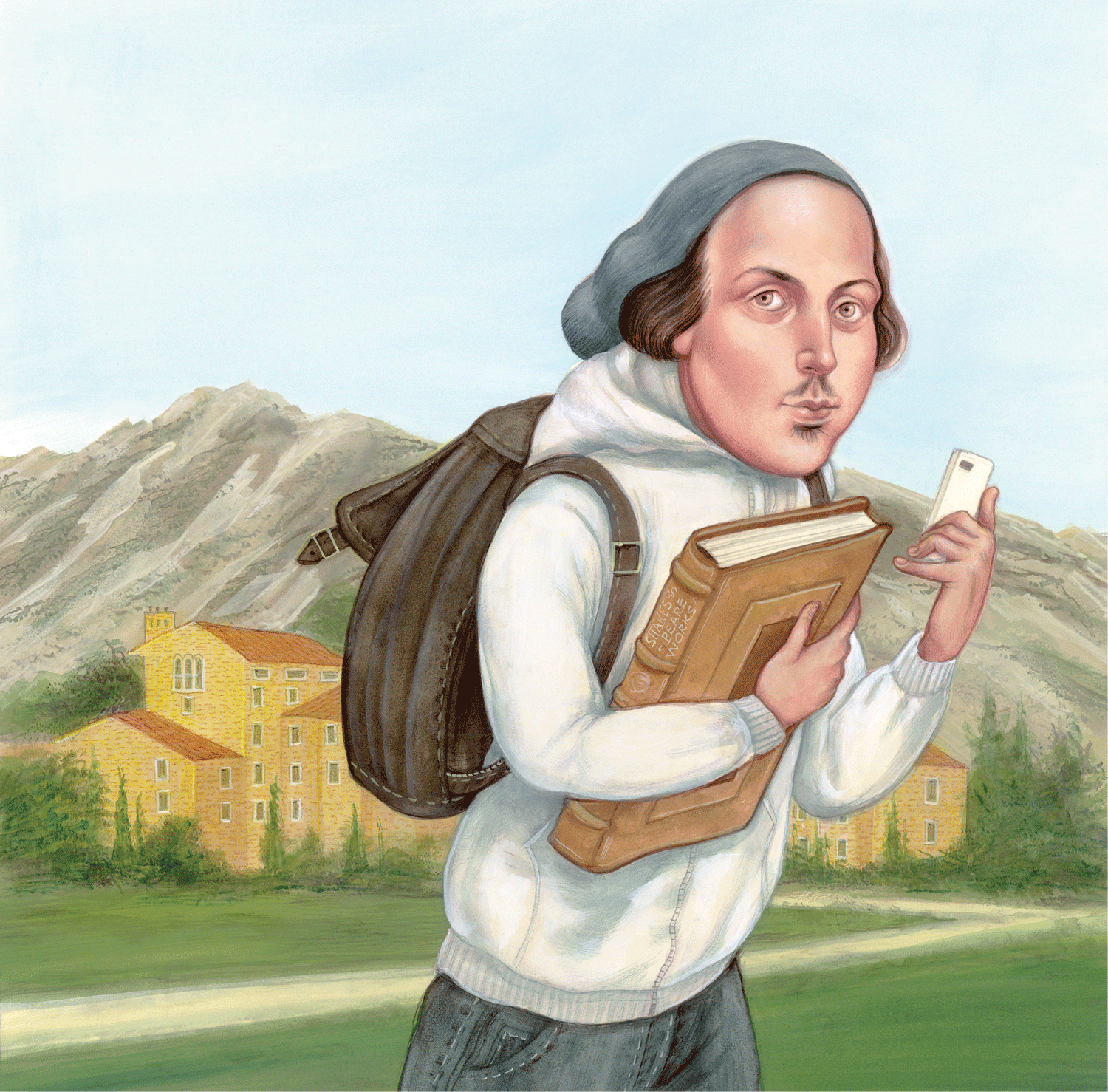 On April 23 literature lovers around the planet celebrated the 452nd birthday of William Shakespeare. The date also happened to mark the 400th anniversary of the playwright's 1616 death, an epic milestone that has prompted a riot of celebration that will continue all year.
A conference in Denmark unfolded in the real-life castle where Shakespeare set Hamlet. In Singapore, actors performed the play in Vietnamese. In London the playwright's last will and testament is on public display, allowing visitors to eyeball the bequest to his wife of his "second-best bed." Countless public readings, performances and exhibitions are yet to come.
In Colorado August will be an especially heady time for Bard enthusiasts: Early in the month, a 393-year-old copy of the first printed collection of Shakespeare's plays is expected to arrive at CU-Boulder for a three-week public exhibition.
On loan from the Folger Shakespeare Library in Washington, DC, the book, known as the First Folio, will be on view at the CU Art Museum Aug. 9-31, part of a 50-state tour called "First Folio: The Book That Gave Us Shakespeare." A copy will also travel to Puerto Rico.
CU is the only Colorado stop on the circuit, which began in Oklahoma in January and ends in Tennessee in early 2017. Admission will be free with tickets available at the door.
"The important thing about old books is they're not really museum objects alone; they're a way of touching the past," said Katherine Eggert, the CU-Boulder English professor who directs the university's Center for British and Irish Studies. "So we have this marvelous book from 1623 and it was made by Shakespeare's associates…It's like shaking the hand of the guy who shook Shakespeare's hand."
Prepared in 1623 by two actors who worked with Shakespeare, the First Folio includes nearly all of his plays, 18 of which had never before been published in any form, including "Macbeth," "Julius Caesar" and "The Tempest." Without the First Folio, these plays might have been lost, giving the book an almost mystical status among Shakespeare aficionados.
"The survival of great literature," Eggert said, "is a chancy and wondrous business."
Worldwide there are 234 known copies of the First Folio; the most recent addition — a specimen in the library of a Scottish estate — was authenticated in April. The Folger owns 82 of them, by far the world's largest collection. Individual copies have sold at auction for more than $5 million.
No institution or private collector in the Rocky Mountain region owns a First Folio, according to experts, making the campus exhibition a unique opportunity to behold one without traveling far. While the book is at CU, it will be the only First Folio touring the continental United States. (A copy will also be in Alaska then.)
A folio is a book with pages folded once, yielding two double-sided leaves, or four pages. Made up of many smaller folios, First Folio copies weigh about five pounds on average.
The idea that CU might host a Folger First Folio began circulating in 2012. The university submitted a formal bid in 2014 and learned in February it had been picked. Since then, a campus cast of dozens has been organizing the exhibition and a series of related activities.
Fiske Planetarium will host "Shakespeare and the Stars," for example, in which actors and astronomers will explore Shakespeare's celestial references with the planetarium dome as a backdrop. On Norlin Quadrangle, The Book Arts League will demonstrate the use of Elizabethan printing presses. In September CU hosts a day-long academic conference for September about Shakespeare and science. The annual Colorado Shakespeare Festival will have just lowered the curtain on its final performance at Mary Rippon Outdoor Theater.
Several CU-owned treasures will be on display with the First Folio, including a Fourth Folio of 1685, Raphael Holinshed's Chronicles of England, Scotland and Ireland from 1577 and John Gerarde's The Herbal, or General Historie of Plantes from 1636, plus a Mercator Atlas from 1630 and an atlas of human anatomy on loan from CU-Anshutz.
The Folger's folio will be hand-delivered by Folger personnel and displayed in a special glass case equipped to monitor interior temperature and relative humidity.
As at all other stops on the tour, the book will be open to Hamlet's "To be or not to be" soliloquy."
Eggert happens to prefer Macbeth's "Tomorrow and tomorrow and tomorrow" speech. But the choice of "To be or not to be" is hard to argue against, she said: "It's hands down the most famous speech from Shakespeare."
Illustration by Anita Kunz; photo courtesy Folger Shakespeare Library