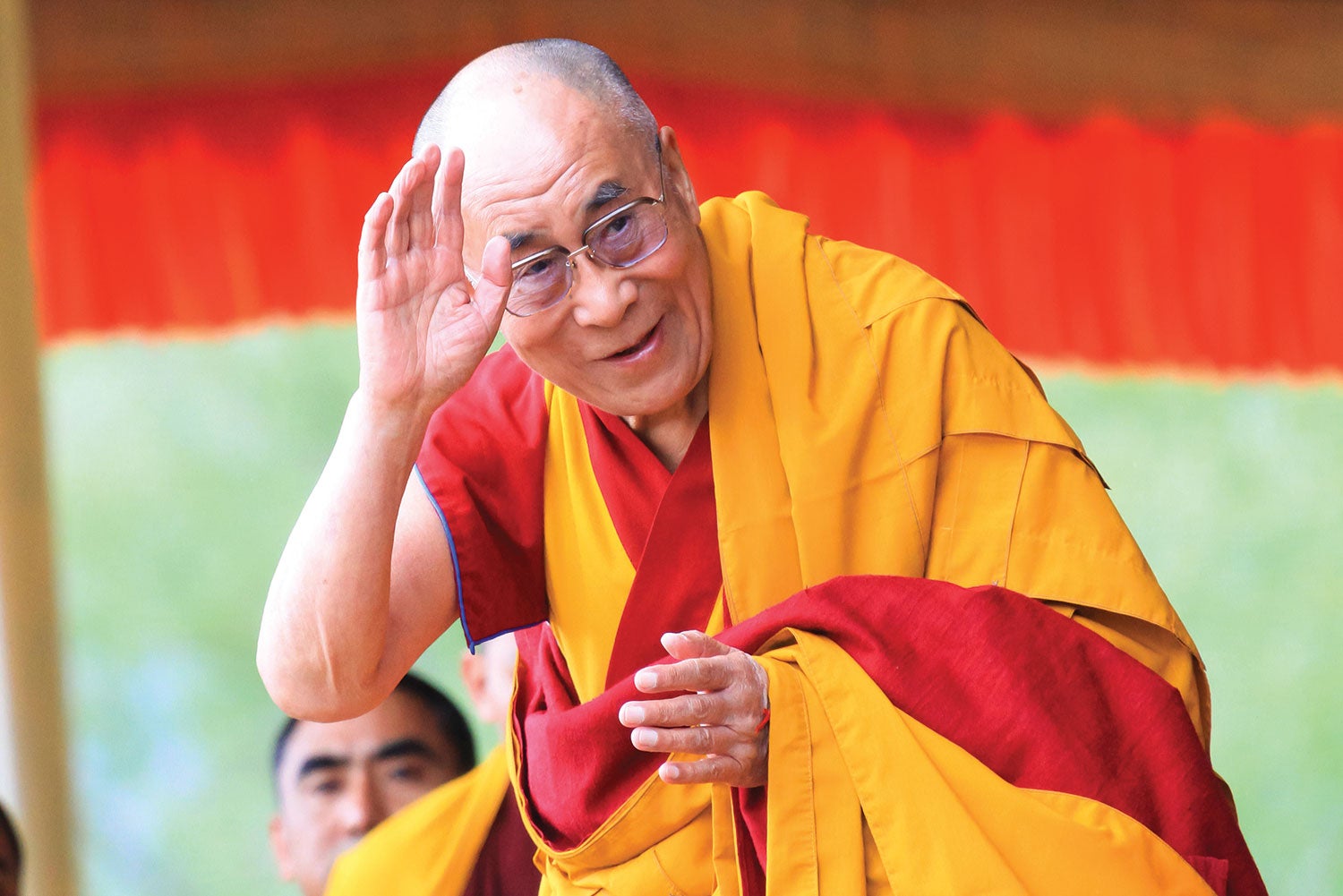 In February 2014, CU-Boulder senior Ellie Roberts (Comm, Edu'15) found herself in the sensational aura of His Holiness the Dalai Lama himself.
As last year's CU Student Government (CUSG) president of international affairs, she was part of a Colorado group that met the Dalai Lama in person in a small conference room after he gave a speech at Santa Clara University.
They had 15 minutes in a small conference room to convince the spiritual leader of Tibet to visit CU.
Sitting in a semi-circle with the Dalai Lama at the head, the group — which included Chris Schaefbauer (CompSci'11, MS'15), former CUSG president of student affairs and representatives from the Tibetan Association of Colorado (TAC) and the CU student involvement office — extended their months-rehearsed proposal for him to come to Boulder. He accepted on the spot.
With that, he turned to his small entourage of assistants. The year marked his 80th birthday, and scheduling was tight with other planned celebrations, but the CU group was assured the visit would happen. Before leaving, the Dalai Lama blessed a Tibetan scarf for each of them and placed them over their heads.
"It was an immense feeling of relief and excitement," says Roberts. "This was 100 percent student-driven."
It took months to confirm a date and event information for his visit, requiring the CU group to keep it a secret until more dates and basic details were finalized. Keeping the news from her professors, peers and friends was the most difficult part of this process, Roberts says.
"It was the most amazing experience, but I couldn't tell anyone," Roberts says. "It was so hard."
Finally, in January 2015, CU-Boulder officially announced the Dalai Lama will visit CU-Boulder's campus Oct. 20 and 21, 2015 during a two-day "Compassion in Action" event, his first visit since he spoke to a sold-out Macky Auditorium May 31, 1997.
The Dalai Lama's visit stemmed from a December 2013 inquiry to vice chancellor for student affairs Deb Coffin's office from the TAC — a nonprofit dedicated to preserving and promoting Tibetan culture in Colorado — gauging the university's interest in bringing the Dalai Lama to Boulder. The TAC knew the Dalai Lama's honorary representative at Moscow's Tibet Culture and Information Center, Telo Tulku Rinpoche, who was willing to work with them to make his visit a reality.
"When we received the request I immediately thought of our students taking the lead," Coffin says. "The CU Student Government has two student groups that have been leaders in bringing distinguished, innovative speakers to campus for decades — it really seemed like the perfect fit."
The students submitted a written invitation to the Dalai Lama, but were hoping for a more personal touch. They booked the Santa Clara trip as soon as they got confirmation of an audience with him.
"Thousands of schools reach out to the Dalai Lama," Roberts says. "We thought a personal invitation would help our chances."
In October, the Dalai Lama's teachings will focus on core ethical values. He will address the students about educating the heart and mind and will also hold two public events.
The event is co-hosted by CUSG, the CU Cultural Events Board and the TAC. A festival of Tibet will be held Oct. 18-21, which will include a Tibetan market, food and music and dance performances.
"I'm really excited that CU gets to put their name on this event," says senior Talia Halfon (IntAf'15), chair of the CU Cultural Events Board. "Our mission is to address as many students as possible."
10 Facts about the Dalai Lama, the spiritual leader of Tibet
Name: Tenzin Gyatso
Born in Taktser, Amdo, in northeastern Tibet
79 years old
Was recognized at the age of 2 as the reincarnation of the previous (13th) Dalai Lama; began his monastic education at the age of 6
Assumed full political power at the age of 15 after China's invasion of Tibet in 1950
Guided by three commitments: The promotion of basic human values, the fostering of religious harmony and the preservation of Tibet's Buddhist culture
Lives in Dharamsala, in northern India
Awarded the Nobel Peace Prize in 1989 for his non-violent struggle for the liberation of Tibet
Traveled to more than 67 countries on six continents
Author or co-author of more than 110 books
Source: dalailama.com
Photography © iStock/phaendin