Big Moments in CU Football
Football celebrated three 20th anniversaries in 2014: Rashaan Salaam's (Soc ex'95) Heisman Trophy-winning season, "The Catch" in the Michigan game and Bill McCartney's final year as head coach.
The 2014 Buffs made new marks, too. At Cal, Nelson Spruce set new single-game records for receptions — two records in two weeks, in fact. He caught 13 balls against Hawaii, then 19 at Cal a week later. Also, quarterback Sefo Liufau set CU records for TD passes (7), completions (46), total offensive yardage (527) and passing attempts (67).
The Cal game was a nailbiter with its own claim on history. The Buffs scored eight touchdowns — and still lost, in double overtime, 59-56. It was the most points scored by CU in a loss.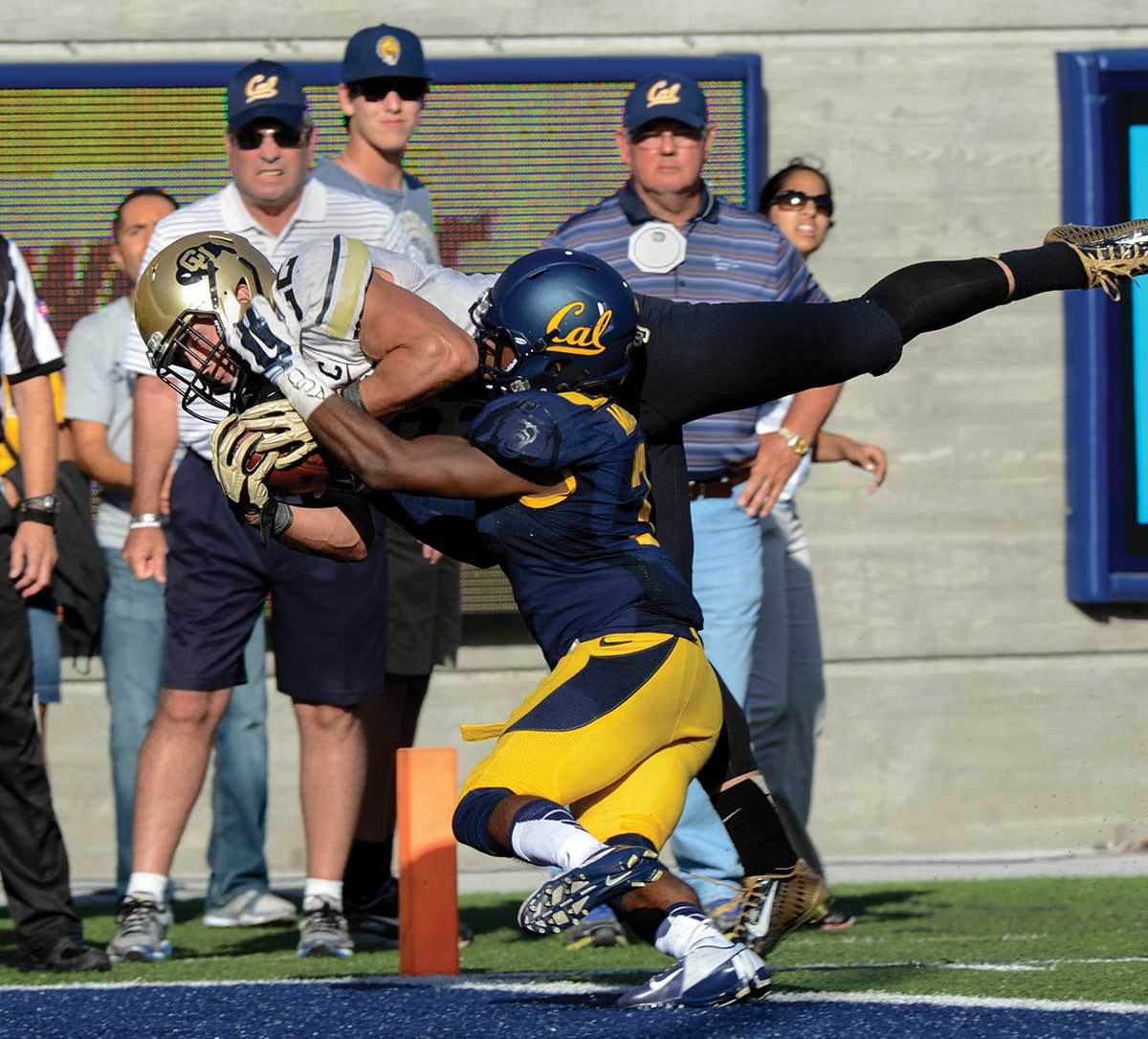 ---
CU Men Perfect in Hosting Rocky Mountain Shootout
The CU men's cross country team, ranked No. 1 in the nation, posted a perfect score of 15 in winning its Rocky Mountain Shootout for the 24th consecutive year.
Senior Blake Theroux claimed the individual title at the Buffalo Ranch Cross Country Course for the second year, becoming the first back-to-back champ since Jorge Torres (Econ'03) won three in a row starting in 2000.
The Buffs captured the women's title for the 16th consecutive season, with sophomore Erin Clark earning the top individual spot.
---
Buff Tidbits
In its first meeting ever with Colorado State, Buffs' soccer prevailed 2-0 over the Rams, who are coached by former CU coach Bill Hempen…Junior Arielle Roberson led CU women's basketball in scoring and rebounding last year, but will miss the 2014-15 season after tearing a ligament in her left knee. She also missed the 2011-12 season due to a hip injury…Former CU basketball standout Bob Jeangerard (Mgmt'55) was posthumously inducted into CU's Athletic Hall of Fame…Former CU football coach Dan Hawkins will coach the U.S. senior national team in the 2015 American football world championships in Stockholm, Sweden, July 4-18.
---
Photography by Dan Madden/CU Athletics