Williams-Sonoma's Image Maker
For a high-end consumer goods company — as for chefs and epicures — presentation matters. At Williams-Sonoma, Heidi Dewell (Jour'91), makes things look good.
"Coming to this brand appealed to me, since I grew up with a mom who was a fantastic cook and complemented food with wine," says Dewell, the company's vice president for creative. "With my love of food, cooking and entertaining, I'm now combining my personal and professional interests."
From her Williams-Sonoma office near San Francisco's Ghirardelli Square, Dewell directs and oversees creative for the company's catalog, as well as photo production. She also oversees the team that designs and produces packaging for domestic and international clients. Some best sellers include holiday peppermint bark, margarita mix, specialty salts, herbs, spices and barbecue and pizza sauces.
"I'm thrilled to be part of it," she exclaims. "I love the breadth of skills and experience my career has brought me. Every day is different; it's impossible to be bored."
Dewell's journey to her 16-year career at Williams-Sonoma included learning opportunities en route. Interning before her senior year at CU-Boulder with Chiat Day San Francisco, the original ad campaign creator for Steve Jobs and Apple, was an eye opener.
"It was a great experience to see what a career in that field could be like," she says.
During her first post-graduation job, at San Francisco's McCann-Erickson ad agency, she quickly learned that sitting on the client's side of the table held more appeal for her than working as a strategic planning department assistant. She soon started creating and developing catalogs for The Nature Company and the duty-free luxury travel retail store DFS, before joining Williams-Sonoma.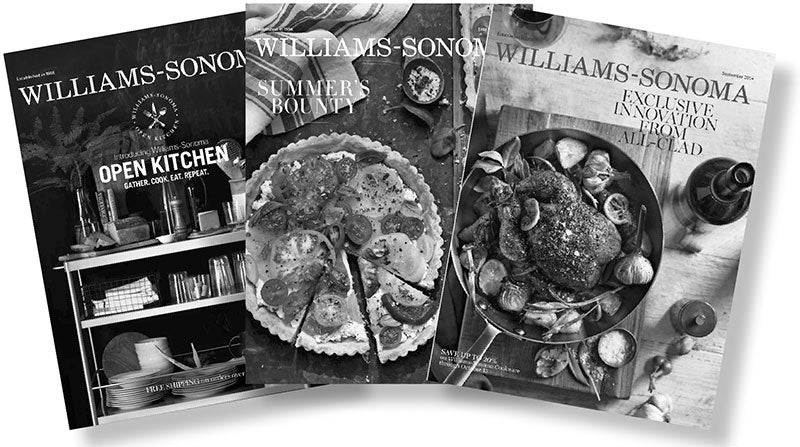 From 2001-2005, Dewell expanded Williams-Sonoma's market reach beyond cooking and food-related items by creating two new brands: West Elm, which offers home furnishings and décor, and Pottery Barn Teen. After working with design agencies to develop their logos and overall branding guidelines, she became the hands-on art director for photography of the initial catalogs.
In launching Pottery Barn Teen, which features furnishings for pre-teens through college kids moving into dorm rooms, Dewell built on Williams-Sonoma's successful Pottery Barn Kids brand.
"I love the creative side and adding in the more analytical side that comes with the pressures of a retail business," she says.
Dewell's daily responsibilities include managing and directing teams of designers, writers, art directors and production managers to ensure the public sees a consistent brand throughout the company's communications.
"I feel so fortunate," she says. "I never thought about a glass ceiling. I just wanted to work hard and see where that would take my career.
Photography courtesy Heidi Dewell