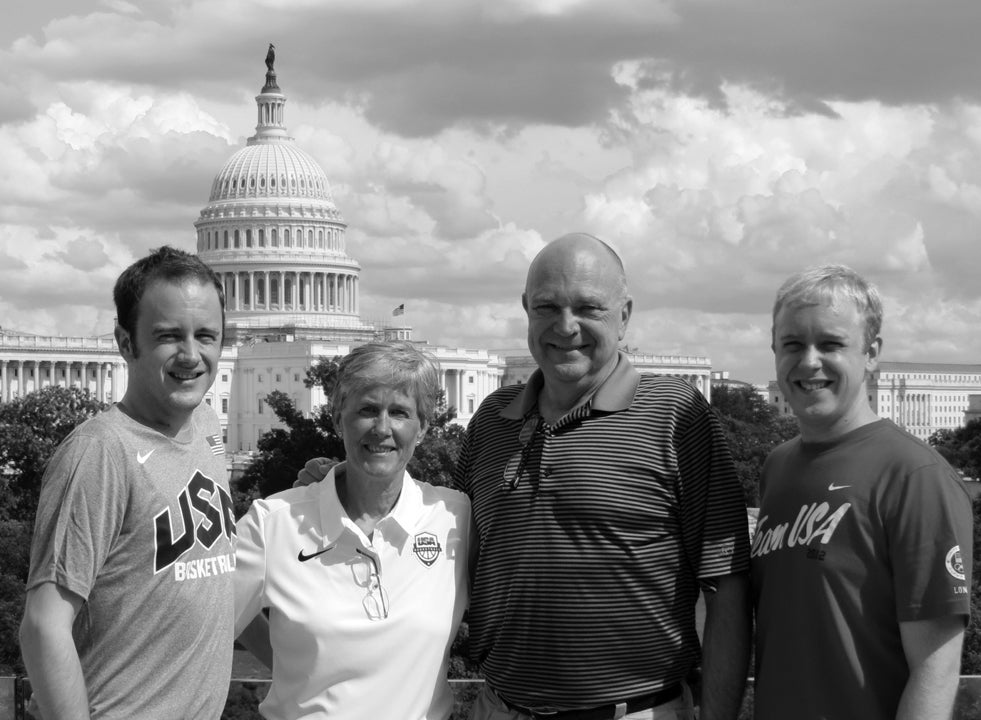 Winning is Carol Callan's (MA'77, MBA'87) trademark.
As USA basketball women's national team director since 1996, Carol is responsible for all USA basketball programs, including competitions, trials and training camps, and serves on a five-person Olympic selection committee. At the Summer Olympics, the women's team won the gold, beating France 86-50.
"The gold medal was a testament to the hard work and daily pursuit of playing the game in a selfless, team-oriented manner," she says, pictured above with her two sons and husband, David Callan (BusEdu'76) in London. "It was fun to be a part of this great team and their continuing success."
It was the team's fifth consecutive gold medal beginning in 1996. Carol oversaw all facets of the historic 1995-96 USA Basketball women's national team that posted a perfect 52-0 record and assisted with the 1996 Olympic team that reclaimed the gold medal with an 8-0 record.
A primary architect for the historic, first-time national team program, Carol was responsible for team logistics, travel, and scheduling of games and training.
"It's very fulfilling to have the success we've had," she says. "It's a lot of work. You don't just show up and win. You know the reward for hard work."
Her path to winning basketball teams started as Fairview High School's girls' basketball coach in Boulder when the Knights won the 4A State Championship in 1985. Later she served as athletic director and volunteered for USA Basketball in a number of capacities until 1995 when she took a paid job at the Colorado Springs-based organization.
The rest is history. Carol continues her ties to CU as a volunteer announcer on AM radio, doing color commentary. What began with announcing four games for CU's KAIR has evolved to commentating on all home games with KBOL and home and away games for AM 760.
"I've been around the women's team longer than anyone, and I'm a bit of an historian," Carol reflects on her more than 30 years of providing color commentary. "I tell a story about what people want to know, what they're interested in."
She says she owes a lot to her CU mentors, from her first master's advisor Dale Moode to women's basketball coaches Rene Portland and Ceal Barry and to CU-Boulder athletic directors Bill Marolt (Bus'67), Dick Tharpe and Mike Bohn.
"You don't progress professionally or personally without these people," she says. "I'm a real observer of people. That's the best part of the job — the coaches and players are the best at what they do."