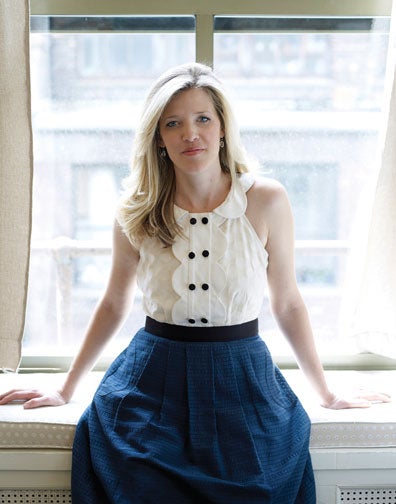 From designing dresses for actresses Susan Sarandon and Michelle Pfeiffer to outfitting Jenna and Barbara Bush, Lela Rose (Art'92) finds herself succeeding in a fashion industry that is often fickle and fiercely competitive.
The New York City fashion designer has spent 20 years creating dresses, jackets and separates under her main label, Lela Rose, as well as the Lela Rose Wedding collection. Her collection of Lela Rose shoes is sold at Payless Shoe Source.
"My philosophy of design is about creating beautiful hand-finished clothes that exude a casual luxury and refinement," she says, noting she derives her inspiration from the architecture, people and colors she observes on the streets of New York City during her daily bike commute to work.
She launched her company in 1998, but the Texas native's career was catapulted when longtime acquaintances Barbara and Jenna Bush wore her designs to the 2001 presidential inauguration. Barbara had been an intern with her company.
"That definitely helped us," Rose says. "It made it a little easier to get people in to see the collection."
Since then Rose has been a go-to designer for many celebrities. She designed the wedding dress of Eva Amurri, Susan Sarandon's daughter, last fall, which garnered a large spread in People magazine in November. Rose also designed Sarandon's dress for the occasion.
"Dressing Susan Sarandon was very fun," Rose says. "She's someone I've watched for years."
Heading a New York staff of 17, Rose doesn't sew her designs anymore, but she sketches new ones daily. She works with two design team members to fully sketch out a design before sending it to sample makers to sew together. She is involved with every minute detail, including fabric designs and preparing for her company's fashion shows at Lincoln Center during New York Fashion Week.
"You have to be very hands-on about it," Rose says. "This is your image . . . It's the lights, the music, the hair, the makeup," she says. "It's all very fun."
Last year, she opened a Lela Rose store in Dallas, which features Rose's dresses, gowns, cocktail dresses, accessories and day wear. The store's general manager, Laura Ginsburg, says women often come into the store with Rose's original designs and are ecstatic to discover her entire collection. The dresses and gowns range from $895 to $3,995.
"Once you fall in love with a Lela Rose dress, there is no price tag," Ginsburg says.